When we go to Vermont, JR and I have a route through Dorset and up over Danby Mountain Road that we like to drive – the views on Danby Mountain Road are sweeping, with mountains continuing off into the distance until they're a smoky blue in contrast to the flaming fall color on the mountains immediately surrounding us. We arrived just a little past peak foliage, but the rainy summer helped to salvage some of the color giving the leaves a bit more moisture to hang onto their trees, and any naked trees blended into the cover of the pines scattered throughout.
Just about a mile before our turn off of Route 30 up over the mountain, we came upon a sign: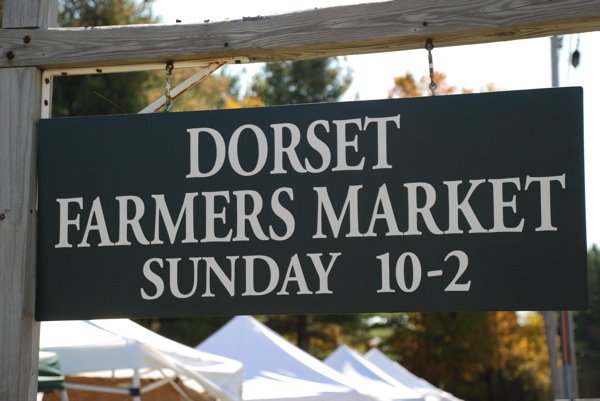 As is his custom, JR kept driving, although, as is my custom, I had spun my head about so quickly as to cause myself mild vertigo while saying in my loud voice, "Oh, look at that! Farmers Market," and then, as we continued driving by at our normal speed, in my lower, sad voice, "honey, did you see the farmers market?". This is when he, keeping with his custom, said, with a hint of surprise, "did you want to stop?". Yes, in fact, I did. And, in this case, I won. It may not be nice to couch this small event in terms of winners and losers; in fact, JR no more lost than I did, but I don't always emerge victorious from these unplanned stop requests. I find that though the stopping happens around half of the time (perhaps due to the degree of malaise in my sad voice), JR usually regrets not having stopped, which could be why it was so easy to convince him of the merit in this case. I did mention that I saw cheese, which may have been a factor. One can never be certain.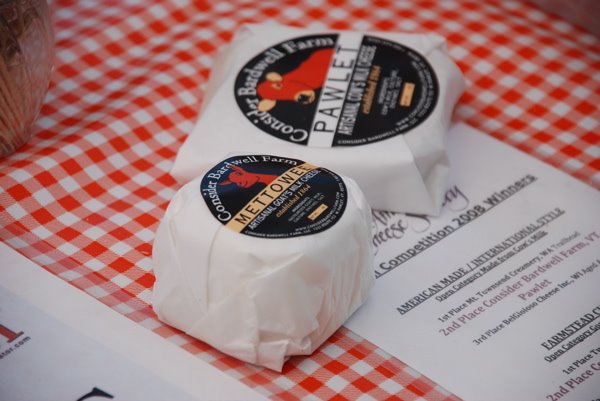 Not only did we see cheese, we saw award-winning goat's milk cheese from Consider Bardwell Farm. We also saw produce in the whole range of colors as those in the trees surrounding the market, as well as lamb, grass-fed beef, pottery, paintings, wind chimes made of old silver spoons hammered flat and creating the most soothing sound in the light breeze, bakers, and winemakers. We first tried a sample of Putney Mountain Winery's fruit wines (mentioned in Monday's post, and which JR and I will taste and give a more comprehensive report on prior to Thanksgiving), and, um, yes, this was before we had our morning coffee – is that bad? Wait. No. Don't answer that. Let's move on.
Right next to Putney Mountain Winery's booth was Naga Bakery, identifiable only by the newspaper article attached to the front of the tent. The woman behind the table offered us a taste of their salt stick (a rye bread stick), which was excellent, and we proceeded to order a pear and cheese loaf and a garden tomato and garlic loaf, which she carefully wrapped in a to-go bag while filling us in on the location of the good coffee (new to the H.N. Williams General Store on whose property the market is held. The owner's son went to UVM and returned with a business degree and an idea that if people could get a decent cup of coffee there, they might also mill about and purchase some of the Carhartt clothing or garden tools also on offer. From what I could tell in my observations, this theory seems to be working.). JR and I stopped to buy two cheeses from Consider Bardwell Farm; their aged goat cheese with a rich, nutty taste called Manchester and their new, as yet unofficially named cow and goat's milk cheese with a wonderful creaminess and barnyardy rind (and I do love a barnyardy rind, let me tell you) temporarily called Quarry.
We got our coffee inside H.N. Williams' store, and pranced off to the car. Yes, pranced. We pranced because we were filled with food finding glee. Little did we know, that glee was about to grow exponentially.
JR thought it would be a good idea to try the pear and cheese bread with our coffees. I thought it might be an odd combination, being that the bread would be savory, but hey, I had won the pulling-over-and-attending-the-market battle, why not give in on this occasion? Wow. And what a good idea that was. The bread had some sugar on top as well as the pear and cheese, and was a perfect melding of salty, sweet, and mildly fruity.
I had no choice. I had to go back. I marched straight over to Naga Bakery's stand, nearly taking down a few of the people in line for the Samosa Man's delights (note to self: next time try whatever varieties of samosa Samosa Man is offering), nervously eyeballing the last two pear-cheese breads while the woman in front of me slowly mulled over her choices, sometimes getting entirely too close to my pear-cheese bread. Finally. She left. My turn. I had been reading the newspaper article tacked to the tent as I waited and told Julie (the woman who had previously clued us in about the coffee, and who is also the co-owner of the bakery, I learned from the photo in the article) that we had to have another pear-cheese bread. While I was ordering, another woman approached and asked for their lavash bread. "None today," Julie said, in keeping with what she told me was Naga's "consistent inconsistency". They source their ingredients at farmers markets themselves, and the day before, pears, cheese, and tomatoes had all been available, so that's what they used for today's bread. Julie also said that they use local wheat and rye flours, and while they can't always use local ingredients, they do their best to keep the cycle going locally; supporting farmers and taking it easy on the environment. The lavash-seeking woman seemed to not want to give up hope, "It's to die for," she said, while making a large jungle cat-like clawing motion at my face and simultaneously looking at the breads on the table. I was nervous about the possibility of being clawed, but then she explained, "it's got herbs, and seeds, and salt, and sugar," and though I didn't hear much beyond that, I understood just what she meant. To die for.
Naga Bakery is based in Middletown Springs, Vermont, and sells only at farmers markets and local food co-ops in their area. Seek them out if you're visiting, I implore you.
Dinner tonight: more roasted chicken, this time with roasted beets, gorgonzola dolce, toasted walnuts (honey drizzled over the beets, gorgonzola, and walnuts), and polenta cooked in chicken broth. Estimated cost for two: $10.65 – again, the chicken will provide left overs to make lunch for both of us (chicken salad with apples and raisins). I did go crazy today and make Oatmeal Raisin Bread (estimated cost for the loaf: $2.75) as well as Maple Walnut Ice Cream (estimated cost for 1.5 quarts: $9.65 – not as bargain-y as Cheapo Gal here would hope, but it's going to be scrumptious).