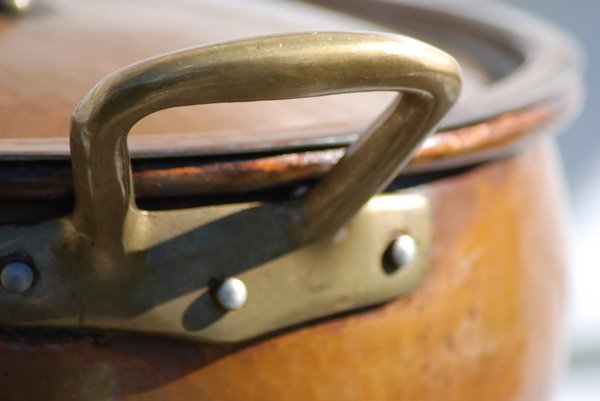 Ahhhh, what a difference a week makes. I returned to the farmers market today, and Marie from Oakdale Farms was working in a short-sleeved shirt. It's sunny, almost seventy degrees, and even the fruits and vegetables looked plumper, shinier, and more appetizing than last week. But then, everything looks better on a sunny day, doesn't it?
The family in front of me in line at the farmers market paid with WIC food vouchers, which I knew was an option in some farmers markets, but didn't think that the one in my town (with only two vendors) would also accept them. Marie said that the farmers have to get certified in order to accept them, and that in Massachusetts, seniors – all seniors – are entitled to thirty-dollar per person food vouchers. In Massachusetts, "senior" is someone over sixty (which, as discussed with my very young-at-heart 60-plus year-old neighbors, needs to be renamed as "senior" does not appeal to them nor does it apply to them.). To sign up for the vouchers, you simply need to go to your local senior center to apply. Marie said that they are distributed every June and expire on October 31, and what a great way to get farm fresh fruits and vegetables to seniors and whatever-the-word-for-over-sixty-but-not-yet-eighty year-olds should be.
Last night, JR and I had chicken in cider gravy with mashed potatoes. This is a variation of a chicken in white wine gravy recipe that I make when I have a half of a bottle of white wine hanging around, but, as you know, I've been drinking Sicilian reds, so I used the cider that is about to ferment in my refrigerator in place of the white wine and added honey mustard. I think this is an improvement on the white wine version of the recipe, and would be fantastic with pork shanks or pork shoulder; it was incredible with the chicken.
Ingredients
1 whole chicken, pieced into thighs, drumsticks, wings, and breasts. Ask your butcher to do this for you if you aren't comfortable doing it yourself.
Salt
Pepper
olive oil - enough to coat the bottom of the Dutch oven, around 3-4 tablespoons
1/2 medium onion, diced
1 medium carrot, diced
1 stalk celery, diced
2 teaspoons dried thyme
2 tablespoons honey mustard or Dijon mustard
3 tablespoons all-purpose flour
1 1/2 cups apple cider
2 cups chicken broth
8 carrots, peeled and sliced on the diagonal
Salt and pepper

Equipment:

Dutch oven or deep pan with a large cooking surface and a lid.
Instructions
Heat oil in Dutch oven over medium-high heat until oil becomes shiny. Working in small batches, add chicken pieces, skin side down, and brown until skin is crisp. Remove chicken from pan and place on a plate. There should still be enough oil to coat the bottom of the pan. If not, add enough to cover it.
Reduce heat slightly and add onion, diced carrot, and celery. Cook over medium heat until onions are translucent, and carrots and celery are softened, between 10 and 15 minutes.
Add thyme and mustard, and stir to combine. Cook for 1-2 minutes to blend flavors.
Add cider, stirring to combine, scraping up any browned bits from the bottom of the pan.
Add broth and simmer uncovered for 1-2 minutes to blend flavors.
Add sliced carrots and then the chicken skin side up. The chicken should be in one layer with only the skin above the liquid. Bring back to a simmer, cover, and cook for 1 hour 15 minutes, being careful not to let the liquid come to a boil.
When finished, the chicken should pull apart from the bone with no effort (meaning: no knife, peeps.). Serve with mashed potatoes or mashed sweet potatoes, topping the chicken and potatoes with the gravy and carrots, skimming fat off the top if necessary.
http://www.tinyfarmhouse.com/2008/10/a-sweet-variation/
This cider version will most definitely replace the white wine version all autumn long. And, as an added bonus, the chicken in cider gravy alone costs $8.98 for four. I found whole chicken on sale for 99-cents a pound, so this chicken was $4.54. The onion, celery, and carrots were $2.09. The cider was 75-cents, the broth $1.60, and the olive oil, flour, mustard and thyme are negligible, so I left them out of the math. The potatoes were $1.20 (local potatoes are also on sale now), and the butter was 62-cents, so for a grand total of $10.80, you can feed four people. And I would serve this to guests. Be prepared if you're coming over. You will be eating cidery chicken and liking it.
Dinner tonight: there's been a change of plans. It is so nice out, and there are so few of these days left before we get into the New England winter doldrums, that our menu has changed from butternut squash lasagna to grilled chicken with orange-rosemary sauce, braised fennel with pears and raisins, and more mashed potatoes. Estimated cost for two: $8.32. The chicken will be one-half of a whole chicken (on sale for 99-cents. Get thee down to the Whole Foods!) which is $2.21. The potatoes and butter are $1.22. The orange glaze will cost $1.89 because the honey is free (we keep bees) and the rosemary is free (I keep a plant or two around). The fennel is local from Four Town Farm, and cost $1.75, and the pear was about 50-cents.