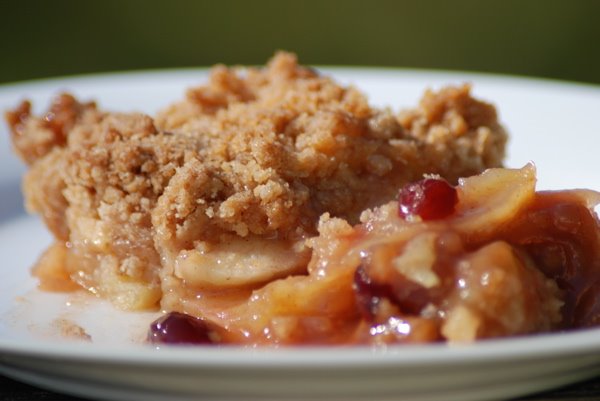 For all of you who know me well, please stop speculating as to which problem from all the possible problems on your mental list I could have finally become aware that I need to seek help to overcome. I do have a problem, and the demon's name is apple crumble. Really, the demon comes in the form of any type of baked fruit with streusel on top, but as apples are in season, the demon is apple crumble.
I haven't made a fruit crumble even once this year; an attempt to avoid the temptress, it seems, but now that I've had the crunchy, crumbly, cinnamon-y goodness once more, I recognize that this is a deep-rooted problem. And one which I would like to share with you. Oh, but you've already shared, you say? No, no, mes amis. I want to share the recipe for the fiendishly good apple crumble I made yesterday.
Apple Crumble with Dried Cranberries
Ingredients
Apple Filling:

3 pounds apples, peeled, cored, and sliced into 1/4 inch pieces
3/4 cup dried cranberries
1 cup sugar
3 1/2 tablespoons flour
1 teaspoon cinnamon
pinch of salt
1 tablespoon lemon juice

Streusel Topping:

1 1/4 cup flour
1/4 cup sugar (for a very molasses-y effect, use turbinado sugar, aka "raw" sugar)
6 tablespoons brown sugar
3/4 teaspoon cinnamon
1/4 teaspoon salt
1 stick plus 2 tablespoons unsalted butter, melted
1/4 teaspoon vanilla extract
(optional: 1/3 cup diced crystallized ginger)
Instructions
Preheat oven to 375 degrees. Grease a pie pan.
Combine apples, cranberries, sugar, flour, cinnamon, salt, and lemon juice in a large bowl, allowing about a half-hour for the apples to macerate while you make the streusel topping.
Combine all of the dry streusel topping ingredients and mix well. Add the melted butter and vanilla extract, mixing until all a moist crumb is formed.
Transfer apple mixture to the pie pan, mounding the apples so that they are highest in the middle of the pan. Top with the crumb mixture, covering all apples.
Bake on the middle rack of the oven for approximately 1 hour, or until the streusel is a golden brown and the apple mixture is bubbling. If the top is browning too quickly and there is no bubbling to be seen, cover loosely with foil until done. Let cool for 15 minutes and then serve - preferably with that maple walnut ice cream I made the other day. Or with whipped cream. Or vanilla ice cream.
http://www.tinyfarmhouse.com/2008/10/hello-my-name-is-amy-and-i-have-a-problem/
As it turns out, the maple walnut ice cream yields 1 and a half quarts, which should be twelve 1/2 cup servings of ice cream. Now, I wish I could say that we really do eat only the recommended portion size, but I don't want to have to join a self-help group for lying in addition to the one I have to join for fruit crumble addiction, so I confess that we got about 8 servings out of that batch. Which, at $9.75 to make the ice cream, works out better than I had expected; around $1.22 per serving. And to this point in my ice cream making experience, that recipe has the best creamy texture of any I've made. I'm going to try to modify it and keep the texture, so I'll let you know what other flavors come from that – if they are successful.
Dinner tonight: leftover braised short ribs with leftover polenta (made into triangles and fried), and sweet and sour butternut squash from a recipe in the fabulous cookbook, Cucina Siciliana. Estimated cost for two: $8.08. The short ribs are $6.83, the polenta was charged to dinner before the weekend, but for kicks, I'll call it a dollar, and the butternut was – ready? – twenty-five cents. For three pounds. YAY twenty-five cent butternut!