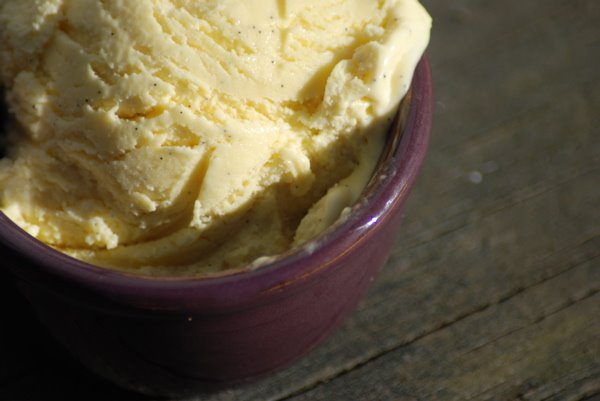 I've only recently begun to make ice cream in earnest. It began this past June, on JR and my fifth wedding anniversary. Strawberries were at their peak, and unlike last year when there was nary a native strawberry to be found, they were abundant at my local farm stand. We had decided to stay in and have dinner on the lawn on a beat up old farm table that I had insisted we rescue from further decay in the equipment bay of our barn a few years back. We had a fantastic bottle of wine, a Brunello di Montalcino given to us by my friend Mary, a salad with lettuce from the garden, roasted beets, gorgonzola, chicken and walnuts, and I made a lemon tart, but the highlight of the dinner – excluding the wine – was the strawberry ice cream. It was wonderfully creamy with just a hint of tart to balance the sweet – which is more than I can say for the lemon tart. The lemon tart – I hate to admit – was never finished. The strawberry ice cream, however, most certainly was. In short order, might I add.
The success of the strawberry ice cream started me on an ice cream and gelato-making spree. I made chocolate gelato, espresso gelato with chocolate chips, more strawberry ice cream, peach ice cream, and just a couple of weeks ago, a maple walnut ice cream, which, to this point in my novice ice cream chefdom was the creamiest of all the ice creams I've made. Then, disaster struck. I made a caramel walnut ice cream last week that refused to freeze. It had a wonderful, intense flavor of caramel (this was also the first time I had made caramel), and the toasted walnuts were only adding to the intensity of the flavor, but it was more of an iced topping than an iced cream. And then I realized. I had followed the recipe exactly, rather than following my instincts. Just like making bread dough, after a few forays into ice cream making, you'll instinctively know when the mixture is ready. In the case of ice cream, this is the point at which it will freeze properly – when the milk proteins are going to work with you and coagulate. With the chocolate gelato, it's the moment when the chocolate and milk no longer seem foamy, when it looks like a shiny pool of chocolate satin. There is a thickening that happens when the milk or cream is finally cooked to the point that it is ready.
And by ready, I mean ready to rock your world after a few hours of chilling, then some time in the ice cream maker, and another couple of hours in the freezer. Yes, there is a little bit of waiting between stages, just like making bread dough, but it really is worth it. The initial time invested to get your ice cream going is usually no more than a half hour, if, let's say, you were making strawberry ice cream and needed to pick through, rinse, hull, core, and slice the strawberries, but there are other flavors that aren't as time consuming. And also just like bread baking, you will be incredibly gratified by your from-scratch efforts. In this case, that you made such a scrumptious and creamy dessert accompaniment – for, let's say, apple cake, or apple crumble, or something chocolate – as I am going to share with you the vanilla ice cream recipe that I made earlier this week.
After last week's caramel debacle, I decided that I would take what I've learned from making ice cream and gelato these past few months, and apply it to a vanilla ice cream recipe from the book Ice Creams & Sorbets by Lou Seibert Pappas. I chose to use cream only in this adaptation, while Pappas uses 2 cups of half-and-half or whole milk and one cup of cream. Her book is worth picking up if you intend to make ice cream at home as it can sometimes be difficult to track down ice cream recipes online; I tend to find recipes in which the ice cream is an already existing ingredient, rather than a from-scratch item.
Ingredients
Adapted from Ice Creams & Sorbets by Lou Seibert Pappas
(1) 4-inch vanilla bean
3 cups heavy cream
4 large egg yolks
2/3 cup sugar
Instructions
Pour the cream into a medium non-reactive (stainless steel) sauce pan. Slice the vanilla bean lengthwise, scraping out the vanilla seeds from the pod and adding them to the cream. Once you have removed as many of the vanilla seeds as possible from the pod, add the pod to the cream.
In a separate bowl, beat the egg yolks well, then add the sugar and whisk together until the sugar is well blended with the yolks. The egg-and-sugar mixture should be a light yellow once well-blended.
Over medium-low heat while stirring constantly, warm the cream and vanilla seeds and pod until lukewarm, around 90-100 degrees, or until steam begins to rise from the cream. Remove from heat.
Working in small batches, slowly add the hot cream to the egg mixture, stirring continuously, until approximately half of the cream is combined with the egg mixture. The reason why you are doing this is to prevent the eggs from cooking as a result of heating them too quickly which will ruin the custard.
Return the saucepan to medium heat, and slowly pour the egg and cream mixture (the custard) into the pan, stirring continuously.
Continue stirring continuously until the mixture thickens such that it coats the back of a silicone spoon or spatula, approximately 10-12 minutes. At this point, remove the pan from the heat, pour the mixture into a non-reactive bowl (stainless or glass) and chill for 2-3 hours until custard is cold throughout. You may speed this process up by placing the non-reactive bowl into an ice water bath before refrigerating it if you'd like.
Once the custard is completely chilled, remove the vanilla bean pod from the mixture, and freeze it in an ice cream maker according to the manufacturer's directions. The ice cream maker I use requires that I freeze the ice cream maker bowl for many hours before freezing the ice cream itself. Be sure to check the directions on yours so that you don't find yourself with a warm "freezer" bowl and cold custard. That would be bad.
Once the ice cream is frozen, move it to an airtight container and place in the freezer for 2 hours, or until it is fully set. Yield: about a quart. In the case of this vanilla ice cream, it was more flavorful the second day. I'll let you know tomorrow how it was on the third day, alright?
http://www.tinyfarmhouse.com/2008/10/i-come-bearing-vanilla-treats/
Dinner tonight: leftover Hearty Pasta Fagioli and salad. Oh, but then we get to have apple cake and 3-day old vanilla ice cream. That's right. Leftovers are not all bad, peeps.