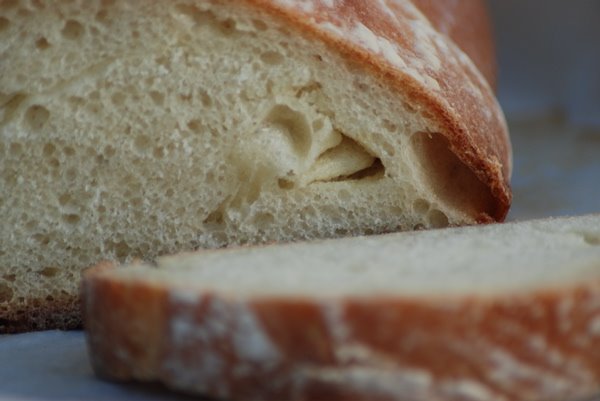 Oh yes. The jury is in. Definitely not out; in. And the jury thinks that no matter how frightening a concoction sourdough starter is, it is definitely good for you and your homemade bread. I mean, just look at the air bubbles in that sourdough ciabatta up there.
I have to admit, I was reluctant to use the slimy mess in my baking. I mean, the shiznit separates from itself and there's a murky, yellowish liquid that rises to the top of the starter, which even without the benefit of a photograph, you just know is truly nasty to behold. In the interest of being truthful – and also so that you aren't taken by surprise should you choose to make your own sourdough starter – there were also some little darker-yellow-with-white-mold-spore-splotches on top of the yellowish liquid. I mixed vigorously to combine the liquid and its growths prior to using the starter, and I have to say, if it weren't for the fact that I did see said liquid and growths with my own eyes, I wouldn't have thought for a second that the light and chewy loaf I made had any of this badness within. In fact, I'll bet that if (and when) I do more research on sourdough starters, I'll find out that mold – of some sorts – actually adds to the flavor of the bread.
Now, I know that the idea of making bread from scratch can be a bit daunting, but in truth, the actual assembly of ingredients doesn't take long at all. The sourdough starter was put together in about ten minutes, and, aside from the fact that a bowl of funk was on my counter for 4 days, it required nothing more of me than to stir it daily and have faith that it would, in fact, help my bread baking (and not result in death for JR or me). Making the ciabatta dough took about 15 minutes, so for very little time invested, you, too, can have delicious bread at home. In fact, the oatmeal bread also only takes 15 minutes to work into a dough. In any case, you simply need to factor in the rising time, and that usually allows about an hour or two for you to undertake some other project before you have to come back to the bread. Also, there is something very appealing – to me, at least – about kneading dough. I presume that after I make a loaf a week for a good long while, I may not feel the same way, but for now, it's therapeutic to work the dough, and also quite gratifying to know that I actually made a decent loaf of bread. With a good crust, no less!
Oh, and speaking of good crust: for country loaves, you'll need either a plant mister or spray bottle, or a shallow pan with about an inch of water in it, for the first portion of the baking, which, in this recipe, was at high heat (425 degrees) for 10 minutes. I didn't have a spray bottle sans poisonous household cleaner on hand, so I brushed the loaves lightly with water, and when I began to pre-heat the oven, I put a shallow dish with water on the bottom rack of the oven while it came up to temperature and in the oven it remained for the 10-minute high-heat cooking time. This replicates steam-baking, which professional bakeries use for that crisp crust and tender interior, and the replication method actually works at home. Fantastic! Now all I need to do is figure out how to feed my starter to keep it alive for next week.
Dinner tonight: Poultry-herder's Pie, which consists of the leftovers from the chicken in cider gravy with corn and peas added to the gravy, and topped with mashed potatoes. Estimated cost for two – or, well for 6 servings: $5.53. Half of the cost of the chicken from the cider gravy meal is $2.27. The gravy and carrots were paid for entirely the other night, so they are off the docket for this meal. The potatoes and butter are $1.82. The corn and peas are $1.50, so the total for this dish – for SIX servings, people – is $5.53. If you wanted to make Poultry-herder's Pie but had chowed all of the chicken in the cider gravy meal, you could always just snag a rotisserie chicken and use that instead because I suspect you would still have gravy left over. Ok, so for two, it's $1.84. That's ridiculous. How can you not make this meal?
Note to you, dear reader: don't even attempt to herd poultry, ok?