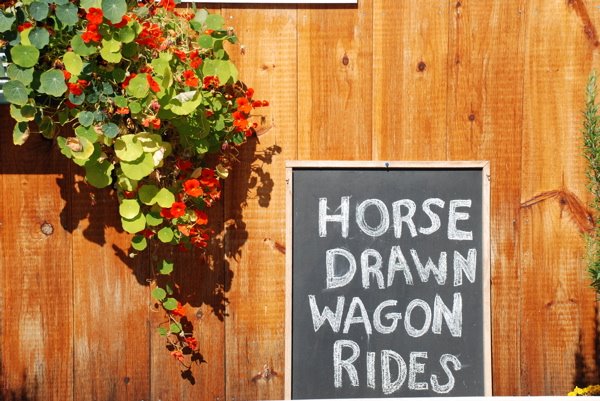 Though we had been to Major Farm last year (please see my previous post), we were unable to accurately choose from the four streets off of Westminster West Road which one would lead to the farm. Instead, we took a detour at a street that looked like it might be the street (despite the case that it was on the left and the street we wanted was on the right), and decided to make a quick stop at Green Mountain Orchards figuring that apples grown nearby where the cheese was made would make a great pair. Green Mountain Orchards turned out to be a pretty popular spot, with crowds gathered to pick-their-own, families in line for the two-dollar-per-person horse drawn carriage rides, and couples snagging already-picked-for-you apples by the peck. JR and I bought an assortment of 99-cent apples; Jonagold, Mutsu, and our current favorite, Empire, as well as six homemade apple cider donuts. Of course, the rationale for buying six donuts was to share them with JR's brother and his wife, but, it turns out the donuts were really enticing, and we ate 4 before we even found Major Farm. Whoopsie. We did tell JR's brother, Trip, about them, but we never did offer him one of the remaining two. He lives close enough. He should be able to get some himself. (Nice house guest I am, huh?)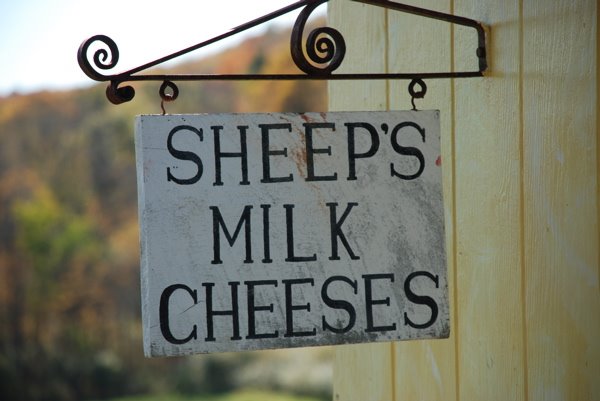 We left Green Mountain Orchards armed with directions to Major Farm. Directions which we chose not to believe. We drove north on Westminster West Road for about a mile, pulled into a driveway to have a look at the Vermont Road Atlas ("It doesn't have all the roads," I kept insisting to JR's dismay. As it turns out, it does not have all the roads. I feel redeemed.), continued north for about another half mile, then turned around and headed back into town. A man on a motorcycle gave us the proper directions (again), and we headed north, this time for about two miles past the road the orchard is on. We took a right onto Patch Road, and drove up the dirt road to the farm, leading to their self-service farmstand filled with skeins of wool, maple syrup, and, of course, Vermont Shepherd cheese.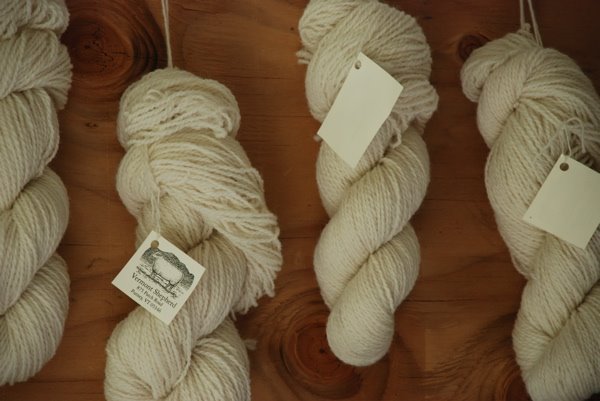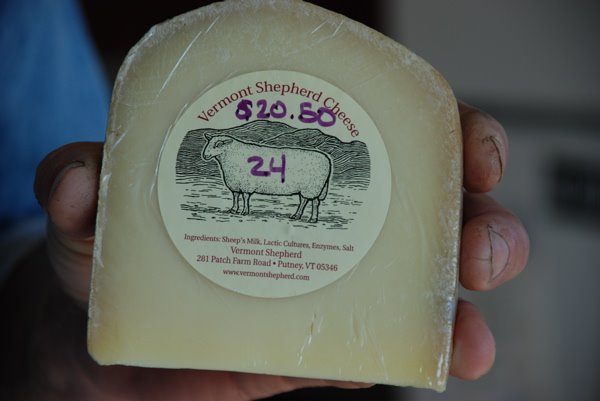 We scored a quart of Major Farm's maple syrup, this hunk of cheese in JR's hand, and a visit with the lambs and three angry sheepdogs. The sheepdogs were, of course, just doing their job, and as we had forced them to disturb the lovely silence at the farm, we took our leave and headed to Trip's house to settle in with our apple and cheese snacks.
Dinner tonight: roasted chicken with butternut squash stuffed with Israeli/Middle Eastern cous cous, apples, raisins, and Vermont Cheddar. Estimated cost for two (not taking into consideration chicken leftovers): $8.50. I'm just salting and peppering the chicken, cooking it at 400 degrees for about an hour, and am pre-roasting the butternut while I prepare the cous cous according to the instructions on the box, am soaking the raisins (about 2 tablespoons) in 2 tablespoons of maple syrup while the cous cous cooks, and will then combine cubed apple with the cous cous, raisins, a little olive oil, and about 1/4 cup of grated cheddar before stuffing it in the butternut cavity, and will bake it in the oven with the chicken until the cheese browns.