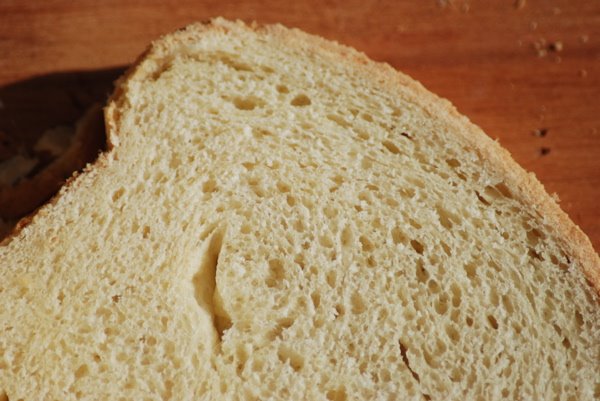 Around two o'clock yesterday afternoon, I realized that we were out of bread. If you've been reading this blog since its start, you are aware that I am charged with making a yeast bread per week. Last week's effort was a disaster, so I was filled with trepidation at fulfilling my yeast bread obligation for this week. I was thinking, something simple, something, well, what's another word for simple? Right. Easy. Yes, easy would be good. And The Joy of Cooking was there to accommodate me with this white sandwich bread which not only fulfills the easy requirement that I was looking for – and that I needed to bolster my bread-baking confidence – it also has a solid, crunchy crust that makes movie-perfect crumbs and a chewy interior tasting ever-so-slightly of butter and milk. Perfect for sandwiches or toast, and as of today, in a statistical dead-heat with oatmeal raisin bread for the title of Best Bread at my house. Definitely not boring or soulless at all.
Ingredients
Adapted from The Joy of Cooking
1 package (2 1/4 teaspoons) yeast
3 tablespoons warm water (105-115 degrees)
1 cup lukewarm whole milk (105-115 degrees)
5 tablespoons melted unsalted butter
3 tablespoons sugar
1 large egg
1 teaspoon salt
2 cups bread flour
1 1/2 to 2 cups all-purpose flour
2 tablespoons melted butter for brushing over top of loaf
Instructions
In a mixing bowl, combine yeast and warm water. If using active dry yeast, allow yeast to dissolve, approximately 5 minutes, before adding other ingredients.
Add lukewarm milk, melted butter, sugar, egg, and salt to the mixing bowl, and mix by hand to blend all ingredients before adding flour.
Add 1/2 cup of bread flour at a time, mixing on low speed until incorporated before adding the next half-cup. Scrape down the sides of the bowl as necessary.
Once all bread flour has been incorporated, add all-purpose flour in 1/2 cup increments, until 1 1/2 cups have been added. If the dough is still sticky, add all-purpose flour by the tablespoon (you can use a regular spoon for this - literally a spoon from the table) until dough is moist but does not stick to your fingers.
Knead by hand or on low speed in the mixer for about ten minutes or until the dough is smooth and silken.
Place dough in oiled bowl, turning to coat all sides of the dough, then cover with plastic wrap or a dishtowel and let sit in a warm area for an hour to an hour and a half, or until the dough is doubled in size.
Punch dough down and knead for about a minute. Return dough to bowl and refrigerate for 30 minutes.
Grease an 8 1/2 x 4 1/2 loaf pan. Fold the dough over itself in thirds as though you were folding a business letter, tucking short ends under. Place in the loaf pan and cover with greased plastic wrap. Return dough to warm area, and allow to rise for an hour to and hour and a half, until doubled in size.
Just before the end of the second rising, preheat the oven to 375 degrees. Before baking, brush the top of the loaf with melted butter, and bake on the middle rack for 40 to 45 minutes, or until the top crust is golden brown and the loaf sounds hollow when tapped.
Allow to cool on a rack, and serve warm with butter, or let cool completely and make tomorrow's sandwich with a slice or two. I, for one, am looking forward to having White Bread French Toast this weekend.
http://www.tinyfarmhouse.com/2008/11/boring-soulless-what-is-this-white-bread-you-speak-of/
Dinner tonight: chicken and mushroom pie, made from last night's leftovers with the addition of a pastry crust. Estimated cost for two: $4.08. The short crust will cost $1.55 between the flour, butter, and shortening (salt and sugar are negligible, and water is free), and the half of the chicken from last night's meal cost $2.53. The mushroom gravy was all tallied up last night, so I deem it free for this meal. We have just enough apple cake to have dessert tonight (and for JR to have a slice in his lunch), so tomorrow I must decide: are we dessert-free for a couple of days, or do I make that skillet apple pie that is next on the list of apple-cinnamon desserts for me to make? Hmmmmmm. I'll be sure to fill you in.