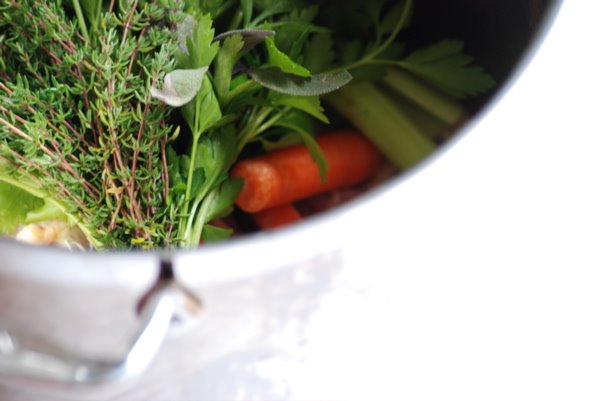 That "good for colds" thing may just be an old wives' tale, but it seemed to work out for JR last night. I have only a minute, but wanted to share with you the recipe for the cold-slaying (well, we hope cold-slaying after today, anyway) chicken soup.
Chicken Soup with pasta – made with homemade chicken stock:
Ingredients
(1) 4-5 pound whole chicken, pieced into 6 pieces (legs, wings, breasts)
1 yellow onion, cut in half, unpeeled
1 head of garlic, cut in half, unpeeled
2 large carrots, cut into 4 pieces each, washed and unpeeled
2 ribs of celery, cut into 4 pieces each, well-washed, with leafy tops still on
2 tablespoons black peppercorns
10 stalks parsley
12-15 stalks fresh thyme
3 stalks fresh sage
16 cups cold water. If you don't like the taste of your tap water, use bottled water instead.
Instructions
Tie a piece of kitchen twine around the herbs to make it easier to remove them when the stock is finished.
Place chicken, vegetables, pepper and herbs in a large stock pot. Pour water over being certain that all ingredients are under the water. Bring to a simmer over medium heat. Cover and simmer gently for 2 hours. Allow stock to cool for about an hour. Remove chicken to a plate and discard all other ingredients, straining through a fine mesh strainer into a large bowl or stockpot to remove all solids.
Reserve 12 cups of stock for the chicken soup. Transfer remaining 4 cups to an airtight container and refrigerate or freeze for future use.
http://www.tinyfarmhouse.com/2008/11/good-for-the-soul-good-for-colds/
Ingredients
12 cups homemade chicken stock
Cooked chicken removed from bones of chicken used in making of stock
6 large carrots, peeled and sliced
6 stalks of celery, sliced
8 ounces frozen sweet corn
1 1/2 cups orzo or other small pasta
2 tablespoons thyme
salt and pepper
Instructions
The biggest bear in the whole process is removing the chicken from the bones. If you'd prefer to make the soup with a rotisserie chicken and purchased stock, that's all good, however, the simmering to make the stock results in chicken that pulls apart from itself, giving that characteristic shredded chicken effect in the final product. Your choice.
Add the stock to a large stock pot. Heat over medium heat and add the carrots and celery, the chicken, orzo, and corn. Simmer over medium heat, stirring occasionally, until the orzo is cooked through, about 20 minutes. Add thyme, and salt and pepper to taste. Yield: 6-8 generous servings. Of course, you can also add any other vegetables you'd like to the mix. I added what I had on hand, and it was the perfect antidote to JR's cold. For him, anyway.
http://www.tinyfarmhouse.com/2008/11/good-for-the-soul-good-for-colds/
Dinner tonight: JR is still not feeling well, so more chicken soup for us. Hopefully this will do the trick and rid him of that nasty cough. Estimated cost for two: $3.79. We might sneak in a bit of bread, and if so, the total skyrockets to $4.89.
IF YOU HAVEN'T VOTED, THERE'S STILL TIME. GET OUT AND VOTE!