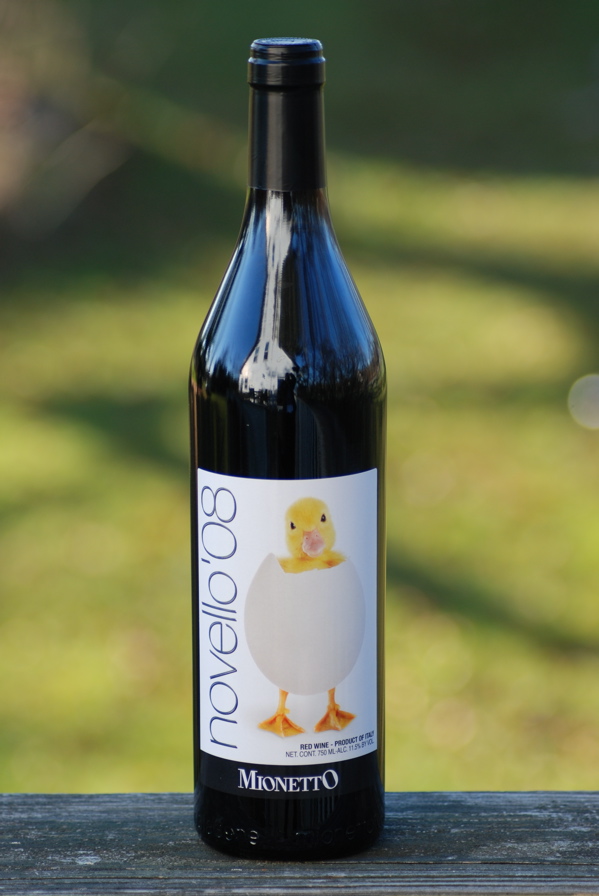 This is the third Thursday in November, and while you all may be thinking that marks the one week countdown to Thanksgiving – which is correct, of course – but while you are thinking this, the wine world is flipping its collective lid (or popping its collective cork, however you'd like to think of it) over the arrival of Beaujolais Nouveau. Everywhere you go, there are posters and placards outside wine shops screaming "Beaujolais Nouveau est arrivé!" (The new Beaujolais has arrived!!!!); tastings and dinners designed around the release of the 2008′s at midnight (so technically this morning); and in private homes, parties over the weekend to highlight their Beaujolais Nouveau purchases.
In my early twenties, I went to one such party at a friend of a friend's house. And it was quite a house for a person in their twenties. A four-story brownstone just outside of Boston, elegantly furnished, and filled with twenty-five year-old prep school-type boys wearing madras pants and bow ties and ladies in cashmere and pearls. Did I mention that this was the party of a twenty-something? Ever so slightly pretentious. Ever so slightly. I think I may have to attribute my disdain of Beaujolais Nouveau to this party, where I sat in a corner, my lack of pearls calling me out as a society émigré -clearly not part of this in-group of revellers in the throes of Beaujolais Nouveau worship. Do I sound scarred? I'm not, really. But I think you all can feel my pain, now, then, can't you?
Beaujolais Nouveau is a young wine made from the Gamay grape, and, as you may suspect, is produced in France. The release-day hype is a marketing tactic which started after World War II as a race to Paris to see which producer could get his wine to market first, and has grown into an international party since the launch of the global "est arrivé!" campaign in 1985. The grapes are harvested in the same year that the wine is released, so it is only three months from vine to your glass. It is meant to be drunk young and is usually consumed during the holidays here in the United States.
Last week, I went to see my friends at Gasbarro's in Providence, and they had a big display of the 2008 Novello from Mionetto, a producer best known for its sparkling wine, Prosecco (and we will talk about Prosecco prior to New Year's as it provides a good value while allowing you to consume bubbly on a budget). The Novello is Mionetto's answer to Beaujolais Nouveau. As it happened, a bottle was open on the counter, and I was in a drinking mood. Never mind that it was only noon on Friday. That's my business. In any event, my friend Frank poured me a fairly generous serving of the Novello and on my first sip, I said, "Wow." Then I paused, sipped, and said, rather profoundly might I add, "Wow." Frank said he understood. In fact, he said that most people who try it come in looking for Beaujolais Nouveau, and end up buying the Novello because they like it better than the Beaujolais Nouveau. I concurred and left with two bottles of the Novello, one which JR and I drank that night, and the other that we tasted again last night so as to be sure my notes were correct. I am all about accuracy, even if it means I have to drink more wine in accuracy's name.
The wine is made from Merlot and Corvina grapes. You are all plenty familiar with Merlot, but not likely so much with Corvina. Corvina is grown in the Verona region of Italy, which is just about eighty miles west of Venice. The Corvina grape is used in some of the great wines of this region, including Valpolicella and Amarone. If you hit the lottery, do yourself a favor and buy a few bottles of Amarone, ok? In fact, if you hit the lottery, would you buy me a bottle of Amarone as well? Please? That would be so nice of you. But I digress. Amarone is produced in a very extracted style, where the grapes are dried somewhat prior to fermentation in order to intensify the flavor of the finished wine, and the end result is rich and almost syrupy; it is a wine to hold, or age. Novello is not that, for Novello is produced to be drunk young, and so the wine is light, with a low alcohol content of 11.5%. As I was "taking notes" on it last night, I told JR that the color was almost magenta in the glass. It's not day-glo or anything, but there is a hint of purple in the ruby color. The wine has a very, very intense aroma, which I thought was sour cherry. The flavor is a bit tangy, but it also had a bit of earthiness to it that I could not for the life of me place, nor could JR, though he swore he almost had it on more than one occasion. It's a thin wine, very easy to drink (have I mentioned I've had it twice in the last week?), but I was having some serious difficulty coming up with the exact flavor – beyond tangy and slightly earthy. And I know that berries are a favorite term, but I couldn't quite place what type of berry. Right around the time I was sauteing the shallot for last night's dinner, I decided to give up trying to figure it out and to just enjoy it. And I'm happy to report that I did both and and am better for it, thank you very much.
I don't like to color my opinion of wine before tasting it, so I try to avoid reading up on the flavor profile until I'm just about to post, so this afternoon, I visited the Mionetto website and shouted, startling my Golden Retriever, Miele (me-ay-lay, it's a bastardization of "honey" in Italian – she's honey colored, we keep bees, you get it now, right?) – now where was I? Oh, right – I shouted, "AHHHHH! STRAWBERRRY! THAT'S IT!" I think I also smacked myself in the head as though I was in a V8 commercial for extra effect. Thank you Mionetto website for clearing up what type of berry, because that would have really bothered me the next time I drank your Novello. For the first sip or two, anyway.
The Mionetto people are also really helpful in telling you what foods go well with their Novello, and as such, they list turkey and cranberry sauce, pumpkin ravioli, and most traditional holiday cuisine. Now how about that? At $12.99 a bottle, it's a good deal, it goes with your holiday dinner, and you won't be asked to any party in its honor where you are obliged to wear pearls or bow ties, which should be such a relief in and of itself that you run out to buy yourself a bottle and cry out to all who pass by as you leave the store, Novello è arrivato! (The Novello has arrived!)
Dinner tonight: leftover meatballs, sauce, and freshly made linguine. Now, what did I say that cost? Oh, right. Estimated cost for two: $5.27. The meatballs consist of 20 ounces of ground meat from the same batch used to make the Untraditional Bolognese; cost per pound was $3.79, so the total for the meat is $4.73. The milk is 25-cents (one cup at $1.99 for 8 cups), the bread was $2.29 for 18 or so slices, and I am going to use 6 slices, so 76-cents. The eggs are also 50-cents, and the parmigiano-reggiano is about $5.62 because I splurged and got the good stuff last week. The sauce is going to be $2.00 for a 24 ounce can of fire-roasted crushed tomatoes, plus around a dollar-fifty for carrot, onion, celery, and garlic, and we'll throw in 50-cents for anchovy paste and tomato paste. So the meatballs cost $11.86, I got fifteen two-ouncers out of this batch; JR and I will have 3 between the two of us, so $2.37 for those. The tomato sauce costs $4.00, and I'll get four servings out of that. The pasta is $1.79 per box, and we'll use about half of that.
And, yeah, I did just cut and paste this math from Monday's post. It's like a mini-vacation from math. What a good reason to have leftovers!