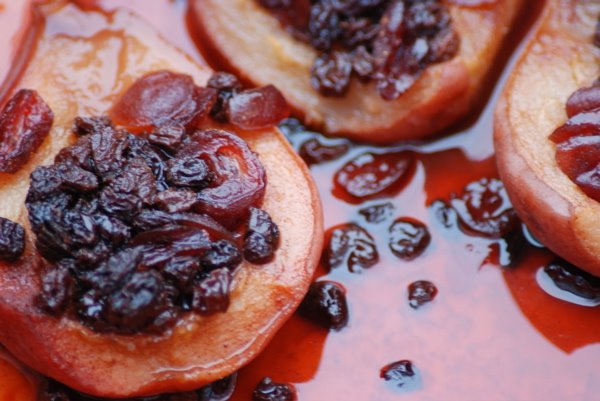 Pears bruise so easily. They entice me into buying them with their pretty colors – jewel tone reds, soft new-grass greens, mottled sunset pink – and then, within a day of having them in my house, they look like they've been in a barroom brawl, all bruised skin and mushy flesh. So disappointing. But, it turns out, this is exactly when to turn these formerly-gorgeous-now-nasty little bruisers into something not quite as addictive as say, apple crumble, but still in that autumnal theme: baked pears. I have to say, I think this is an undervalued dessert item. First, you're upping your daily recommended count of fruits in a completely surreptitious fashion. These bad boys are decadent enough that you might even forget you're eating within the USDA Food Pyramid for your after-dinner treat. Secondly, they are super-easy to make. I searched around for a recipe to reference, which I frequently do when I'm not completely sure of the technique, read through a couple, and then decided to use what I had on hand in my pantry.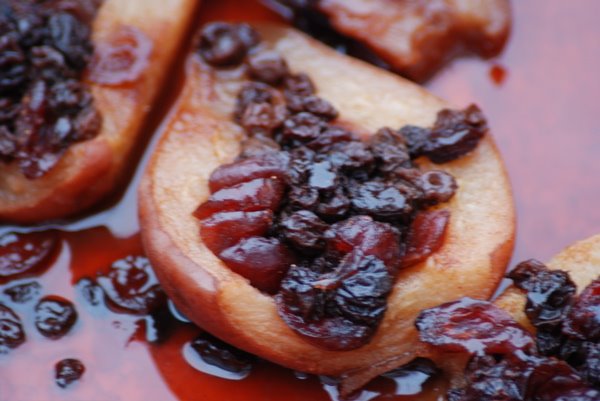 Ingredients
1 1/2 cups apple cider
1/3 cup brown sugar or honey
1/3 cup currants (or raisins)
1/3 cup dried cranberries
3-4 pears, unpeeled, sliced in half and cored (a spoon or a melon-baller will do the trick)
2-3 tablespoons cinnamon sugar.
Instructions
Preheat oven to 350 degrees.
In a small sauce pan, heat the cider and sugar or honey until it is dissolved. Simmer over medium heat until reduced slightly, about 5 minutes. Add the currants and dried cranberries. Simmer for about 2 minutes more, until currants and dried cranberries are softened, stirring occasionally. Remove currants and dried cranberries with a slotted spoon. Remove cider-sugar mixture from heat.
In a shallow baking pan (a lasagna pan or similar), arrange the pears cut side up. Pour cider-sugar mixture over the pears, then fill the cavity of each pear with the currants and dried cranberries. Sprinkle cinnamon sugar over top of the pears. Cover the dish tightly with foil and bake until pears are soft and are easily pierced with a fork, about 45 minutes. Check mid-way through the cooking time and add additional cider if necessary. You don't want the liquid to bake off completely.
Serve either warm or at room temperature, drizzling reduced cooking liquid over top of the pears. Serving size: 1 pear half per person.
http://www.tinyfarmhouse.com/2008/11/pears-and-the-pyramid/
Now, to add to the ridiculousness, and to further take my mind off of the Food Pyramid, I made a toffee sauce to go with the pears:
1 cup heavy cream
3/4 cup sugar
1/8 teaspoon salt
Combine ingredients in a medium sauce pan and cook over medium heat, stirring continuously, until sugar is dissolved and mixture is reduced and thickens to caramel sauce consistency, about 10-15 minutes. Remove from heat and serve warm or at room temperature. The sauce will keep for about a week in an airtight container in the refrigerator. Yield: about 1 1/2 cups. A little goes a long way.
If the toffee sauce doesn't take care of your dairy group recommendation for the day, don't forget the whipped cream, and you, the USDA, and their darned Pyramid should be all set until tomorrow.
Dinner tonight: chicken soup with oatmeal raisin bread toast. Estimated cost for two: $4.89. JR isn't feeling well, so I'm making a chicken-orzo soup with the most basic of ingredients. I've already made the stock, which consists of one whole 99-cent per pound chicken at $4.62, carrots, onions, and celery for both the stock and the soup: $3.26, corn is 85 cents, garlic was a quarter, the orzo is about $2.40. The thyme, sage, and parsley are from the garden and seeing as they lived through last night's frost, they are a gift and are therefore absolutely, 100% free. The total cost for the soup, which I estimate to provide around 6 servings, is $11.38. The bread costs about $3.69 per loaf, and I figure we'll get ten slices out of it (I'm sure you're supposed to get more like 12 or 16, but let's be real, ok?), so that's 37 cents a slice – JR will have two, I will have one, and that's a grand total of $1.10 in bread. And then we will have baked pears with toffee sauce – oh, and I made pecan ice cream, so we might have that, oh, but if not, we'll have whipped cream, and JR won't be able to taste any of it, but I sure will!
DON'T FORGET TO VOTE TOMORROW. (Sorry. I don't mean to yell, but it's really important that you vote.)