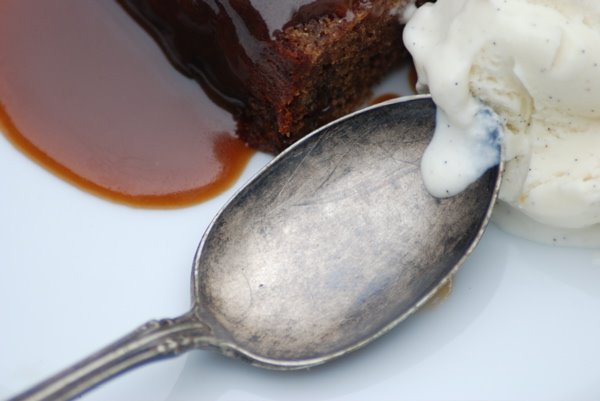 For our Christmas celebration this year, my sister came up with the idea that we should have a bake-off. The only criteria of the bake-off being that each person bring a dessert they had never before made. Now, my normal holiday dessert is Tiramisu, which I love, and which normally gets pretty good reviews, mostly nonverbal, like the double batch that was completely wiped out in twenty minutes at Easter, but given the rules, Tiramisu was out of contention. I had already planned to make a pull-apart cinnamon bread, but that was more of a breakfast pastry/roll option to go with the brunch my mother was putting on. I had eaten the most fabulous sticky toffee pudding at one of my favorite restaurants, Trattoria della Nonna in Mansfield, Massachusetts (if ever you're going to a concert at the Comcast Center, you should stop at Trattoria della Nonna for dinner first), so I did a little research, and found this recipe, which also makes good use of coffee or espresso like the Tiramisu. And I'm all for using coffee and espresso in desserts as there is often leftover from each morning's brewing.
Which leads me to the substitution I made. The recipe called for instant coffee granules, which I don't keep on hand, for I do not drink Nescafe or the like, so I made myself a pot of espresso on Christmas morning and used one cup for the pudding. Regular coffee would work just as well, and the only ingredient you might have to go out of your way to have in your larder are dates. Or possibly cream for the caramel sauce if you don't keep cream hanging about. The pudding is easily put together, and, as previously mentioned, I made it on Christmas morning without adding stress to the day. In fact, for a limited amount of effort, this produces an incredibly delicious dessert that pairs beautifully with vanilla ice cream. And that makes the I've-personally-never-made-it-before-December-25-2008 sticky toffee pudding a go-to dessert in my book.
Ingredients
For the cake:

1/2 pound dates, pitted and chopped fine
1 cup hot coffee or espresso
1/2 cup (1 stick) unsalted butter, softened
1 cup packed brown sugar
4 large eggs
1 3/4 cups all-purpose flour
1 teaspoon baking soda

For the Caramel Sauce:

2 cups heavy cream (a one pint container contains 2 cups)
1 cup brown sugar (dark brown sugar will result in a darker caramel which matches the color of the cake better than a light caramel, but the choice is yours)
1/4 cup (1/2 stick) unsalted butter
Instructions
Combine the dates and 1 cup of hot coffee in a medium bowl and set aside until cooled, approximately 30 minutes.
Preheat oven to 350 degrees. You will be using a 9" springform pan. Before greasing the pan, cut a circle out of parchment paper to line the bottom of the pan. This can be done easily by placing the parchment over the bottom of the pan and running a knife through the parchment following the groove in the bottom of the pan. Now, grease the pan well, press the parchment round down atop the bottom of the pan, and also butter it well. You could also use a square pan and line it with parchment such that the parchment overhangs the edges of the pan slightly and will allow you to remove the cake without cutting into it. Or, if presentation isn't your primary concern, to hell with it, just bake it in a well-greased 9" pan and accept some crumbling of cake. The taste certainly won't suffer for the loss of a clean edge here and there.
In a large mixing bowl, mix butter and sugar until well-blended. Add two eggs, one at a time, beating to combine each egg after its addition. Add one cup of flour, and blend well. Now, back to the eggs. Add the remaining two eggs, one at a time, beating until combined, just like before. Add 3/4 cup flour and blend well.
Add the teaspoon of baking soda to the coffee-date mixture and stir to combine. Add the coffee-date mixture to the batter, and mix well to combine. Pour into pan, place on a rimmed baking sheet, and bake in the center of the oven until cake is set and a toothpick inserted into the center comes out clean, approximately 1 hour. Allow to cool slightly before cutting.
During the last 20 minutes of baking, combine the cream, sugar, and butter in a medium saucepan and bring to a low boil over medium-high heat, stirring frequently. Once the mixture is at a boil, reduce heat to maintain a gentle simmer, and stir occasionally. Simmer until mixture is reduced by half, approximately 15 minutes. Remove from heat and set aside. Don't mentally force this caramel sauce into a sticky toffee pudding box, either. You can use this for topping ice cream and any other dessert use you desire as it comes together quickly and easily, and costs around $3.50 for 1 and 3/4 cups of goodness. So useful and budget-friendly, the caramel sauce is.
Cut the cake into wedges, drizzle caramel sauce over top, hit it with a little vanilla ice cream, and serve it forth.
http://www.tinyfarmhouse.com/2008/12/a-go-to-dessert/
Dinner tonight: Homemade butternut squash ravioli with maple cream sauce, bacon, and caramelized butternut squash. Estimated cost for two: $6.89. I made two pounds of pasta using 7 eggs and about a half bag of "tipo 00″ Italian flour, which is used for pasta-making. The eggs were from our chickens, but if you were to use store-bought, that would be $1.86 at $3.19/dozen. The flour was $2.19 for the bag, so we'll call that $1.10. I will use about 3/4 pound of pasta for the ravioli, so that's $1.11 at $1.48 per pound. I made my own ricotta. Yes. I also agree that's a bit too much, but I did it, so there we are. The milk was $2.39, and the one lemon was 50-cents, so it cost me $2.89 for two cups of ricotta. I'll use 1/4 cup at the most, and that expense is 36-cents. I'll toss in a few tablespoons of pecorino romano, which was $7.99/pound, so at 1.99 tablespoons per ounce, we'll call that 50-cents. The squash was 75-cents from my neighbor's farm stand/patio table in the front yard, and it's nearly 3 pounds. For you to buy it at a larger farm stand, it should be 79-cents per pound, so that would be $2.37, you'll need half of that, which we'll call $1.19. The bacon was $5.75 for 12 pieces, I'll use two, so that's 96-cents. I'll use one cup of cream for $1.50, a shallot, which we'll call 50-cents, and a tablespoon of maple syrup, which we'll call 25-cents. The total amount of butter used in the dish is 6 tablespoons, and that's 52-cents. And we will wrap it up with sticky toffee pudding and vanilla ice cream. And extra caramel sauce. Yay caramel sauce.