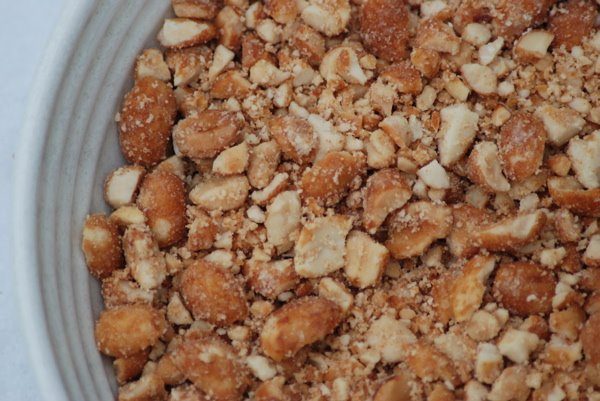 It's true. I can't deny it any longer. I am a compulsive dough eater. And I thought the apple-cinnamon combination was my weakness. Well, it is. But, then, so too is dough. In pretty much any form. As a child, I would sneak little bits of store-bought frozen dough from the back of the loaf – meaning the part facing the wall – while my mother waited for it to defrost and rise so she could make calzones. And I love calzones, but I would eat the dough even if it was partially frozen. Chewy.
On Sunday morning, I was making chocolate chip cookies. In theory, they were meant for JR's lunches this week, but, as JR so kindly pointed out, I probably ate about 3 or 4 cookies in dough alone. And that might have been a poor use of my dough resources, because this batch of chocolate chip cookies far surpassed any other batch of chocolate chip cookies I have ever in my life made. I think that's because I let the dough sit out for about six hours before baking them. You can see that I have no fear of food-borne illness such as salmonella, leaving dough out for hours before baking as I do. I strongly advise against you doing this at home as I don't want to be responsible for you and your entire clan spending an overnight under the dreary florescent lights of your local Emergency Room, but my cookies were crispy outside and chewy inside this time, where normally, they're just crispy. Of course, this requires more experimentation and better note taking. It could be that I undercooked them slightly and not that I left them fermenting for hours that resulted in the better texture. So, right, definitely don't try the leaving-out-the-dough method until I report back to you on that.
With chocolate chip cookies all made for this week, and a little extra dough rolled carefully in waxed paper – yes, in the refrigerator, I'm not trying to air-cure my cookie dough – one might wonder why I would make a new batch of cookies today. On a Tuesday. It defies logic. I am parsimonious. More cookies are frivolous and anti-thrifty. We already have enough cookies, all nicely wrapped, might I add, ready for JR's lunches through Friday.
But, in the spirit of parsimony, I was at the Whole Foods this morning buying pork shoulder to roast the cripers out of tomorrow (4 hours of cooking time! Gack!) as it is on sale – through today only, people – for $1.59 per pound. I got an enormous pork shoulder for $7.73. It will be scrumptious in the cider gravy that I use for chicken (though I will double the flour, stock, and cider amounts to be sure the pork is covered in liquid), and JR will be able to enjoy pulled-pork sandwiches rather than pb&j (not that there's anything wrong with pb&j, mind you) for the days following. We may even have pork quesadillas later in the week. Who knows? We're crazy like that. So there I am, in the Whole Foods, with the primary mission being to purchase the pork shoulder, and the secondary mission being to buy a large leek so I could see how accurate my leek-cost estimates have been to this point here on the blog. Plus, I'm nearly out of all of my leeks from the last day of my garden, so I will have to start purchasing them myself. And, incidentally, the leek I purchased was 18-inches long (yes. I did measure the freaking thing, strange and disturbing as that is.) and cost $1.01. You could feed a lot of people leek and potato soup with this one leek. But I digress. As I am wont to do. I decided to check out the mushrooms on my way out of the produce department as I am planning a mushroom frittata for later this week, should we tire of pork, that is. Upon viewing the mushrooms, I decided to wait until I could hit my local farm stand to get those. So now, by virtue of the store layout, I am funneled past the nuts and dried fruit to continue on my merry shopping way, at which point I see the Whole Foods 365 store brand honey roasted peanuts. This reminds me that I really want to try a recipe from Alice Medrich's Pure Dessert for salty peanut butter cookies. The Whole Foods store brand honey roasted peanuts are only $3.39 for, well, a lot. At this moment, they're in the house, and I'm riding out my sugar high here in the studio while I type this (in the event you couldn't determine this on your own from my manic tone), so just trust me, there are enough to make a batch of cookies, eat multiple handfuls while reading the recipe for said cookies, and still have enough leftover such that JR will think he hit the honey-roasted peanut lotto when he opens his lunch tomorrow.
As I alluded to in the previous paragraph, I might have had a handful or six while reading through the recipe, and while my coffee brewed. And, as it is always a good idea to read all the way through a recipe before starting, I learned that this cookie dough requires refrigeration. Of one to two hours, or overnight. So I figured it was a good idea to get them underway now so that I can bake them later on this afternoon. I melted the butter (yes, yes, you'll see. I'm going to share. Of course I'm going to share.), drank a shot of espresso and sugar, mixed up the dough, and, whoopsie – tasted it. Oh, what a bad idea for a dough addict. Now, I'm writing this while my dough refrigerates. I haven't even tasted the finished product yet. But Alice Medrich has yet to let me down with any finished product, and, might I remind you, I've already sampled the dough. Which tastes like a sophisticated version of peanut butter cup filling. Remember, the recipe is for salty peanut butter cookies, and the salt contrasts perfectly with the sweet. And, you'll also remember, I like salty and sweet, and sweet and sour. These combinations make me happy. So, after eating maybe only 2 cookies' worth of dough – a vast improvement from Sunday's 3-4 cookies' worth – I finally mustered up the will to cover the dough and refrigerate it. The will came from within, too. I didn't even see the dough-covering coming. Just suddenly, my dough-eating Id bust out and said, "enough, enough! Too much pleasure! Too much!" Really, you know you've got problems when your Id puts on the brakes.
Salty Peanut Butter Cookies
Ingredients
1 1/4 cups all-purpose flour
1/2 teaspoon baking soda
1 teaspoon kosher or sea salt
1/2 cup brown sugar
1/2 cup sugar
1 stick (8 ounces) unsalted butter, melted
1 large egg (brown eggs are local eggs, and local eggs are fresh - just a reminder.)
1 teaspoon vanilla extract
1 cup all-natural chunky peanut butter, stirred well before measuring to combine oil with solids
1 cup honey roasted peanuts (Medrich calls for toffee-coated peanuts, but these weren't readily available, and I'm sure there is a fine producer of said toffee-coated peanuts around, but I am poor/parsimonious, and $3.39 for the Whole Foods brand seemed like a good deal to me. I may miss the toffee taste, but I can aspire to that down the road.)
Instructions
Combine flour, baking soda, and salt in a bowl and stir well to combine.
Combine melted butter, brown sugar, and sugar in a large mixing bowl. Whisk to combine.
Add egg, vanilla extract, and peanut butter to the sugar-butter mixture. Whisk to combine.
Using a spatula or silicone spoon, add flour mixture, stirring until dough just forms, but being certain that all flour is combined into the dough. Eat approximately two tablespoons of dough to be sure it's good and tastes like grown-up peanut butter cup filling. Cover and refrigerate for 2 hours or overnight.
Place the oven racks in the upper third and lower third positions in the oven. Preheat oven to 325 degrees. While oven preheats, place the cup of peanuts into a plastic storage bag with a secure seal and whack the peanuts into coarse bits, not fine bits, coarse bits, with the spatula or spoon that you recently used to scrape dough off of the walls of the mixing bowl in order to sample. Place coarse peanut bits in a shallow bowl. Resist the temptation to use your mini-food processor for this task. It cuts the peanuts too finely. As in, you could make all-natural chunky peanut butter with your food processor nuts if only you have some peanut oil on hand. That is not the goal here. Maybe some other time, but not now.
Line two baking sheets with parchment paper.
Using your hands, form approximately one-inch balls of dough from the refrigerated dough. Try not to eat any more dough because you've already cost this batch of cookies about 4 from the total yield. Roll the dough around in the coarsely chopped/whacked peanuts to coat, being certain to cover all of the dough with peanuts. Place on the parchment-lined baking sheets 2 inches apart from one another.
Bake the cookies until they are lightly browned on top, approximately 15-18 minutes. You must rotate the pans from top to bottom and front to back approximately midway through the cooking time to insure even baking.
Alice Medrich says they will be very soft when they first come out of the oven - not having baked them yet, I cannot attest to this, but I trust her, so I trust you will trust her as well. They will firm up as they cool, she assures me (and you), so let them cool on baking racks and then serve them forth.
http://www.tinyfarmhouse.com/2008/12/confessions-of-a-dough-eater/
Dinner tonight: pea puree and ricotta lasagnette (mini lasagnas, or individual lasagnas, if you will) with sauteed peas, shallot, and bacon (how I wish it were Vermont Smoke and Cure bacon, but, alas, this time it is not). Estimated cost for two: $6.12. I got the idea for this from pea puree ravioli I made for Easter this year. I pureed the peas with just a little bit of shallot and their cooking water, then combined the puree with ricotta, salt, and pepper, and stuffed my ravioli with them. Making ravioli is a bit of a time-consuming project, however, so in an effort to streamline that process, I figured that layering lasagna noodles (purchased, not homemade – I am a terrible cheat on this dish today) with pea puree and ricotta, and then topping it with a quick saute of peas, shallots, and bacon would be a pretty satisfying substitute for homemade ravioli. The peas cost $1.29 per bag (Whole Foods store brand, people!), we'll use 1/2 of the bag. The ricotta was $3.99 for 8 ounces, I'll use between 2 and 4 ounces, but let's just call that $2.00 to err on the side of caution. The shallot we'll call 50-cents. The bacon was $2.15 for 4 slices of slab bacon at the meat counter (on sale at Whole Foods). I'll probably only use two slices because it is thick, so that's $1.08, but even if you splurged and used it all, the meal total only leaps to $7.20. Not too shabby for a cheap-arse dough addict's meal. The lasagna noodles were $1.59 for a box with 18 sheets of pasta, we'll use 3 sheets for tonight's meal, so let's call that 27-cents. I'll toss a little parmigiano-reggiano (the $12.99/pound kind, not the fancy Red Cow) over it all, so let's call that $1.62 for 2 ounces.
Posted on Wednesday, December 10: ok, a quick note on the covering-the-cookie-dough-in-whacked-peanut-bits. I clearly lack the skills of Alice Medrich, so I wasn't able to get peanut bits to adhere to every last speck of dough. No matter, I improvised and made them such that the tops have the honey roasted peanut bits on them, and they are still quite scrumptious. I think the next time I do this, I am going to make bars out of them. Don't tell my family or my neighbors, because they are likely getting these in their baked goods gifts at Christmas (family and neighbors, stop reading now!), but I will bake the dough without the peanut bits in a parchment paper-lined brownie pan. I will let it cool, then spread Nutella over the top, and then sprinkle them with peanut bits. I think I should make a test batch first, though. Just to be sure.
Also, my brother just dope-slapped me for mentioning the chocolate chip cookies without posting the recipe. All in good time, all in good time. Of course, he hasn't read this far because he was asked to stop reading a moment ago, so if you see him, please let him know that I will post that recipe in the near future. But don't tell him about the peanut butter/Nutella bars. That's a surprise. Thanks for your help with that.