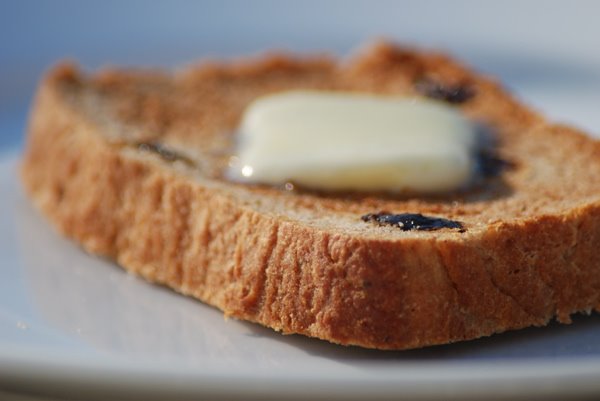 With all of this turkey-in-a-hole-in-the-ground excitement, you might suspect that I've slacked in my weekly yeast bread baking duties. But you would be wrong. In fact, you are wrong. On the Sunday prior to Thanksgiving, I made some honey wheat bread based on a recipe I found – where else? – at King Arthur's Flour website. The bread was moist and just a little bit sweet, and made the most unbelievably satisfying peanut butter and jelly sandwich. As in, this is the kind of bread that makes you crave peanut butter and jelly sandwiches. Imagine? Dreaming of the lowly pb&j as you would a delicacy – in my case, truffles or perhaps some Robiola Tre Latte cheese. It's also working out quite nicely with leftover stuffing, cranberry sauce, and turkey for JR's Cape Cod turkey sandwich lunches this week. And, in fact, it made for a good day-after-Thanksgiving French Toast as well. The recipe makes two loaves, so I recommend that you try it out this weekend, make sandwiches – did someone say pb&j? – with it all week, and save a few slices for a robust breakfast of French Toast drizzled with honey or maple syrup the following weekend. Your family will thank you for it. Believe me.
Honey Wheat Oatmeal Bread
Ingredients
2 cups boiling water
1 cup rolled oats
1/2 cup sugar, preferably turbinado (sold as "Sugar in the Raw")
1 tablespoon honey
1/2 stick unsalted butter, cut into 1/2-inch pieces
1 tablespoon kosher salt
1 teaspoon ground cinnamon
1 tablespoon yeast
1 1/2 cups white whole wheat flour
4 cups all-purpose flour
1 cup raisins (optional, but a very, very good idea)
Instructions
In the mixing bowl of a stand mixer, combine the boiling water, oats, sugar, honey, butter, salt, and cinnamon. Stir with a spatula to combine. Let cool to lukewarm such that you can touch your hand to the outside of the bowl and it is pleasantly warm, not painful. Start testing around 5 minutes after combining all ingredients.
If using active dry yeast, sprinkle it over top of the oat mixture and allow to dissolve, approximately 5 minutes, prior to adding flour. If using instant yeast, mix it and the wheat flour into the oat mixture. Add the all-purpose flour one cup at a time until all four cups have been incorporated, and, if using raisins, add those to the dough now. Knead for 5 to 7 minutes by machine, or until satiny. If kneading by hand, this will likely take 10 minutes. I like to do a combination of machine kneading and hand kneading so that my arms don't feel like they're about to fall off after 10 minutes, but I still have the very gratifying sensation of bringing the dough to a satiny consistency myself.
Place dough in a lightly greased bowl that will accommodate it doubling in size. Cover with lightly greased plastic wrap, and place in a warm, draft-free area until doubled in size, approximately 1 hour.
Divide the dough in half. Shape each half into a loaf and place in lightly greased loaf pans. Cover each loaf with lightly greased plastic wrap and set in a warm, yes, you guessed it, draft-free area until the dough has risen about an inch over the top of the loaf pan. This will also take about an hour.
Preheat oven to 360 degrees. Bake until golden brown, approximately 33 minutes. Remove from oven and allow to cool on a rack. Serve a piece or two right away with butter and cinnamon sugar if you're feeling a bit impatient and don't want to wait until Monday noontime to taste just how well your efforts have been rewarded.
http://www.tinyfarmhouse.com/2008/12/dreaming-of-pbj-and-cinnamon-sugar-too/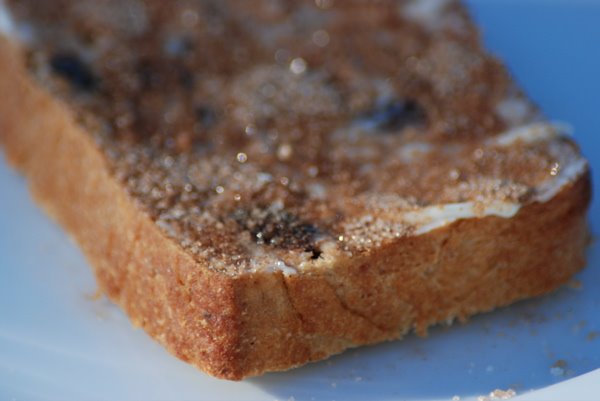 Dinner tonight: I'm making the chicken in cider gravy once more. I'm working on an entertaining menu for 8 to submit to the Boston Globe food editor, and I want to be sure of the ratios when making it for 8. Later this week, I'll be making roasted fennel and carrot soup as well, and then I have to sort out the dessert details, but the pasta course will be the butternut squash lasagna. So fennel and carrot soup, butternut squash lasagna, chicken in cider gravy with mashed potatoes and carrots, and maybe apple cake. I love that apple cake. It's better than I remember every time I have it. And I've been having a lot of it, I have to say. If you happen to be in an emailing mood, please email the Globe and tell them how much you enjoy reading my blog. Heck, while you're at it, could you email the ProJo and New York Times (webeditor@nytimes.com – attention Pete Wells) as well? Any other newspapers or food mags would be – excuse the pun – gravy. Ok, so speaking of gravy, the chicken in cider gravy for 8 costs somewhere around $18.05, or $4.51 for two. When I made this back in October, I used slightly more expensive chicken broth, but now I am a devotee of Whole Foods store brand broth for $2.19 for 4 cups. The cider was $2.99 for 8 cups, we're using three, so that's $1.07. Roughly 4 tablespoons of olive oil is 80-cents. The nearly 4-pound chicken plus two additional legs is $7.12. The carrots are $1.60 at $3.99 for 5 pounds of carrots, and the celery and onion, I've put in as $1.00. I haven't estimated the flour or the dijon mustard but promise to do so very soon. There's something rather daunting about 576 teaspoons of flour per bag that I just can't face up to right now. I do hope you understand. The potatoes for the mashed potatoes are 57-cents per pound (buy local!), and the butter is about $1.14 – for 8 servings. We'll be eating chicken in cider gravy and fennel-carrot soup all week and into next. You'll be so bored hearing about it, won't you, now?