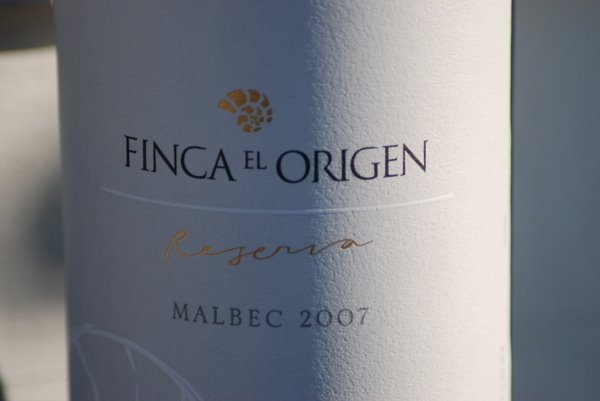 While Argentines ponder whether their popular Vice President, Julio Cobos, will be asked to resign by their unpopular President, Cristina Fernandez de Kirchner, for voting against her initiative to raise taxes on farm exports this past July, you and I are free to ponder how this $10.99 Reserve Malbec from Argentina's Uco Valley got to be so darned good.
You may also want to send a thank-you note to Senor Cobos, as vineyards are farms, too, and – though I don't have direct confirmation from anyone in the Argentine government – I would bet that an increase in farm export taxes would result in an increase in the price of Argentinian wines. I would bet. If I were a betting type, that is.
My friend Mark at Gasbarro's Wine on Federal Hill in Providence steered me to Finca el Origen's Reserva Malbec on a recent visit. I have long known that there are many values to be found in South American wines, as well as Australian wines, but I do have a little thing – perhaps we could call it an obsessive love , though I'm not certain that's quite strong enough – for Italian wines, so it can be difficult to get me out of the boot (the Italian boot. I'm speaking figuratively here. I don't actually put my physical self in a boot while shopping for wine. Even at 5'5″, I'm a bit too tall to attempt that sort of crazy.). However, Mark knows my taste in wine, so his recommendation was all I needed to bring this wine home with me. That, and the fact that he informed me that Finca el Origen sells their grapes to the venerable Catena winery, and Catena is generally double the price of this bottle. Did you hear me? Same grapes. Less money. Ok, not literally "same grapes", that would be impossible, but same grower. Less money. Sounds good to me.
This is a boozy wine, this Reserva Malbec. It is a deep garnet red in the glass, and smells toasty, earthy, and of leather. Or at least I thought so. For you wine connoisseurs out there, after a spin round the glass, the abundant legs present themselves alerting you to the 14.5% alcohol contained within. You want to share this bottle. With a few people. Unless your goal is to become drunk. Then go ahead, keep it to yourself.
For those of you non-connoisseurs, legs is a term that applies to the clear streaks that trail down the glass after you've given the wine a vigorous swirl. More legs means more alcohol. And this wine has legs like a centipede. Only centipedes are gross and make me scream, and this wine is excellent, and I am now screaming it from the interwebs' virtual mountaintop that is my blog.
The Malbec grape originated in the Bordeaux region of France, where it is known as Cot. It is a rough and rustic grape with a thick skin in its native France, but upon being planted in Argentina, began to evolve and become more finessed, resulting in smoother, more sophisticated wines. The change in the grape's characteristics between France and Argentina has been attributed to the high altitude of the vineyards in Argentina. The vineyards of Finca el Origen are between 1050 and 1200 meters above sea level in the upper Uco Valley of Mendoza province. The Andes mountain range marks the western edge of their viticultural zone. It sounds like a fantastic place to visit, drink wine, and admire the mountains. It's almost summer there now, you know.
My first taste of the wine was very smooth. I tasted black cherry, a little bit of the oak from the barrel aging in the form of vanilla. But very subdued vanilla. The wine had a rich, smooth mouthfeel. JR's review consisted of him saying, "yeah. It's just really good," over and over. And then over again.
Finca el Origen's website says that the wine tastes of plums, blueberries, and strawberries, with a hint of cinnamon (did someone say apple cake?), and while I wasn't right on the money with my tasting notes – though everyone does register tastes slightly differently – this wine is right on the money ($10.99!) for a winter warmer. I see some beef short ribs and Finca el Origen's Reserva Malbec in your future this winter. I really do.
Dinner tonight: leftover chicken in cider gravy. I told you that we'd be eating that for days, didn't I? Estimated cost for two: $4.51. And probably some leftover roasted fennel and carrot soup, which was quite scrumptious between the subtle licorice flavor of the fennel, the sweetness of the roasted carrots, the honeyed mascarpone and a very light sprinkling of kosher salt over it all. I can't decide if I should share that recipe or the pasta with ricotta and prunes tomorrow. Please stop with the "ew, gross" look over the prunes. It is a fantastic meat-free dish, and Mr. Meat-and-Potatoes, JR, even said, "wow. It tastes like meat." Ok?