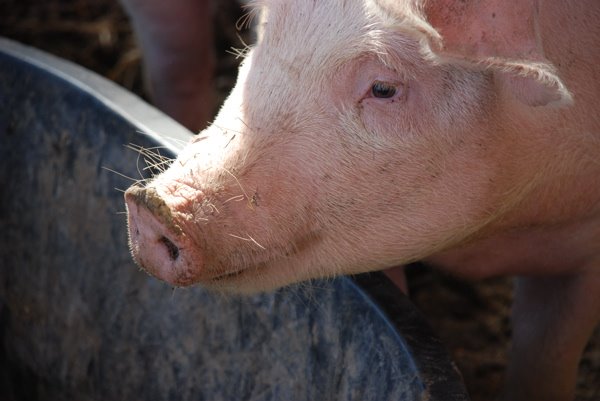 Yes, I do intend for you to use this on the pig. You have been warned.
Before I head back into the house (I write to you from my computer in my studio which is in the barn behind the house) to roast the carrots and fennel for tonight's soup, I wanted to quickly share with you the recipe for Country Style Pork Spare Ribs in Honey Mustard-Cider Marinade. It's simple, uses only a few ingredients – you could always substitute apple juice or orange juice for the cider if you don't have any on hand – and pork ribs have the added benefit of not being turkey. And I think we all can agree that not being turkey one night this week is a huge benefit.
Country Style Pork Spare Ribs in Honey Mustard-Cider Marinade
Ingredients
2 tablespoons honey
2 tablespoons Dijon mustard
1/4 cup olive oil
1/4 cup apple cider
salt
pepper
4 Country Style Pork Spare Ribs, approximately 1-inch thick (four, or however many you intend to serve out. The marinade yields about 3/4 cup, which should provide enough for 6 ribs)
2-3 tablespoons brown sugar
Instructions
In a medium mixing bowl, combine the honey, mustard, oil, and cider, whisking to blend. Add salt and pepper to taste.
Place spare ribs in a large storage bag or large shallow dish, such as a pie dish, cover with the marinade, and refrigerate for 2 hours or overnight. Alternately, if you don't have time to wait 2 hours, marinate the ribs unrefrigerated for one-half hour.
Preheat the oven to 375.
Line a baking sheet with foil. Place ribs on foil, spaced evenly across the baking sheet. Sprinkle enough brown sugar to lightly cover each rib over top. Bake for approximately 45 minutes, flipping ribs over mid-way through cooking time, and sprinkling brown sugar over top of that side as well.
I'm sure I don't need to tell you - though I am about to do so just the same - that this marinade and sugar-dusting would work just as well with chicken or other cuts of pork. Oh, pork tenderloin, why do you forsake me with your expense? Why? Why?
I'm thinking that the next time I indulge in this mustardy sweetness, I'm going to go with pork chops. Not only that, but I am going to stuff those pig parts with apple slices and cheddar cheese. Oh, so decadent. Poor little piggy. Lucky you and me.
http://www.tinyfarmhouse.com/2008/12/honey-mustard-cider-marinade/
Dinner tonight: Roasted fennel and carrot soup with honeyed mascarpone. Estimated cost for two: $3.88. The fennel costs $4.20. I used 1.5 pounds of carrots at 80-cents per pound, so $1.20. I am using leeks from the last day of my garden, which are free for me, but we'll call it 75-cents for everyone else. Olive oil is 60-cents for 3 tablespoons. The broth is $2.19 for 4 cups. The mascarpone was $4.99 for 8 3/4 ounces, so 57-cents per ounce. We'll have an ounce each, and the honey being used is a minuscule amount, but we'll call it 50-cents. The soup ingredients will make 8 servings, so fennel, carrots, broth, leek, and olive oil are divided by 8, multiplied by 2, and then the mascarpone and honey are added to that to get the "for two" cost.
p.s. we're having apple cake for dessert. Have you not tried the apple cake? For shame, for shame you nonbelievers. It is mind-bogglingly good. Make it. You must.