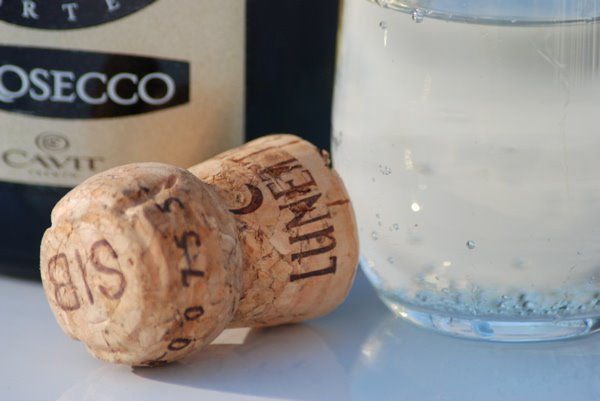 And P is also for Pizza, which, if you're trying to figure out a low-cost party concept for the holidays, happens to pair well with Prosecco. I've long been a fan of Prosecco, Italy's sparkling white wine, and would always serve a cocktail of limoncello and Prosecco to dinner guests as they'd arrive at my house. However, it's an easy-drinking festive tipple on its own, and would work well as the drink of choice for any party, but also for an inexpensive to pull-off Prosecco and make-your-own pizza party this holiday season. I hosted a Champagne and pizza party a few years ago, and it's surprising how well bubbly goes with pizza. It has the added allure of bringing sparkling wines into a more "ordinary" realm. I, for one, think the world would be a better place if we didn't always reserve the bubbly for special occasions. So, though I'm recommending Prosecco and Pizza for the holidays, I think it's a fitting party theme throughout the year.
Prosecco is produced in the Veneto region of Italy, which is the region in the northeast that borders the Adriatic Sea, with Venice, its capital, as it's sparkly jewel on the coast. Austria borders its very northern tip, and Verona is its largest city at the western edge of the province. Friuli-Venezia Giulia is its neighbor to the west, just beyond Verona, and, while the grape's lineage is somewhat dubious, it is thought by some that the Prosecco grape originated in Friuli-Venezia Giulia in the town of Prosecco. However, this has not been proven, but I'm fairly certain you won't be worrying about this as you're raising your glass in the air, full of lovely, sparkling Prosecco.
The Veneto is the third most productive wine region in Italy, following behind Sicily and Puglia, with over two-hundred and fifty million bottles of wine produced in the Prosecco DOC (Denominazione Origine Controllata) zone alone. You may recall from last week's post on Sassotondo that DOC and DOCG (Denominazione Origine Controllata e Garantita) are terms of the classification system employed by the Italian government throughout Italy to guarantee what types of grapes are in which wines as well as what percentages of which grapes are used in blends. The Prosecco zone of Conegliano-Valdobbiadene is north of Venice, and is situated on rolling hills between the towns of Conegliano and Valdobbiadene. Prosecco has been grown there for at least two hundred years, though its modern era began in 1868 when Antonio Carpene, founder of the Prosecco house Carpene-Malvotti, began to employ a new method to add the characteristic fizz. This technique was invented by a Frenchman of the name Charmat, and is now known as Metodo Italiano, or Methode Charmat.
There are two fermentations in the creation of sparkling wines. The first one occurs after the harvest. In early, or farm-style, Prosecco production, the grapes were harvested late, so they were laden with sugar, and they would ferment in open vats until winter, when the cold stopped the fermentation process. Then, in the springtime, the warmth would spark a second fermentation which resulted in carbon dioxide bubbles in the wine. This resulted in a very sweet sparkling wine. In the modern era of Prosecco, and of all sparkling wines, the second fermentation is controlled rather than left to the spring thaw. Champagne, which refers only to the sparkling wines produced in the Champagne region of France, employs a method of introducing that second, bubble-producing, fermentation into wines already in the bottle, rather than prior to bottling. This is known as methode Champenoise. Wines outside of the Champagne region may employ methode Champenoise, and many sparkling wines do, but in Prosecco, they employ Metodo Italiano, which introduces the second fermentation in the tank, so prior to bottling. Metodo Italiano is a less expensive process than methode Champenoise. As you can imagine, introducing the second fermentation into individual bottles is a very time-consuming process, whereas introducing it to a vat holding a large quantity of wine prior to bottling involves far less labor, hence, the savings are passed on to the consumer. And we consumers are then able to have sparkling wine with pizza any time we like. Thank you Monsieur Charmat for your Metodo Italiano.
As a result of the difference in second fermentation process, Prosecco is a less-expensive wine than Champagne. There is one type of Prosecco, from the vineyards of Cartizze within the DOC zone, that does command up to three times the price of other Prosecco bottlings, but most Prosecco you will find in the United States will be a bargain as compared with Champagne. It does lack the complexity of a fine Champagne, but it is no less festive.
The Cavit Lunetta Prosecco which I sampled on Wednesday night is, of course, easy on the pocketbook or wallet at $11.99 per bottle. It's a light and easy-drinking wine, not terribly complex – as mentioned above, but happily bubbling away and pleasant to drink just the same. It has a pretty, floral nose with some peach and honeysuckle scents. It isn't a wine that's going to challenge you, but you have enough going on right now, so just enjoy it. It's good. And refreshing.
Cavit is a wine making cooperative based in Trentino, which is the region to the north of the Veneto, and just north of the Prosecco di Conegliano-Valdobbiadene DOC. While truthfully, I wouldn't rush right out and purchase Cavit still table wines, I did find the Lunetta to be very pleasant and would buy it again. So give it a go, or try another producer's Prosecco and have yourself a very merry whatever you choose to celebrate. I'm going to celebrate dough, sauce, and cheese, myself. And then Christmas.
Dinner tonight: meatballs and spaghetti with red sauce. Estimated cost for two: $5.30. The meatballs consist of 20 ounces of ground meat; cost per pound was $3.79, so the total for the meat is $4.73. The milk is 25-cents (one cup at $1.99 for 8 cups), the bread was $2.29 for 18 or so slices, and I am going to use 6 slices, so 76-cents. The eggs are 50-cents, and the cheese is less expensive than parmigiano-reggiano as I bought pecorino romano instead. It costs $7.99 per pound, and I'll use a maximum of 4 ounces, so we'll call that $2.00 for our accounting purposes. The sauce is going to be $2.00 for a 24 ounce can of fire-roasted crushed tomatoes, plus around a dollar-fifty for carrot, onion, celery, and garlic, and we'll throw in 50-cents for anchovy paste and tomato paste. So the meatballs cost $8.24, and I'll get fifteen two-ouncers out of this batch, so 55-cents per meatball. JR and I will have 3 between the two of us, I'm sure, so $1.65 for those. The tomato sauce costs $4.00, and I'll get four servings out of that. The pasta is a splurge – we're going with our favorite fancy Italian pasta, Rustichella d'Abruzzo, and are using their spaghetti, which was $3.29 for a bag, and we'll use about half of that for a total of $1.65 in pasta. I think I should play 1-6-5 in the lotto tonight, no? When I made this last, the battle I had chosen to fight was the battle for fancy parmigiano-reggiano in the meatballs. Today's battle is for the Rustichella d'Abruzzo pasta, and, you know what? The last time I made this, it was $5.27 for two with the parmigiano. Today, it's $5.30. All's fair in love and food budgeting, I'd say.