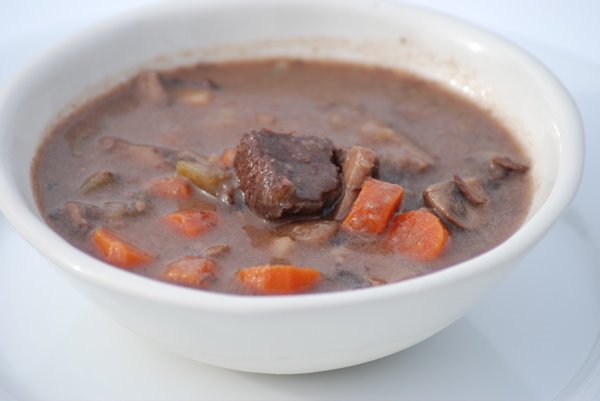 When I first lived alone – by which I mean the very first apartment I had with no roommates, which was also my only experience living alone – I began cooking in earnest. I had started making up dishes years earlier, but, not insignificantly, the fact that I could afford an apartment on my own also meant I could better afford food. Add to that the fact that I was the only one around, which allowed me to cook or bake whenever I felt like it, and all that with the additional bonus of being able to avoid washing dishes for however long I liked without angering anyone but me.
During this time, I developed this beef stew recipe, which I shared with a friend of mine. She was from a large Irish clan – surprising, being that I live in Massachusetts, that I would have an Irish friend from a large family, I know – and she shared some with her mother, the seventy-plus year-old matriarch of the group. Her mother said it was the best beef stew she'd ever had. Now, I don't know if I should chalk that up to Irish graciousness, but if you don't mind, I'll keep it as a compliment.
A Highly Regarded Beef Stew
Ingredients
2 pounds beef stew meat
1/4 cup Worcestershire Sauce
1/4 cup soy sauce
2 tablespoons Dijon mustard
2 garlic cloves, diced
pepper
1/4 cup all-purpose flour for coating the beef, plus more if needed
1/4 cup olive oil
1 medium onion, chopped
10 ounces mushrooms, rinsed and sliced
1 tablespoon thyme
1 tablespoon prepared horseradish
1 tablespoon Dijon mustard
(1) 750ml bottle dry red wine
4 cups beef broth
8 carrots (around 2 pounds), peeled and sliced into spoon-friendly pieces
4 stalks of celery, chopped into spoon-friendly pieces
2 pounds of potatoes (generally this will be around 4 medium potatoes), peeled and cubed into what? Yes, spoon-friendly pieces. Remember that you will be eating this with a spoon, so your vegetables must be hoisted to your mouth with said spoon.
2 bay leaves
Instructions
Combine the Worcestershire Sauce, Soy Sauce, Dijon Mustard, garlic, and pepper in a large bowl. Add the beef stew meat and toss to coat. Cover the bowl and refrigerate overnight.
The next day, place the flour on a plate or in a bowl. Remove the beef from the refrigerator and coat each piece completely in flour. In a large stockpot, heat the oil over medium heat. Working in batches, brown the flour-coated beef on all sides, transferring to a plate as they are finished browning. When all beef stew pieces have been browned, add the onion and cook for 2 minutes, until onion begins to soften. Add the mushrooms and cook until they are soft, approximately 5-7 minutes. Add the horseradish, thyme, and Dijon mustard and stir to combine. Add the red wine, scraping up any browned bits from the bottom of the pot. Cook the wine for a minute, then add the beef broth. Add the browned beef, carrots, celery, potatoes, and bay leaves, and stir well to combine all the ingredients in the pot. Cover, and simmer gently on the stove top for 2 hours or until the beef is tender.
http://www.tinyfarmhouse.com/2009/01/a-highly-regarded-beef-stew/
Dinner tonight: Sweet Italian Sausage with white beans and sauteed cabbage. Estimated cost for two: $6.81. The sausage is Whole Foods store brand, and it was on sale for $3.99/pound last week. I bought six and froze the bad boys, and we will have one each tonight. Six cost $6.22, and even though you and I know they aren't all equal-sized, we'll call those two 2.07. The beans are a can of the Whole Foods 365 store brand, which I find to taste better than a lot of the more expensive canned beans they carry, and those were 99-cents, though you could get Goya brand for 89-cents. I'm not going to sweat the dime at my house, however, and so Whole Foods brand it is. The cabbage cost $3.20. We are eating all of that, I assure you. The oil for the cabbage will cost 45-cents, and the garlic, which will be two cloves from one 50-cent head of garlic, which we will call 10-cents. This meal couldn't be easier and it is so darned tasty.