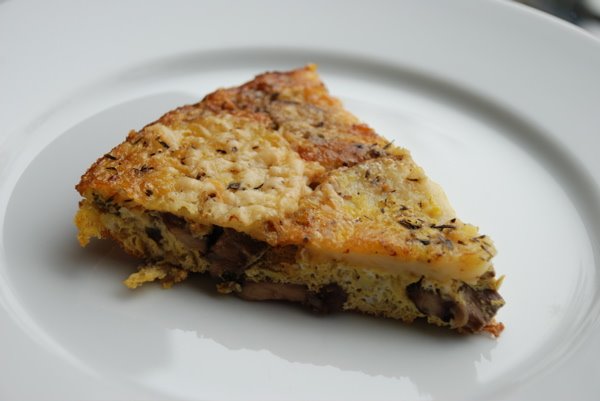 When I was a kid, one of my favorite dinners was actually a theme dinner, Breakfast for Dinner. You remember it. I know you had them, too. Some nights it was apple pancakes, other nights scrambled eggs. I don't remember any French Toast making the Breakfast for Dinner menu, which strikes me as quite a shame.
In my adult years, I came to realize that Breakfast for Dinner was a convenient way to put together a quick, inexpensive meal, and rather than feeling taken, that only adds to its appeal. Nowadays, though, my Breakfast for Dinner usually consists of some variation on Frittata. Frittata is an Italian dish, less like an omelet than it is usually given credit for being – it seems more like a crustless quiche – and lends itself to much improvisation. I like to think of it as egg-based pizza, actually. In the spring, it's great with some asparagus, fresh goat cheese, and peas. During the summer, what could be better than fresh tomato slices, mozzarella, basil, and corn, or zucchini and mint? In the fall, I like to hang onto the tomatoes and corn as long as I am able; and in the winter, it lends itself to earthy additions like mushrooms and cheese, potatoes and sausage, or, as I am about to describe, mushrooms and potato with cheese.
Once you've mastered the basic technique of cooking frittata, you are free to riff on it at will. I occasionally enjoy a simple egg and cheese frittata, sometimes I like to get all crazy-go-wacky and add kalamata olives and feta cheese, and every once in a while the tang of artichoke hearts in concert with the eggs really does it for me.
Mushroom and Potato Frittata with Cheese
Ingredients
8 large eggs
1/2 cup olive oil
1/2 of a medium onion, diced
1 pound mushrooms, washed well and sliced
2 teaspoons thyme
1 medium thin-skinned potato, washed well, and sliced thinly
1 cup grated cheese of your choosing
salt and pepper
Instructions
In a large mixing bowl, combine the eggs and beat until well blended
Preheat oven to 350 degrees.
In a large oven-proof skillet over medium heat, add the oil and heat until just beginning to shimmer. Add the onion and saute until just translucent, approximately 2 minutes. Add the mushrooms and thyme, and saute until mushrooms have softened, approximately 5 minutes.
Reduce heat to medium-low and add the egg mixture. Allow to cook on the stovetop until the eggs are just set, approximately 7 minutes. Place the thinly sliced potato rounds all around the surface of the frittata, pressing down gently to cover with a thin layer of liquid egg. Sprinkle grated cheese over top, salt and pepper to taste, and transfer to the oven. Bake on the middle rack for 45 minutes, or until the top of the frittata is just golden brown.
Remove from oven and let stand for 5 minutes before cutting into 8 even-ish wedges. Serve with a simple green salad and crusty bread, or perhaps some braised fennel if it happens to be too cold outside to consider chilled greens.
http://www.tinyfarmhouse.com/2009/01/breakfast-for-dinner/
As I mentioned in yesterday's post, the cost per serving on this is quite low. The eggs were $3.19 for a dozen, so $2.13 for the 8 in this dish. The olive oil worked out to 95-cents, the mushrooms were $2.25, the onion was actually half of an onion, so 25-cents, the thyme we decided was 10-cents worth. The potato was about a half a pound, which, at 58-cents per pound is 29-cents, and the cheese – I used provolone because I had it on hand – was $1.25 for the amount I used. If you used a cup from a two-cup bag of shredded cheese, that would be around $2.00 for the cheese. I'll use that two-dollar figure to tally this bad boy up, and our total for 8 wedges of mushroom and potato frittata with cheese is $7.97, so we'll round up and call it $1.00 per piece. Not too shabby, and completely in the spirit of Breakfast for Dinner.
Dinner tonight: Pancetta with Peas and Spaghetti, Topped with a Fried Egg. Estimated cost for two: $6.05. The pancetta was $8.29 per pound. We're using about a quarter of a pound, so that's $2.07. The pasta is the fancy Rustichella d'Abruzzo, which was $3.29 for a 1-pound bag, and we'll use half of that, so that's $1.65. The peas are frozen, and they were $1.39 per bag, we'll use half of the bag, and that's 70-cents. The shallot is about 50-cents at the most, I'll shake some crushed red pepper into the pan, so let's call that 10-cents, and the olive oil will be around 50-cents. The eggs are 53-cents for two, but you could easily omit them if you like. I'll cook the eggs sunny-side-up, so there will be runny yolk to mix into the pancetta and peas. It comes together quickly, has a great kick of heat, and the savory pancetta contrasting with the sweet peas can't be beat for that price! And that's with the fancy pasta. If you used a less-expensive pasta brand, like Barilla, which you can get for 99-cents for a one-pound box, it would be $1.15 less for two people. And, yes, the recipe is going to be posted soon. It would be unfair of me to keep this kind of inexpensive goodness from you.