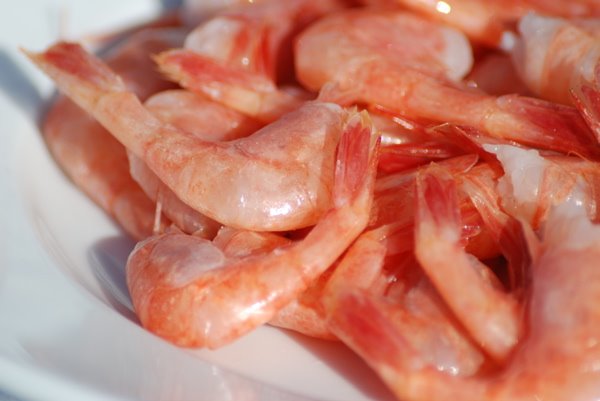 And by shrimpy-shrimp, I do mean small shrimp. As I was discussing with my friend Debby this morning, I wasn't so sure I would serve these shrimp to guests, but then she described a conversation she had with a friend of hers regarding shrimp, which caused me to reevaluate my stance on the shrimpy-shrimp. It seems Debby had served Thai shrimp at a recent dinner for her friends, and one of her friends noted that they had no taste. Actually, the friend's mother initially pointed this out to the friend who then shared it with Debby, but no matter. The fact is, those previously frozen imported shrimp do not have any taste. But the shrimpy-shrimp JR and I had were fresh Maine shrimp, and they were actually quite sweet and tasty, if small. And a half-pound for the two of us was certainly adequate. As an added bonus, they were on sale and they cost only $2.00 for the half-pound in our tasty shrimpy-shrimp meal. At regular price, they'd be $3.00 for a half-pound – oh, and did I mention that they taste – so in either pricing scenario, that's well worth it. If you have the opportunity to purchase locally-caught shrimp instead of those tasteless frozen imports, you must do so. I insist. You will be amazed at the difference. And, as Debby said to me, you should serve them to guests. They taste like something.
Shrimp with Broccoli and Linguine in a Garlicky-Lemon Sauce
Ingredients
4 tablespoons unsalted butter
3 tablespoons olive oil
1 medium shallot, diced
3 cloves garlic, diced
1 cup dry white wine
The zest (yellow parts only) and juice of two lemons
1 pound sweet local shrimpy-shrimp, shells peeled and rinsed
1 pound linguine
1 pound broccoli, cut into florets
Instructions
Bring the pasta cooking water to a boil and cook linguine according to manufacturer's instructions.
Just after you add the pasta to the pasta water pot, heat the butter and oil in a large saute or fry pan over medium heat. Add the shallot and garlic and cook until shallot is translucent, being careful not to burn the garlic, about 3 minutes. Add the white wine and cook for 2 minutes. Add the shrimp and cook through, approximately 3-5 minutes, depending upon the size of your shrimpy-shrimp. Add the lemon juice and zest and stir to combine. Reduce heat to medium-low. As soon as linguine is cooked al dente (cooked through, but firm to the bite), transfer the linguine to the saute pan, leaving the pasta cooking water in the pasta cooking pot. A pasta fork with drainage holes will help you complete this task and works well for straining the broccoli out of the water as well. Quickly return the pasta cooking water to the boil and add the broccoli to it. Cook until the broccoli are bright green, yet still firm, approximately 2-3 minutes. Remove the broccoli from the water, add to the pan with the shrimp and linguine, and stir to combine. Alternatively, you could add the broccoli to the pasta water while the linguine cooks, but be aware that the addition of room-temperature broccoli to the pot with the linguine will slow the cooking of both linguine and broccoli down. Salt and pepper to taste, and serve the tasty shrimpy-shrimps forth.
http://www.tinyfarmhouse.com/2009/01/darned-tasty-shrimpy-shrimp/
For four people, even presuming that you purchase the shrimp at regular price, the cost is $13.87. If you purchased the shrimp on sale, it would be $11.87 The shrimp are $5.99/pound regularly, and were $3.99/pound on sale at Whole Foods. The linguine is $1.99 for a one-pound box of Whole Foods store brand fancy bronze die pasta. You can buy less expensive pasta if you like, but the bronze-dye type has better texture in my opinion. The lemons are $1.00, the butter and oil are 35-cents and 33-cents respectively. We'll call the garlic 30-cents. The shallot is 25-cents. The one cup of wine should not cost more than $1.67 if it is 1/3rd of a $5.00 bottle that you bought expressly for the purpose of cooking. And you should not spend more than $5.00 on a bottle of wine for cooking. Finally, the broccoli is $1.99 per pound. My friend Debby says you can serve shrimpy-shrimp to guests, so you'd better believe you can.
Dinner tonight: Beef Stew with Red Wine Broth. Estimated cost for two: $5.98. The beef was $6.01 for 1 and 1/2 pounds. The wine was the $3.99 bottle of Portuguese wine that I bought the other morning at 10am. The broth was $2.19 for Whole Foods store brand beef broth. I used one onion, which we estimate is 50-cents on the high end (actually, in this case it would be 32.5-cents as it was a half pound at 65-cents per pound, but just to be fair in case you pay 99-cents per pound of onions). The carrots were 1 pound – in this case, 8 carrots – at $3.99 for 5 pounds, so 80-cents. I used 1 1/2 pounds of potatoes at 57.5-cents per pound, so that's around 86-cents. The celery was 4 stalks from a bunch containing 12 for $1.99, so that's 66-cents. The flour was about a half-cup, so at $3.99 for 19 cups, that's 11-cents. The mustard was 20-cents, the horseradish about the same, and the thyme was 10-cents or so. The marinade consisted of soy sauce, Worcestershire sauce, a clove of garlic, and a tablespoon of mustard, so all of those items together are roughly $2.34, with the soy costing 68-cents, the Worcestershire $1.36, the garlic 10-cents, and the mustard 20-cents. The stew yields 6 to 8 servings, so for $17.96, figuring on the low end of the serving spectrum, it's $2.99 per serving. And on the high end at 8 servings, it's $2.24 per serving. And it is rich and filling, so I'd wager we get 8 servings. But, as you know, I am a fan of rounding up in order to not shock you with a bill that is 75-cents more than I allege per serving, so round up I will.