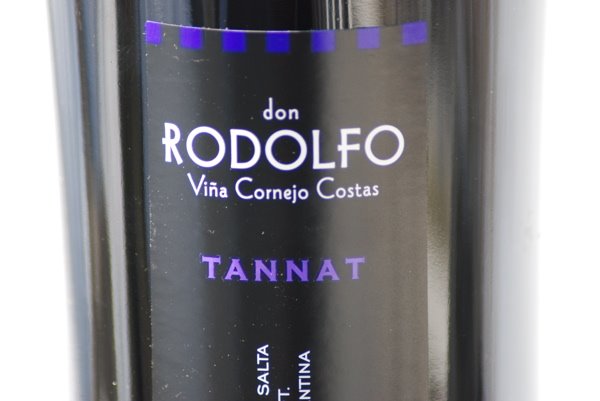 Tannat is a highly tannic varietal, with one theory on the origin of its name being that it is derived from "tannin". Makes sense to me: tannin, Tannat. In its native France, it is blended with less tannic varietals and then aged in oak to counter its inherent tannins. But in the high altitude of Argentina's Cafayate Valley – some 6,000 feet above sea level – the cool nighttime temperatures help to contain the natural tannins of this grape while emphasizing its natural deep violet color. Tannat is known as Uraguay's national wine, so it makes sense that it would eventually gain popularity in neighboring Argentina, though it seems just a speck on the Argentine wine map, where Cabernet Sauvignon, Merlot, and Malbec rule. In fact, Tannat is not currently listed as a varietal on the Wines of Argentina website.
However, with the reduced tannins afforded by the high-altitude growing conditions, the don Rodolfo Vina Cornejo Costas Tannat 2006 is a lovely, deep purple-colored red wine with pepper, buttered toast, and a floral tobacco scent on the nose as my olfactory system interpreted it. It was incredibly smooth, thanks to that reigning in of the tannins, and that even with its 13.5% alcohol content. In my first taste, I detected raspberry and black cherry. Also in that first taste, I thought, "wow, smooth." (Have I mentioned "smooth"?) The don Rodolfo site says that their Tannat has eucalyptus on the nose as well as fruit, and there is also talk of leather and spice on the palate in addition to berries. Clearly the berries stuck out more to me than did the leather and spice. So I was close to the official description, but eucalyptus completely escaped me. However, the next time I have this wine, I will be on the lookout (or smell out?) for eucalyptus. It's all about growing the wine vocabulary, after all.
The don Rodolfo estate is one of just a few in the Cafayate Valley, and those few vintners produce 4% of all of Argentina's wine. That four percent is considered to be among the best of Argentine wines by some. The high altitude also protects the vines from pollution and disease, and irrigation is provided to a large degree by melting snow. The Tannat is harvested by hand and aged in stainless steel vats before being bottled and then aged in the bottle for an additional four months. Frank at Gasbarro's Wines in Providence – the man responsible for introducing me to this lovely value wine – informed me that they do not often have don Rodolfo's wines in-stock, due to the small production of the vineyards, but when they do, the wine quickly sells out. At $10.99 per bottle, this is an outstanding, rich and smooth wine that is beautiful to look at as well. If you can buy in quantity, Gasbarro's Wines just increased their case discount to 12% from 10% to help out we budget-conscious oenophiles. This brings the per-bottle cost down to $9.68 from $10.99. When your friends wonder aloud how the winemakers at don Rodolfo got the wine to be such a dark purple without a the mouth-drying effect of assertive tannins, you can tell them. That's just how they roll in the Cafayate Valley at 6,000 feet above the sea.
Dinner tonight: Lemony meatballs with pasta and a white wine-lemon sauce. Estimated cost for two: $3.75. The meat is a blend of pork, veal, and beef, which I buy for $3.79 per pound at my favorite Italian market, Venda Ravioli, in Providence. I will use a pound. The breadcrumbs will cost around 50-cents, the cheese, which is pre-grated Pecorino-Romano cost $4.79 for the amount I last purchased, and I will use half of that, so $2.40. I will use around 10-cents worth of dried oregano – though the oregano I am using grows wild in my garden – plant it once, you have it for life, people, so I'll credit myself the dime in my mental tally. I will use two eggs, which are from our chickens, but if you were to purchase them, as I expect you will, the most they would be is 52-cents. I will use about a half-cup of flour to coat the meatballs, and that costs 11-cents at $3.99 for 19 cups of flour. The butter and oil for frying the meatballs is around 70-cents total. The lemon zest that goes into the meatballs, I will tally up in the sauce figure, so for $8.12, I will have around thirty-two 1-ounce meatballs, each of which costs just a fraction over 25-cents. I estimate that we will have 6-8 meatballs total with tonight's dinner, so on the high end, that's $2.00. The sauce consists of the butter and oil we've used for frying the meatballs, about 1.5 cups of white wine, which cost $5.00 for 3 cups, so $2.50, about a cup of water, and the juice of one lemon, which is 50-cents, so the sauce, which will provide leftovers for the remaining 24 meatballs, is $3.00. To be fair, I'll divide that over 4 servings (8 meatballs x 4 servings =32), and that's 75-cents. The pasta is 1/2 of a one-pound box of Whole Foods store brand fancy Italian pasta that cost $1.99, so that's $1.00. The lemony meatballs also make a good appetizer, so I will be sharing this recipe soon in case you want to have some lemony meatballs at your Superbowl party.