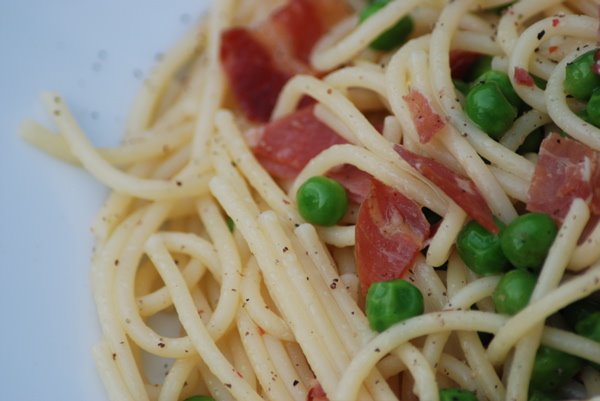 I was on the fence about what to have for dinner tonight – pancetta and peas or the last of the ribollita (Tuscan bean and vegetable) soup, but selecting the photographs for today's post has ended my quandary. Pancetta and peas it is.
Pancetta is an Italian cured pork product. It is also produced in Spain, and in both cases, it is the same cut of the pig – the belly – that is used to produce bacon. Unlike bacon, pancetta is not smoked, so it doesn't present itself in as pronounced a manner as bacon, though it does add a nice saltiness to a dish without overwhelming it as a smoked bacon might. Pancetta is also used as the base to many Italian pasta sauces, and is traditionally used in Bolognese sauce, though, in an effort to keep the cost of my untraditional version of Bolognese down, I omit it. Pancetta is a natural companion for peas as its saltiness pairs beautifully with the sweetness of the peas. It is slightly more expensive than bacon, at $8.29 per pound at my local Italian market, while bacon averages around $4.99 per pound, but it is worth it for the nuance of flavor it provides, and you don't need more than two ounces per person to produce an incredibly satisfying dish. In fact, you could probably get away with closer to an ounce each, but just in case you have a large appetite, we'll go with two ounces per mangiatore (eater). When you see the 1/2 teaspoon of crushed red pepper in the ingredient list, you may become alarmed, but this little tidbit should assuage your fears: generally speaking, JR does not love spice-generated heat in his food, but for this dish, he happily makes an exception. If he can do it, so can you, so try it spicy first – scale it back to 1/4 teaspoon if you're unconvinced – and if you don't like it, which I think is nearly impossible, omit the hot pepper the next time you make it. Because believe you me, there will be a next time.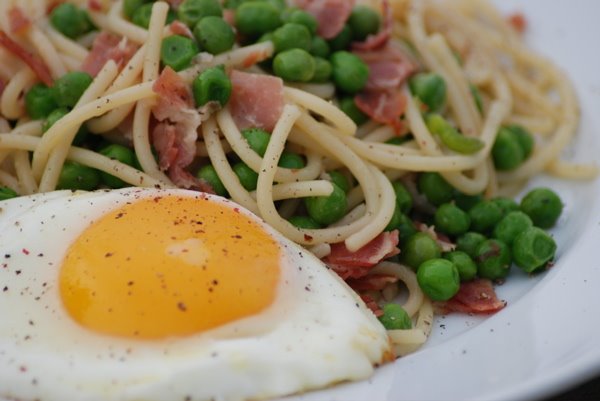 Pancetta and Peas with Spaghetti and Egg
Ingredients
2-3 tablespoons olive oil
1/2 pound pancetta, thinly sliced (specify this at the market when you purchase it, though they should know this as they are professionals) and then cut into roughly one-inch squares
1 medium shallot
1/2 teaspoon crushed red pepper
2 cups peas
1 pound spaghetti or orecchiette
2 tablespoons olive oil for frying eggs
4 eggs (one per mangiatore)
Salt and pepper
Instructions
In a large saucepan, start the pasta water to boil. Just before it comes to the boil, heat the olive oil over medium heat in a large saute or frying pan. Add the pancetta, and stir to spread evenly throughout the pan. Don't forget to start cooking the pasta now that its water is boiling. Cook the pancetta for approximately 5 minutes and then add the shallot and crushed red pepper, stirring to combine with the pancetta. Cook the pancetta, shallot and red pepper for approximately 5 minutes, and then add the peas, stirring to combine them with the pancetta mixture.
When the pasta is al dente (cooked through, but firm to the bite), drain it, reserving 1 to 1 1/2 cups pasta cooking water, and add the pasta to the pan with the pancetta mixture. Add one cup of the pasta water to the pan and stir to combine the pasta with the pancetta mixture. Reduce the heat to medium-low. If it looks like the pan is drying out at any time while you're working on the next step, go ahead and add the remaining 1/2 cup pasta water to the pan.
In another frying pan, heat the olive oil over medium heat and add the eggs, being careful not to crack the yolks. If you do happen to crack a yolk, it's not the end of the world. I'm sure someone in your family either thinks runny yolks are icky (this person is likely under 10 years old) or some other person will decide that it's their turn to take one for the team and will volunteer to eat the broken-yolk egg. And that person is probably you who is cooking this, for it would be me at my house. The cook goes down with the broken-yolk ship, as it were. Cook the eggs until they are set, but the yolk is not cooked through, also known as Sunny Side Up.
Transfer 1/4th of the pasta with pancetta and peas to each of four plates and top each mound of pasta with an egg. Salt and pepper to taste, and serve them forth.
http://www.tinyfarmhouse.com/2009/01/unsmoked-pork-belly/
This dish is quick to prepare, which, in addition to being inexpensive, is a nice feature. Including the time it takes for the water to come to a boil, the first bite of pasta, pancetta, peas, and runny egg yolk is on your fork in about 35 minutes. To make this for four costs $8.95. The pancetta is $8.29 per pound, so 1/2 pound is $4.15. The olive oil is around 55-cents for both the pancetta and the egg portion of the meal. The shallot is around 25-cents as I just bought 5 for less than $1.25 the other day, and the peas are roughly two-thirds of a bag that cost $1.29. The crushed red pepper probably put us out 10-cents. The pasta shouldn't be any more than $1.99, and if you choose to use orecchiette, that should be no more than $1.79. The eggs are about 26-cents each, so we'll call that $1.05, and the richness of the yolks replaces the need for any Parmigiano-Reggiano shaving, which is why it is employed here. To save a buck or two.
Dinner tonight: You know it. So half of $8.95 is $4.47 plus one-half cent. We'll just call that $4.48, ok?