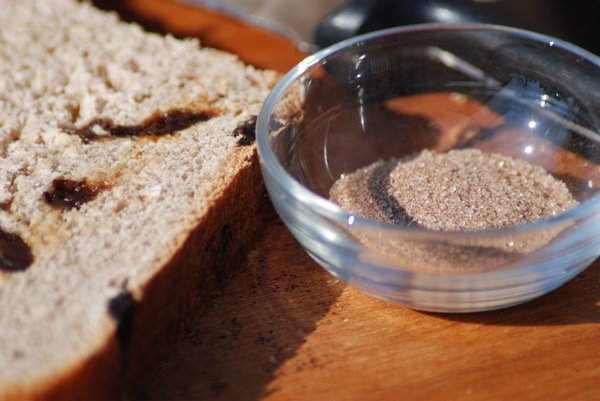 It may seem to you that I've been remiss in my bread-baking responsibilities these last few weeks. I've noticed that I haven't posted about bread since the Panettone post in December, but I can assure you, I have been baking bread. And baking, and baking. Each week, I make at least one loaf, and since the start of January, the loaf-of-choice has been a plain white sandwich bread. And now, I am utterly exhausted of plain white sandwich bread, so I decided to make something a little more intriguing – a bread with some spice, some fruit, and some wheat flour. Wow. What a difference. I feel a little spring in my step just knowing I have some Brown Sugar Cinnamon Wheat Bread available for sandwiches, and, if we don't finish the loaf between now and Saturday morning, it will lend itself to creating some fabulous Valentine's Day French toast with a little butter and drizzle of honey. In fact, I think I'll take action to be sure that we don't devour it all between now and then. I'm glad you and I had this little talk.
If you'd like to have a loaf of delicious and slightly-more-healthy-than-white-bread for sandwiches, or, if you're looking for a scrumptious French toast starting block, here it is:
Brown Sugar Cinnamon Wheat Bread with Raisins
Ingredients
1 cup boiling water
1/2 cup rolled oats
1/4 cup turbinado sugar (a.k.a. Sugar in the Raw, or Whole Foods has a good store brand version)
1 1/2 teaspoons brown sugar (light or dark - either will do)
2 tablespoons unsalted butter, cut into pieces
1 1/2 teaspoon kosher salt
1/2 teaspoon cinnamon
1/2 cup raisins
2 1/4 teaspoons yeast (which is equivalent to 1 packet active dry yeast)
3/4 cup whole wheat flour
2 cups all-purpose flour
Instructions
In a large mixing bowl, combine the rolled oats, sugars, butter, salt, cinnamon, and raisins. Add the boiling water and stir to combine ingredients. Let stand approximately 5 minutes until water has cooled slightly.
If using active dry yeast, sprinkle it over the water mixture and allow to dissolve, approximately 5 minutes. If using instant yeast, add the instant yeast and whole wheat flour to the water mixture and mix on medium speed until the flour and yeast is combined with the water mixture. Add the all-purpose flour 1/2 cup at a time, mixing on medium speed after each addition until dough forms. Knead by machine or by hand until dough is silken, approximately 5 to 7 minutes by machine and 10 minutes by hand. I like to mix the dough for a few minutes by machine and then finish kneading by hand to be sure it achieves that silken texture. And also because I find it quite satisfying to knead dough, which can help ease stress almost as much as pounding out pork sirloin cutlets for Wiener Schnitzel vom Schwein.
Place the dough in a greased bowl that can accommodate the dough doubling in size. Cover with a clean kitchen towel or plastic wrap, set in a warm, draft-free area, and allow to rise until it is double in size. At my house, this took 1 1/2 hours.
Once dough has doubled in size, remove it from the bowl and form it into a loaf. This resembles folding a business letter into thirds - if the business letter were a sphere of dough, of course - and then tucking the short ends over themselves to seal the edges. Place this doughy business letter with tucked short ends into a greased loaf pan. Cover with a clean kitchen towel (the one you just used to cover the dough should suffice. No need to dirty all of the kitchen towels in your house for one loaf of bread.) or with greased plastic wrap. Set aside in a warm, draft-free (sounding familiar?) area and allow to rise until the dough has crested one inch over the top of the loaf pan. The amount of time required will be different from home to home as it is contingent upon the temperature in your house, but at my house, this took another hour and a half.
Place an oven rack in the middle position. Preheat the oven to 360 degrees.
Bake the loaf on the middle rack for 33 to 35 minutes, or until the top of the loaf is browned and the loaf sounds hollow when tapped. Remove from the oven, transfer to a cooling rack, and allow to cool for at least a couple of minutes before cutting into it and serving a slice or two out with butter. Then, cut it as thinly as is possible to have two slices constitute a sandwich, and do that all week long so that you can reserve a slice or two for French toast next weekend. And remember, it doesn't have to be Valentine's Day to partake of French toast, so feel free to continue with this thin-slices-for-sandwiches plan whenever the thought of Saturday morning French toast steers you that way.
http://www.tinyfarmhouse.com/2009/02/for-sandwiches-or-breakfast-in-bed/
Dinner tonight: Roasted Root Vegetable Pot Pie. Estimated cost for two: $4.46. I am using about a pound each of the following veggies: parsnip, $1.99; turnip, 79-cents; carrot, 80-cents; leek, 95-cents; and one onion, which costs 33-cents (1/2 pound of yellow onions that are 65-cents per pound). I may throw in some butternut squash, which, of course, is not a root vegetable, but I'd appreciate it if you wouldn't point that out as I would then have to rename the dish Roasted Root Vegetable and Winter Squash Pot Pie and that would be nearly the equivalent of naming the bread in this post Brown Sugar Cinnamon Oatmeal Raisin Wheat Bread for Sandwiches and French Toast, and I think we can all agree that each of those are entirely too long a name. So if I use one pound of the ne'er to be mentioned winter squash, it's 80-cents. The gravy will consist of Whole Foods store brand vegetable broth, which is $2.19 for 4 cups, along with a cup of white wine, so using the least expensive white-wine-that-is-meant-to-be-drunk (not wine labeled "cooking wine"), that will be $1.67 as it is one-third of a five-dollar 750ml bottle. I will use around 6-cents in flour, some more onion, so we'll add in another 33-cents for that bad boy, 40-cents worth of Dijon mustard, around 20-cents worth of thyme, and 44-cents in olive oil. The savory pie crust costs $2.40 to make, and it is really easy – you should check out the post on that if you haven't already. So for 6 servings, it costs $13.35, or $2.22 and one-half cent per person. We'll call that $2.23, ok? I like to round up. It makes me feel like I'm not overselling the bargain. Particularly when a half-cent hangs in the balance.