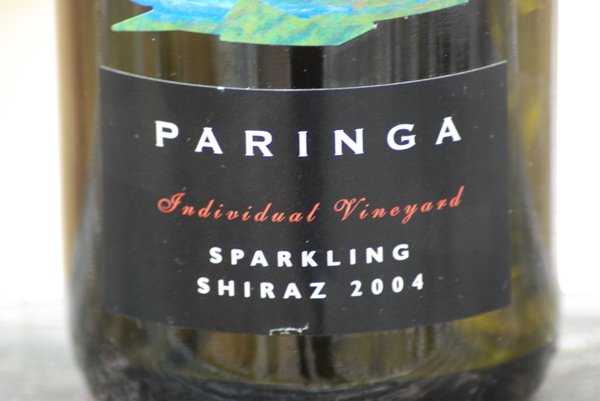 I must apologize to you and to the wine. This wine deserves a much more flattering photograph, but, alas, JR and I drank every last drop and so I ask that you will just imagine if you will, the large bowl of a fancy red-wine glass, filled about a quarter of the way with a deep violet-purple wine, with what could most accurately be described as a head of violet bubbles topping this luscious-looking libation. Now, glance down, and you see a wedge of creamy Gorgonzola dolce and red grapes – or perhaps some roasted figs – on a plate at the base of the glass. Doesn't that look fabulous? Yes, that is what I had intended, but the Sparkling Shiraz got the better of me, and all was drunk before a single shot could be snapped. As we drank this sparkler – a happy little just-had-a-Mimosa-style buzz traipsing through my body – I wondered why this wine wasn't more popular.
The lack of popularity of Sparkling Shiraz outside of Australia is evidenced by the incredible dearth of information available on it. I consulted all of the wine reference books in my house – and I think we can agree that more than ten wine reference books would be considered many for a non-professional. Yet, I found only one reference to it, that one being disparaging, citing it as one of the reasons why Australian Shiraz had developed a bad rap. The other reasons for the bad rap of Aussie Shiraz were its use to make cheap whites and fortified wines. Poor fortified wines, they don't deserve that abuse, but that's a topic for another day. In any case, internet research did reveal that Sparkling Shiraz is made using the Methode Champenoise, which introduces the second fermentation in the bottle and results in a more refined bubble than the Metodo Italiano, also known as the Charmat process after its inventor, Monsieur Charmat, which introduces the second fermentation in the vat, therefore prior to bottling.
Long ago, I had read an article on Sparkling Shiraz; the one bit that had stuck with me was that Australians are rather enamored of it, and Americans are not. I sense that this could be tied up in what we might call the Lambrusco Fiasco of the 1970s and 1980s – inexpensive sparkling red wine with a large marketing budget that undermined what a good sparkling red could actually be. Lambrusco seems still to battle this perception of, well, badness, and as it turns out, so, too does Sparkling Shiraz. As a side note, I like Lambrusco, just not the fiasco-style Lambrusco.
Sparkling Shiraz is, of course, made from the Shiraz grape, which is widely planted in Australia. Shiraz likely made its way to Australia from France, where it is known as Syrah, in the vine-cuttings of one James Busby, which he made while he traveled Europe in 1832. According to the Wine Australia website, sparkling red has been made there since the 1860s, and, as they so boldly state, "it's loads of fun".
I have to agree, actually. JR and I sampled – and by sampled, I mean swilled, as the bottle was quickly decimated – Paringa's Individual Vineyard Sparkling Shiraz 2004, which was recommended to me by Frank Gasbarro at Gasbarro's Wines in Providence. I had arrived at the store during the regularly-scheduled Saturday "Tour the Italian Neighborhood" continuing education class visit, in search of a fun, sparkling red – those qualities, I felt, would make it an appropriate Valentine's Day tipple. I also thought a wine with those qualities would make for a good photograph.
Frank and I weaved our way through the mass of people constituting The Tour on our way to consider another sparkling red, though lighter in style, Banfi's Rosa Regale Brachetto d'Acqui. However, while I do like the Brachetto d'Acqui, it retails for around twenty dollars, and we're a bargain operation here, so on the shelf it stayed. As Frank and I discussed my options – Cava, not red, but good and inexpensive, and Prosecco, also not red, but good, and generally inexpensive – he remembered the Paringa Sparkling Shiraz. It met all of the criteria, fun, sparkling, red, and, at $10.99 a bottle, acceptable in price.
JR and I tried the wine on Sunday afternoon. Late afternoon. It was at least four o'clock, ok? We first poured the wine into flutes. This was fabulous for the aforementioned head of violet fizz, but made it difficult for us to get the nose (fancy wine-snob talk for smell) of the wine. We found that the bubbles were better experienced drinking from the flutes, but decided that we and the wine would be better served by using a regular red wine glass. We found that once poured into the red wine glass, the bubbles quickly evaporated, but that we were able to get the full aroma of the wine – hints of honey, cracked black pepper, and berries. There is a lively debate on the topic of which glass is appropriate for Sparkling Shiraz on the Auswine Forum, which, you might imagine, is a forum populated by Australian wine drinkers and industry types. Let it be said that this wine must be near and dear to the Aussies as there are some strong opinions about the virtue of one glass over another. In the interest of full disclosure, JR and I both voted for the red wine glass. That might get us a thump on the head if we let some of the Auswine gang know, so shhhhhh. Let it be our secret, ok?
While we were still sipping from the flutes, JR's first reaction upon tasting was, "wow. Interesting." Followed by, "Refreshing." I thought that the wine was sweet, a bit syrupy – which isn't a bad thing in this case – tasted slightly of honey and very much of blueberry – to my palate, anyway – but wasn't terribly layered or complex. But did I not say that I wanted a fun wine? Yes. I did. And this wine is fun. It benefits greatly from being paired with food, and we did eat some luscious Gorgonzola dolce with it, alas, no red grapes or roasted figs did we have, but the wine goes extremely well with blue cheese. I also thought it would pair well with the Cinnamon Chicken that I had made the night prior, and, it turns out, Australians enjoy Sparkling Shiraz with their Christmas turkey, so poultry is clearly a good match. I may be biased because the only other sparkling red wine of this nature of which I am aware – remember, the Brachetto d'Acqui is a lighter style – is Lambruso, but I thought that the Paringa Sparkling Shiraz would also pair nicely with foods that traditionally match with Lambrusco – cured meats and rich cheeses. A salty yin to the sweet yang of the Sparkling Shiraz. The Paringa Sparkling Shiraz would also make a good substitute for Port in recipes – it turns out that some Sparkling Shiraz is blended with fortified wine, so this makes a bit of sense. JR and I did find ourselves dreaming of a roasted beet salad with Gorgonzola dolce and toasted walnuts as we drank the wine. We both felt that the wine needs food and benefits greatly from food – the contrast with the Gorgonzola was a nearly perfect match. And the importer's website recommends trying the wine with bacon and eggs. Still with the salty, they are, so it seems as though we're all liking the idea of contrast-to-complement for this wine.
If you do choose to drink the Sparkling Shiraz in a red wine glass, we found that the bubbles have a short shelf life – or glass-life, if you will. Our solution to that was to pour smaller amounts into the glass and enjoy the lovely violet sudsy-ness more frequently. Of course, this may have contributed to our killing the bottle in one sitting, but who can know? After all, it was festive and fun to drink, and an interesting wine experience to boot – I mean, how often do you see, let alone drink sparkling red wine – so who could blame us, short pour or no?
Dinner tonight: Italian Sausage with Artichokes Hearts and Rigatoni. Estimated cost for two: $6.08. The sausage is the remainder of the on-sale Whole Foods-made sweet Italian sausage variety. When they were on sale for $3.99/pound, I bought six and froze them in three separate packages. The six cost $6.22, and dividing in thirds, we're calling this serving $2.08. The artichoke hearts are canned Whole Foods store brand, which cost $2.39 for the can. I would use shallot normally, but I have not a one in the house, so I will use one-half of an onion in the saute pan. At 65-cents per pound for yellow onions, with an average medium-sized yellow onion weighing a half-pound, this would be a quarter-pound and so will cost 16 and one-quarter cents, which we will call 17-cents for the purposes of our mathematics. The olive oil will cost around 44-cents, and the pasta will be 1/2 of a box that cost $1.99, so $1.00 in pasta. This is extremely simple to put together, and is darned tasty for six dollars and eight cents.
A quick note: if you do happen to have a Sparkling Shiraz, or even Lambrusco, and happen to show more restraint than we at my house did, and are ABLE to save enough in order to take a photograph of it, please feel free to post it to the Poor Girl Gourmet page on Facebook.