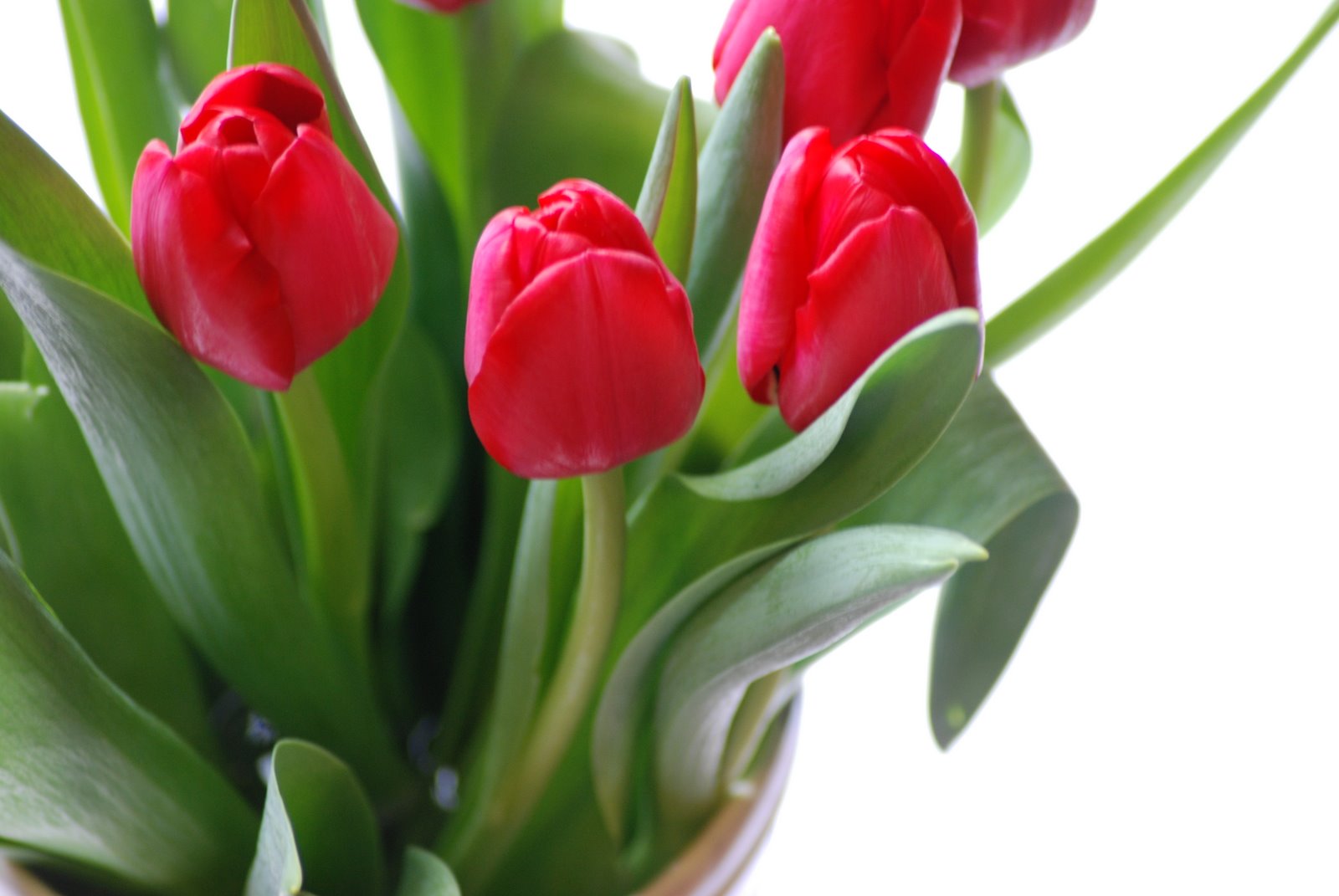 I didn't have a pig upon whom I could apply lipstick, and, truth be told, country style spare ribs are slightly difficult to make look beautiful, so, instead, I chose to illustrate today's post with this shot I took of tulips that my friends Tara and Tommy gave me this past weekend. Aren't they pretty? Yes. Yes, they are. And, as it is March, and, lo, there is much snow upon the ground, I'd like to make believe that spring is already here, so tulips it is.
We don't eat a whole lot of take-out food these days, as you might imagine, so when we have a hankering for Chinese food, I have to step outside of my Italian-food comfort zone and make an attempt at replicating Chinese. One upside to this is that – so far, at least – I've found that homemade Chinese food is better than the take-out Chinese food available near my house. But then, I live in the sticks, so there's that. If you live in a city, I can't vouch for my pseudo-Chinese being better than your neighborhood Chinese joint, but it's worth trying this recipe, if only for the sake of scientific study.
Hoisin-marinated Country-style Pork Spare Ribs with a Spicy Hoisin Sauce
Ingredients
4 Boneless Country-style Pork Spare Ribs, or however many you need for each of the ?? (eaters in Chinese) you intend to serve. The marinade will yield enough to gussy up 6 to 8 ribs.

For the marinade:

1/4 cup soy sauce
1/4 cup Worcestershire sauce
1 tablespoon brown sugar
1 tablespoon Dijon mustard
1 tablespoon hoisin sauce
2 garlic cloves, minced
1/8 teaspoon crushed red pepper

For the Spicy Hoisin Sauce:

4 tablespoons toasted sesame oil
1 medium shallot
2 garlic cloves, minced
1 tablespoon fresh grated ginger root
1/4 cup soy sauce
1/4 cup water
2 tablespoons hoisin sauce
1/8 teaspoon crushed red pepper
Instructions
For the marinade, combine the soy sauce, Worcestershire sauce, brown sugar, Dijon mustard, hoisin sauce, garlic and crushed red pepper in a medium bowl. Add the Boneless Country-style Spare Ribs to the bowl, cover, and refrigerate for 3 hours minimum. I once marinated the ribs for 3 hours and another time marinated them for 2 days, and they were still scrumptious and spicy.
Preheat the oven to 375 degrees.
Place the ribs and approximately 1/4 cup of their marinade in a baking dish. Bake on the middle oven rack, until cooked through, approximately 40 to 45 minutes, turning ribs over midway through the cooking time to insure even cooking.
While the ribs cook, heat the toasted sesame oil in a large saute pan over medium heat. Add the shallot and cook for 2 minutes. Add the garlic and ginger and cook for 1 minute. Add the soy sauce, water, and hoisin, and stir to combine. Add the crushed red pepper and allow to simmer for 2-3 minutes to meld flavors. Keep warm until ready to serve.
Serve ribs over steamed white rice with a side of steamed broccoli or peas, or other ?? (vegetable) of your choice. Drizzle sauce over top of the ribs, rice, and ??, and see how your local Chinese take-out stacks up.
http://www.tinyfarmhouse.com/2009/03/hoisin-pork-yum/
Dinner tonight: Rigatoni with Kale, Sausage, and Cannellini Beans. Estimated cost for two: $4.58. The rigatoni was on sale for $1.00 a box. We will use half of that, so that's 50-cents. The olive oil will cost 45-cents. The garlic cloves, we'll tally in at 10-cents. The kale was $2.49 for one bunch. We'll use half of the bunch, so that's $1.25. The beans are a can of Whole Foods store brand, which cost 99-cents. The Italian sausage was on sale, and was $3.47 for 6 links. That means they're a little smaller than usual – two are normally around $2.00 – so I may use 3 links. Presuming that if divided, they will have equal 3-link weights, that will cost $1.74 (well, $1.735, so $1.74).