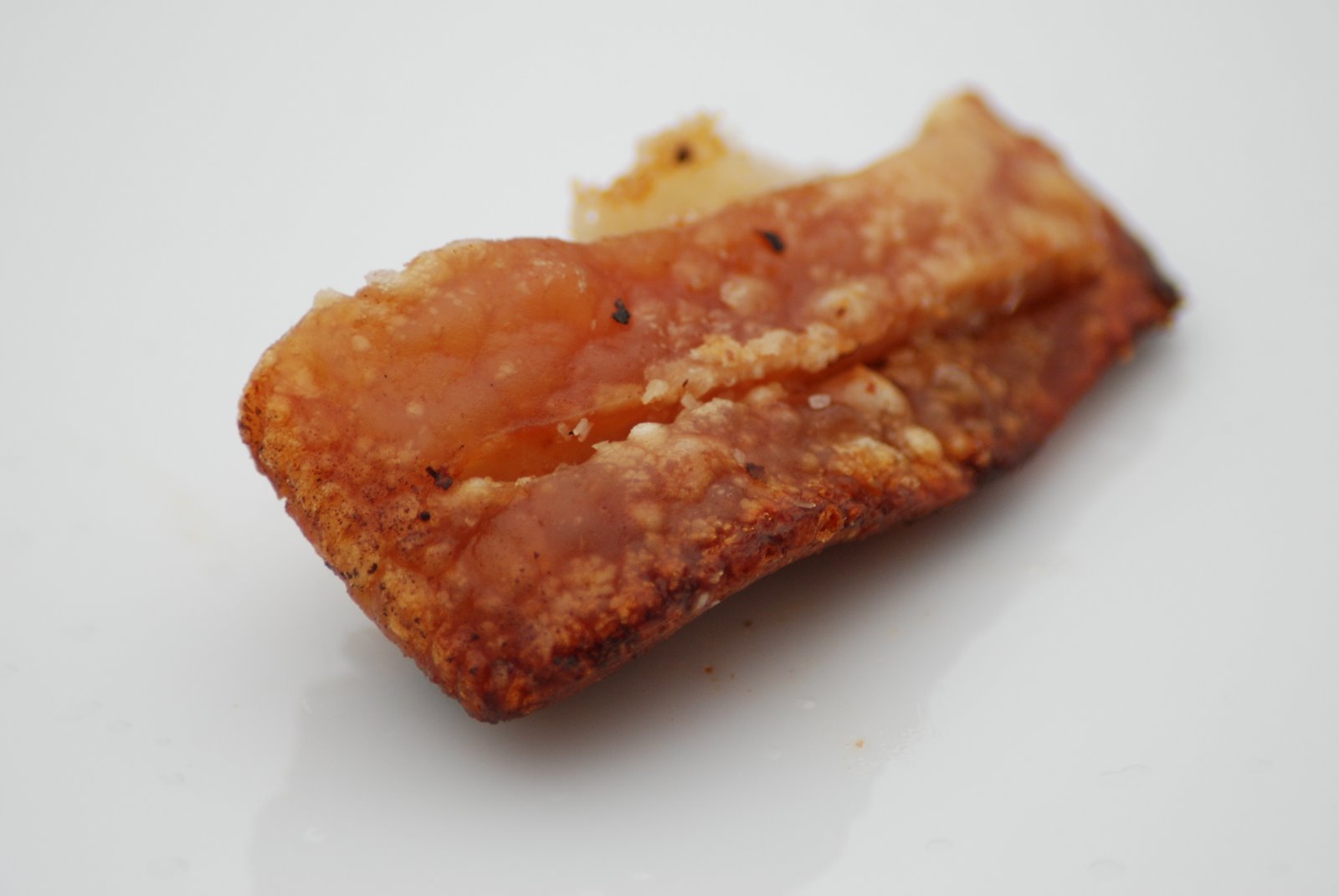 Cochon 555 was held last night in Boston to rave reviews. What, pray tell, isCochon 555, you may be asking? Wonderful, your curiosity, and I have an answer for you. It may take poetic license, this answer of mine, but please, do bear with me.
Cochon 555 is an event that roams the countryside, searching for cities in which the chefs are desirous of competing in a heritage pig cook-off – a pig all historic and marbled and tasty to the Nth – and this in the name of raising money for a good cause. In the case of the Boston pig-fest, Farms for City Kids in Vermont was the beneficiary, and, of course, it is also held in the name of Victory. For one hard-working and creative chef wins the title of Best Preparer of Swine. In the case of the Boston event, the victor was my friend Matt Jennings, of Farmstead in Providence, Rhode Island. He had mentioned one dish to me that included whipped pig brains. This, of course, sparked my curiosity and caused me to envision Reddi-Whip-looking pig brains, which, I've decided are taupe with pink mottling, but because they come out of an aerosol can (in my fantasy version of whipped pig brains, people), they have those nifty ruffled edges. Nice, huh? Then, Matt piqued my sense of culinary adventure once more when he boldly made a chocolate ganache with rendered pig fat for dessert. But wait. It didn't stop there. He also posted photos online of his forcemeat, which he rolled up in the pig's head. OK? When the Cochon 555 people said, "use ALL of the pig", Matt did not shy away. Oh, no, he did not.
Having read all this, you might think that I actually attended Cochon 555, but, alas, this is not the case. I got most of my information from the pregame conversation on Twitter (there it is again. That Twitter. I can't get away from it.). And that pregame tweeting inspired me to get all porky on my bad self. Which is kind of weird to say, so let's just proceed as though I said that I decided to make some Tamworth pig part for dinner instead, ok? In honor of Cochon 555, I ordered two pork bellies from Simmons Farm in Rhode Island. Pork belly is, of course, from the belly of the beast, but it is also the cut used for bacon and pancetta. JR is going to make pancetta from one, using a recipe from the Charcuterie book that my vegan sister gifted him for Christmas. Confusing, I know. She's accepting of other people's meat addictions, I guess. With the remaining pork belly, I decided to make an attempt at imitating Matt's pork belly biscuit sandwiches – which can be enjoyed at Farmstead/La Laiterie whenever you so desire.
Ahhh, but the best plans are often laid to waste, and so late in the day, I decided that I didn't have the energy to deal with biscuit-making. Instead, I made a pork belly roast with mashed potatoes and brussels sprouts. It doesn't sound like much less effort, I realize, but something about the biscuit production was off-putting to me at the time, so there we are. The piece of cracklin' (I despise the use of words that end in -in', for the record, so with luck and restraint, this will be the lone use of this spelling technique in this post. Ideally in all posts past and future as well.) in the picture at the top of the post is all that remains of a 2 1/4 pound pork belly today. Despite my warnings to JR that he would not have any pork for lunch if he continued eating with such fervor, he could not remove himself from the carving board, and so went the pork belly and cracklings. All but this one-ounce piece of crackling in the photo. Makes one wonder what the rationale was not eating it, doesn't it?
I modified a recipe that I found on Jamie Oliver's site, and while this is not nearly as parsimonious a dish as I would normally recommend, it is worth a try – to explore your inner swine-chefiness, to support a local farm with a purchase or two, and to experience a familiar cut of pork – after all, it does provide us bacon – in a whole new way.
Roasted Pork Belly with Pork Gravy
Ingredients
(1) 2 - 2 1/2 pound pork belly (ask at your butcher shop, or at your local farmers market)
kosher salt
freshly ground pepper
1 yellow onion, quartered
2 carrots, peeled, trimmed, and cut in half
2 celery stalks, trimmed, and cut in half
1 head of garlic, cloves separated with skin still intact
1 teaspoon thyme
4 cups water
1/4 cup all-purpose flour
Instructions
Preheat the oven to 450 degrees.
Prepare the pork belly by scoring the skin at 1/2" intervals across the length of the skin side. After using every knife I own to attempt scoring - for pig skin is tough to penetrate - I found the solution: puncture the skin with the tip of a small, sharp knife. Then, use kitchen shears to clip away at the skin and through the fat, being careful not to cut into the meat. If you do not have kitchen shears, a small, extremely sharp knife will work, but do be careful and pay copious amounts of attention to what you are doing, as the pig skin will be fighting you a bit. If you purchase your pork belly at a butcher, you can ask the butcher to score it for you, saving you much time, but robbing you of the pig skin slicing experience. And, if your pork belly happens to come from a female pig, you may also lose the opportunity to cut off a teet with kitchen shears, as I was so fortunate to experience yesterday. Yes. It was a bit disconcerting, in fact. Thank you for asking. And there is a teet in my trash as I type this. Disconcerting, for sure.
So now that skin and fat have been scored and teets removed as necessary, rub kosher salt into the scoring-exposed fat, pulling to open the slices if that's what it takes to get the salt in there. Rub away any excess salt on the skin, and flip the belly to the meat side. Salt and pepper the meat side as desired, then place the pork belly scored-skin side up in a large roasting pan that can also be used on the stovetop as you will be scraping bits of cooked pork belly from the pan later to make stock and then gravy.
Place in the oven and roast at 450 degrees until the skin is starting to blister and brown up, approximately 30 minutes. Reduce the heat to 325 degrees and continue to roast for 1 hour. Remove the roasting pan from the oven, baste the pork belly with the accumulated fat from the pan, and add the vegetables, stirring to coat them with the fat. Place the pork belly atop the vegetables to the best of your ability - they won't all fit neatly under there after all - and return the roast to the oven for 1 more hour, until the meat is extremely soft and tender.
Remove the pork belly from the roasting pan and place on a carving block or platter and tent with foil. Tell your significant other to get away from it because it is hot, and then, while you're pouring off all of the fat in the roasting pan, turn to see him or her eating cracklings on the sly. Or attempted sly, as it were. So, yes, pour off all of the fat from the roasting pan, leaving the vegetables in the pan. Add the 4 cups of water, and place on a burner at medium-high heat. Bring to a boil, and scrape up the browned bits from the bottom of the pan stirring constantly until you have a rich, brown stock, approximately 5 minutes.
Pour the stock into a heat-proof bowl through a strainer. You are doing this to remove the vegetable solids. Remove one cup of the stock to another bowl and stir in the 1/4 cup flour, blending well to remove lumps as you are now making the thickening agent for your gravy. Return the stock that does not have the flour to a saucepan over medium heat, and stir in the stock and flour mixture. Stir frequently until stock thickens to gravy consistency, salt and pepper generously, and then serve slices of pork belly with a nice, gravy absorbing starch such as, oh, I don't know, mashed potatoes perhaps, and pour the gravy over top. It's making me hungry for pork belly just typing about it. Alas, I got me nothin' but one cracklin'.
http://www.tinyfarmhouse.com/2009/04/roasted-pork-belly/
Dinner tonight: Untraditional Bolognese with Rigatoni. Estimated cost for two: $2.71. Not that I haven't made this dish every other cold-weather weekend for the last ten years, but I am testing it to be sure that the written account of how to make it is absolutely without need of modification. This way, it can go into the cookbook without reservation nor concern. Also, there is a horrible, torrential downpour here today, and this Bolognese is one of my most favorite of comfort foods. Perfect for a dismal evening. The ground meat was $3.79 per pound at Venda Ravioli, the carrot, celery, and onion for the soffrito (which is the slowly simmered base of the sauce) were about $1.00, the tomatoes were $2.00, and the amount of milk I'll use in the sauce will be about 50-cents. I'm also using anchovy paste and a bit of tomato paste, so let's call those $1.00, to be generous about it. The total cost of the sauce is $8.29 for approximately 8 servings, so $1.04 per person for that. The pasta was $1.00 for the box (Barilla pasta on sale for $1.00 per box), and we will use half of the box. I will also sprinkle some pre-grated Pecorino-Romano – in place of the usual Parmigiano-Reggiano – over our pasta for an additional cost of about 13-cents. In all likelihood, we will be having either baked ziti with Bolognese or Bolognese Lasagna later on this week. Be on the lookout, ok?