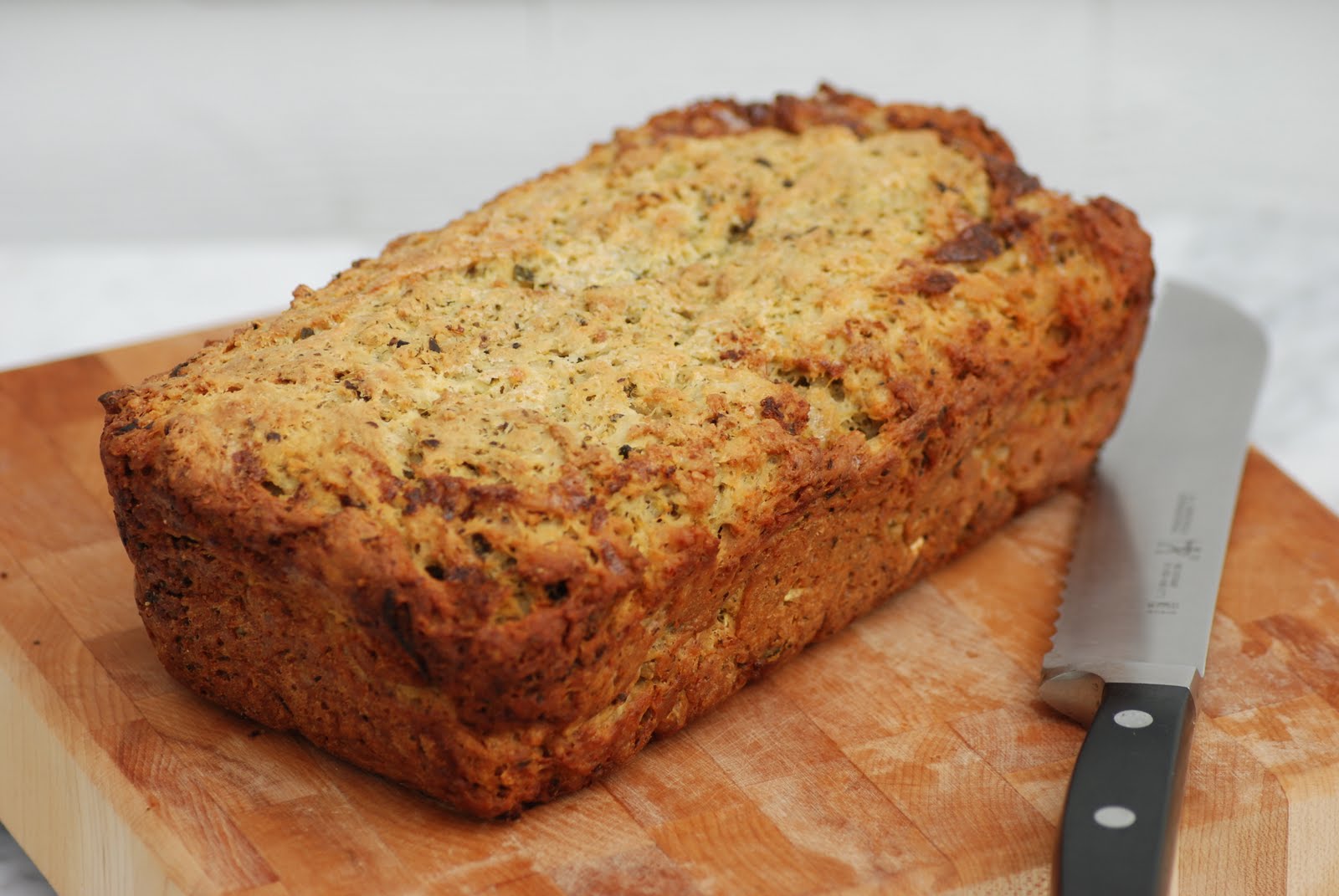 It's difficult to determine whether or not this has been a successful summer for our zucchini plants. On the one hand, my early bug smooshing efforts paid off with a bounty of blossoms for stuffing and frying. On the other hand, the squash bug nymphs that emerged from the eggs that I missed appear to have won the battle for plant-dominating supremacy, and one by one, my squash – all types, in fact – are being cut down in their prime by those nymphs. This is the winter, I think, that I become well-versed in organic ointments for my garden, rather than continuing with the entirely holistic, companion-planting, bug-squashing, egg-destroying approach I've embraced thus far.
Still, we have more than enough zucchini for two people, and my secret zucchini plant – shhhh, don't tell anyone, those horrendous nymphs and their friends the squash borers might hear you – is still producing in its clandestine location behind the asparagus patch, which is fortunate, because as soon as I tasted this zucchini bread, I wanted to make another. Just to be sure we had enough. There appears to be a trend here, first, the secret zucchini plant, then, a secret zucchini-pesto loaf. And a good thing that I made that second loaf, for the first was devoured in a mere three days. We had it with sliced tomatoes and fresh mozzarella that we had for dinner in the garden last night – it's far too hot to cook dinner, yet, somehow, I found myself baking bread during our first-of-the-year heatwave – and also makes a mean grilled cheese and capicola sandwich. It is so good with summer snacks, in fact, that I might try zucchini-pesto crackers next. I'm making myself hungry just thinking about it, so without further ado, I present to you, a zucchini bread of the very highest order.
Ingredients
2 large eggs, lightly beaten
1 cup fresh ricotta
1/2 cup basil pesto (approximately two-thirds of a 6.5 ounce jar if you're using purchased pesto)
8 tablespoons (1 stick) unsalted butter, melted, divided
3 cups unbleached all-purpose flour
1 tablespoon baking powder
1 teaspoon kosher salt
1 cup grated zucchini (from approximately 1/2 pound, which is half of a large, but not enormous, zucchini)
Instructions
Preheat the oven to 350 degrees. Line a 9 by 13-inch rimmed baking sheet with aluminum foil, and grease a 9 by 5 by 3-inch loaf pan with butter.
In a large mixing bowl, combine the eggs, ricotta, pesto, and 4 tablespoons of the melted butter. In a medium mixing bowl, combine the flour, baking powder, and salt, and stir well to combine. Add the zucchini to the flour mixture and give it a good stir to coat the zucchini.
Add the flour-and-zucchini mixture to the egg-cheese-pesto concoction, and stir diligently to combine. I say diligently because this is not a runny dough, and therefore requires a little extra elbow grease (or stand mixer stirring) to thoroughly blend the dry with the wet.
Transfer the dough to the loaf pan and top with the remaining 4 tablespoons of melted butter. Place the loaf pan on the foil-lined baking sheet to protect against butter-steam should your butter runneth over during the baking process. Bake until the loaf is golden brown and a toothpick inserted into the middle of the loaf emerges clean, 55 minutes to 1 hour. Allow the bread to cool in the loaf pan, set on a cooling rack, for 10 to 15 minutes, then turn the bread out of the pan onto the cooling rack and let cool until ready to serve.
Remove from the oven and cool on a cooling rack for at least 10 minutes before cutting into it. If you are so inclined, make a sandwich with two thin slices of mild provolone and four thin slices of sweet capicola per each, and grill as you would any grilled cheese.
http://www.tinyfarmhouse.com/2009/08/a-quick-bread-of-the-highest-order-zucchini-pesto-bread/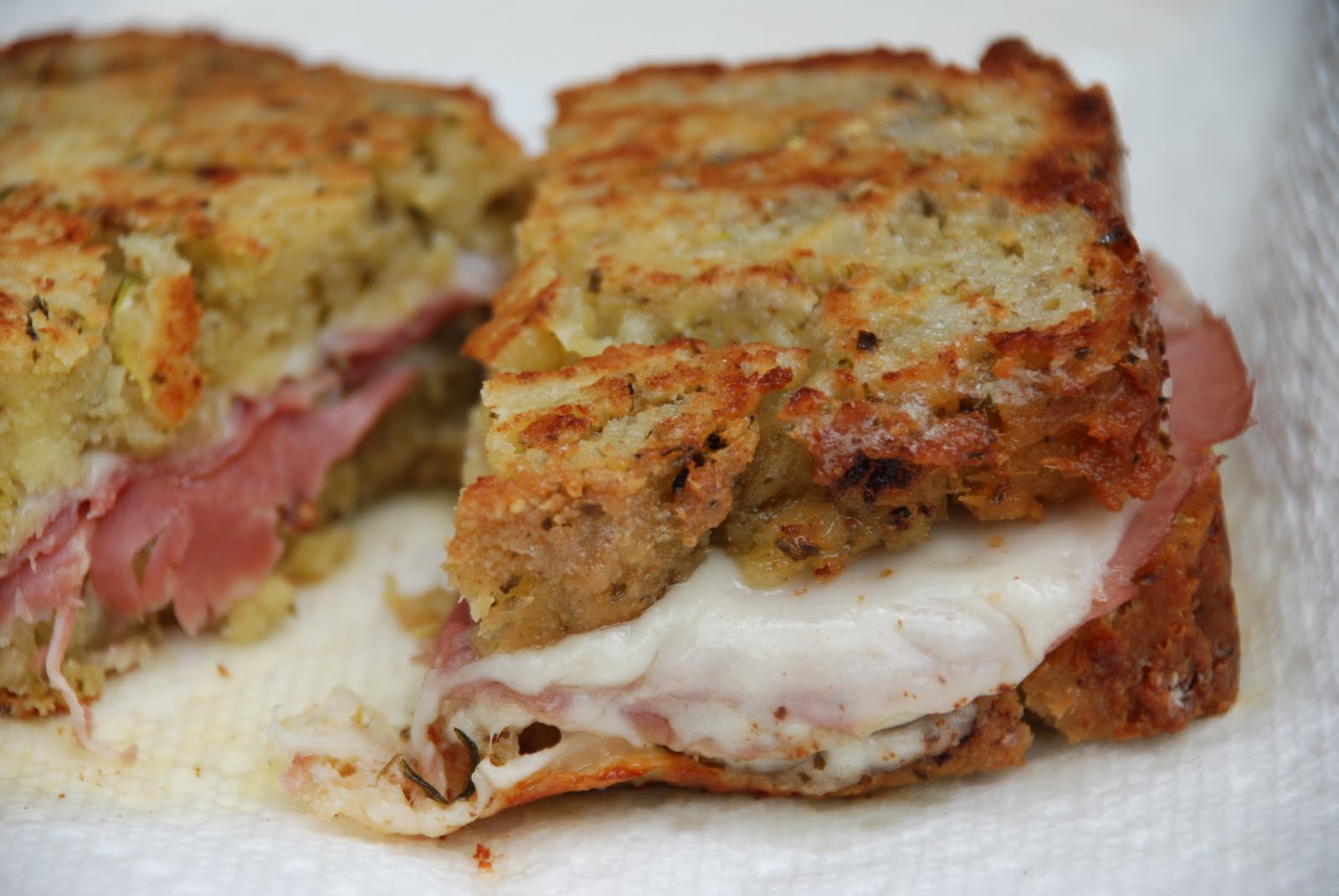 Estimated cost for the 12-slice-minimum loaf: $7.25. The eggs should be no more than 26-cents each. The ricotta costs $5.99 for 1 1/2 pounds, and we used about a third of that, so that's $2.00. The pesto I used was made from basil grown here in my garden, but a 6.5 ounce jar of the Whole Foods 365 Everyday Value brand pesto costs $3.99, so using two-thirds of it runs us $2.66. The butter costs 70-cents for one stick, again using the Whole Foods 365 Everyday Value brand. The flour costs $4.49 for 19 cups, so our 3 cups cost us 71-cents. The baking powder costs a little less than 1-cent per teaspoon, so we'll just go ahead and call 1 tablespoon 3-cents. The zucchini would be around 1/2 pound, and at $1.25 per pound (or free because you and/or your neighbors are actually overrun with zucchini), that adds 63-cents. As previously mentioned, you should get at least 12 slices from the loaf, and at that, the cost is 60-cents per slice. If you went ahead and made the grilled provolone and capicola, that would add, per sandwich, another 31-cents for the provolone, which costs $4.99/pound, and the capicola costs 35-cents at $5.59/pound. You're using less than an ounce of each per sandwich, but we like to round up here, so round up we will. I'd figure on 2 additional tablespoons of butter for cooking the sandwiches, and that adds 18-cents for four. Your total sandwich meal cost for four, then, would be $7.62. Oh, and they are filling and delicious. Not too shabby for $1.91 per person, is it?
Dinner tonight: It's still quite hot out, despite allegations that Hurricane Bill would cool things off a bit. We'll have more tomatoes with fresh mozzarella and a couple slices of this zucchini bread again. Estimated cost for two: $9.45. The tomatoes are from the garden – or, more accurately, from the brown paper bag grouping on the top of our wood stove where the rescued-from-late-blight tomatoes live. If you were buying field tomatoes, you'd pay somewhere in the range of $2.75 to $3.25 per pound, so we'll call it $3.25. The mozzarella was $8.99 for about 3/4 pound, and we'll have half of that, so that's $4.50. We'll toss a few basil leaves from the garden over it and drizzle the plate with a tablespoon or so of fancy extra virgin olive oil (as compared with the everyday extra virgin olive oil I use), and we'll add in another 50-cents for the oil. As you know, the bread costs 60-cents per slice, and we'll each have one.