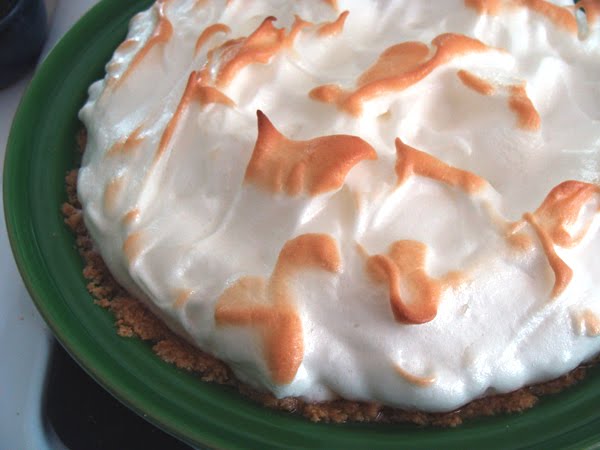 My friend Laura of Cloves and Cream wrote this guest post for a quick and tangy pie that just happens to keep with the resourceful Poor Girl Gourmet theme.
Coloring inside the lines was never for me. Perched at the sun bleached yellow formica table in my great-grandmother's kitchen I would scribble wildly, weaving in and out of well marked boundaries. Disney princesses, kittens, and crossword puzzles wound up a dizzying array of Crayola's color canon. Wild Strawberry and Macaroni & Cheese (Predictors of my future food obsession? Possibly? Okay, that's a stretch.) wound up in frayed nubs the quickest. While I busily set about deconstructing stacks of newsprint, my great-grandmother, or Mama as we called her, would hold court in front of the stove. Most often her time would result in one of three treats: chicken 'n' dumplings, homemade (warm!) chocolate pudding or lemon icebox pie. I can't claim that I have a favorite of the three, that just wouldn't be fair, but I will say that that pie pops up in my kitchen today more often than I can count. I have the recipe forever etched in my mind along with an emergency stash of Eagle Brand condensed milk.
When searching for a key lime pie recipe earlier this summer, I fell back on Mama's classic lemon icebox pie. Why not try it with lime? My suspicions proved true; it worked. With an extra egg yolk in tow this pie is rich, creamy, and almost custard like with a bright citrus kick.
Ingredients
Filling and meringue:

zest of one lime
1/2 cup lime juice (from approximately 4 medium limes)
4 eggs, separated
1 can condensed milk (such as Eagle Brand)
1 pinch cream of tartar
1 teaspoon vanilla extract
1 tablespoon confectioners' sugar

Crust:

10 to 12 graham crackers, crushed
6 tablespoons unsalted butter, melted
1 tablespoon sugar
1 tablespoon honey
Instructions
Preheat the oven to 400 degrees.
Combine the butter, sugar, honey, and graham cracker crumbs in a bowl. Press into a pie plate and bake for 5 minutes or until the crust turns golden brown. Keep the heat at 400 degrees.
Meanwhile, mix the condensed milk, egg yolks, lime juice, and lime zest. Set aside.
Whip the egg whites until stiff. While beating, gradually add the cream of tartar, confectioners' sugar and vanilla extract. Once stiff set aside.
Pour the lime mixture into the piecrust and top with the meringue. Bake until the meringue peaks are browned (5 to 10 minutes depending on your oven), then refrigerate for 3 hours prior to serving.
http://www.tinyfarmhouse.com/2009/08/lime-icebox-pie-a-cloves-and-cream-guest-post/
Estimated cost for one pie: $7.74. Four limes should cost you no more than $2.00. The eggs should cost no more than 26-cents each, so that's $1.04. The condensed milk costs $2.99 for one can. The cream of tartar will run around 24-cents, the confectioners' sugar 2-cents, and the vanilla extract is 22-cents. The graham crackers cost $3.99 for 14 servings – 8 crackers per serving – so 12 graham crackers will cost around 43-cents. The butter is 54-cents, the sugar is 1-cent, and the honey is 25-cents. Each of your eight servings will run you 97-cents.
Thanks, Laura!