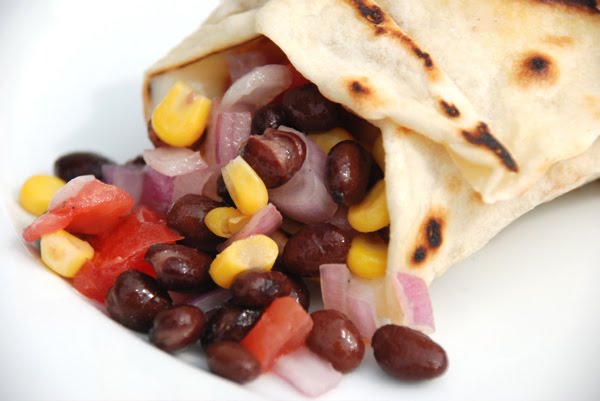 Holy smokes, folks. When I say that homemade tortillas are amazingly good and are also easy to make, I am not fooling. Of late, I've been on a bit of a flatbread kick. Grilled breakfast pizzas, grilled pizza dough crackers with Pecorino Romano sprinkled over top, and now, tortillas.
If you've been reading along here for a while, you undoubtedly know that Italian food is my muse, and I must admit to not being an enormous fan of Mexican food. I attribute this to not having experienced true Mexican food (ahem, yes, even now. I live in the sticks, you know), and also to the 3-pound bean burritos that I used to order for lunch at the very start of my television career, nearly 16 years ago. Sure, they were tasty, heck, they were even made with fresh ingredients, but, boy, did I ever want a nap twenty minutes after eating half of one. Yep. In my twenties, I was easily able to consume one and half pounds of beans, cheese, and flatbread at one sitting. Not so much these days, and so I am finding these homemade tortillas – lightly toasted with chopped tomatoes and a bit of shredded cheese – to be the ideal late-summer lunch. For those of you still requiring some type of bean in order to officially call it a burrito, I tossed together some of that chopped tomato with corn, black beans, and red onion to fancy it up a bit. Still, it's light enough that you won't require a nap moments later, and so long as everyone around you has also partaken of red onion, all should be good in your flatbread-loving world. Perhaps you should tote your toothbrush to work along with the burrito, just to be safe.
Flour Tortillas, adapted from The Joy of Cooking
Ingredients
2 cups unbleached all-purpose flour, plus more for dusting
1/4 cup vegetable shortening
1 teaspoon kosher salt
3/4 cup lukewarm water (105 to 115 degrees)
Instructions
Combine the flour, shortening, salt, and water in a large mixing bowl, and mix until fully combined and the dough no longer sticks to the sides of the bowl, but instead, sticks to itself.
Lightly dust your work surface with flour. Knead the dough gently for 1 to 2 minutes, until the dough is smooth. Form it into a ball and cut it into 8 equal-sized pie-shaped wedges. Roll each wedge into a small ball and then pat it down into a flat disc shape, approximately 1/2-inch thick. Cover the now disc-shaped dough bits with a kitchen towel and let sit for 20 minutes before forming into rounds. And I use the term "rounds" quite loosely, as they will resemble misshapen rounds at best. But that's part of the joy of handcrafting tortillas - the rustic edge and odd shapes confirm that you formed these bad boys yourself.
When it comes time to shape the tortillas, be sure that you have enough space upon which to leave the rounds while forming the remaining dough into rounds. If you don't have enough counter space, lightly dust a 9 by 13-inch rimmed baking sheet with flour and transfer the uncooked rounds to the baking sheet, placing a layer of parchment paper or waxed paper between each layer of formed tortillas.
Sprinkle additional flour on your work surface, and begin making those thick discs thin and round-ish. I use my hands to form the tortillas, gently pressing the dough down evenly until it has spread out to an 8-inch approximation of a circle that is no more than an eighth of an inch thick. It's okay if there are spots that are thicker and those that are thinner as well, and if you happen to have a tear in the dough, just patch it by pinching the dough over itself and wetting it slightly with water. Remember, we're rustic tortilla cooks, we are.
Just as you're getting to the last three tortillas needing to be formed, heat a large, well-seasoned cast iron skillet or saute pan over medium high heat. You'll want to heat it for 5 minutes minimum, and you want to cook the tortillas dry, so no oil or butter here. However, if you choose to make a quesadilla later, I always like to use a little oil in a nonstick saute pan to replicate that bad-for-me restaurant-style appetizer version of the dish. At this stage, though, we're staying with dry heat.
Line a dinner plate with a paper towel, and have 7 additional paper towels at the ready.
Carefully transfer the first tortilla to the skillet. The dough will stretch slightly as it's being transferred, and it is very likely that only one in eight tortillas will not fold back over itself to some degree as it hits the pan. You're trying to strike a balance between gently placing the tortilla into the pan and avoiding burning your fingers. And be sure to keep an eye on that handle - it's quite hot as well, so don't go grabbing onto it while cooking your tortillas, okay?
The cooking process takes between 30 seconds and one minute per side, depending upon the overall thickness of the tortilla. When you first place the tortilla into the pan, wait until the dough blisters up toward you before attempting to move it. Using tongs or a sturdy spatula, lift the dough up to see how the browning is going. You want a little char, but not a fully burnt tortilla. Once the charring is at a point with which you are content, flip the tortilla over. The second side generally takes a little longer as the pan has cooled slightly with the addition of the dough. Keep a vigilant eye on the browning-slash-charring of the second side, and when it is done to your liking, move it to the paper towel-lined plate.
Repeat this process with the seven remaining tortillas. If you prefer a softer tortilla, simply cook them for less time on each side, and if you'd like yours to be crunchier, cook them for slightly longer on each side.
http://www.tinyfarmhouse.com/2009/09/homemade-tortillas-and-summer-black-bean-salsa/
Apparently in my giddiness about how good and easy tortillas are to make, I neglected to mention that they are also ridiculously inexpensive to craft on your own. The flour costs 24-cents per cup, the vegetable shortening I used is Whole Foods 365 Everyday Value organic vegetable shortening, and it costs $5.49 for 24 ounces, which is just over 11-cents per tablespoon, so 45-cents for that. So it costs 93-cents for 8 tortillas, or just under 12-cents each. Yeah. Now you have to make them.
To jazz the tortillas up ever so slightly, top each warm tortilla with a couple tablespoons of shredded cheese of your choosing – it should melt slightly from the heat – and then make a small pile in the middle of the tortilla with this Summer Black Bean Salsa. Roll the tortilla over itself, and et viola – a healthy and lighter version of burrito take-out:
Ingredients
1 (15-ounce) can black beans, drained and rinsed
1 cup corn, from approximately 1 large ear of corn or two small ears
1 medium tomato, chopped, seeds removed
1 medium red onion or 2 medium shallots if you prefer a more mild onion flavor
2 tablespoons chopped fresh cilantrothe juice of one lime
Kosher salt
Freshly ground black pepper
Instructions
Combine the black beans, corn, tomato, onion, and cilantro in a large mixing bowl. Stir well to evenly distribute all of our ingredients, then add the lime juice, stirring again to combine. Salt and pepper to taste, and serve it as we've discussed, or with oven-toasted homemade tortilla chips (cut the tortillas into your desired chip shape, lightly brush each side with olive oil, and toast on a 9 by 13-inch rimmed baking sheet in a 350 degree oven until lightly browned, 5 to 7 minutes, flipping midway through the cooking time and minding them carefully as you don't want burnt chips and cooking times will vary depending upon the girth of the tortillas).
http://www.tinyfarmhouse.com/2009/09/homemade-tortillas-and-summer-black-bean-salsa/
Estimated cost for approximately 4 cups of salsa: $4.67. The beans cost 99-cents per can. One large ear of corn costs 55-cents at my local farm stand. The tomato should cost no more than $3.25/pound, and a medium tomato will weigh around 1/2 pound, so $1.63. The red onion should also weigh around 1/2 pound, but should cost 99-cents/pound, so that's 50-cents. The lime is also 50-cents, and the cilantro should be approximately 1/4 of a store-bought package of cilantro that costs $1.99, and that is also 50-cents. We're looking at $1.17 per cup of salsa, rounding up, of course.
Dinner tonight: Tonight, my brother is coming to our house to shoot some photographs for the book. Rather than a proper dinner, we'll be having a hodgepodge, or gallimaufry (I had to use it – what a word!), of "prop" food. Okay, the food isn't faux, but the meal will be quite random: Roasted Chicken, Bolognese Sauce, Homemade Pasta, perhaps some corn. Let's presume that the chicken costs $5.39, as did the last one I purchased, the Bolognese costs $5.88 for four servings (that fourth is certain to be JR's lunch tomorrow along with the remaining pasta), and the pasta costs $1.50. I'm fairly certain that the chicken will be packaged up whole, but we'll pretend that we're eating all of those items, plus a half-dozen ears of corn, and our total for four people would then be $16.07, though you and I both know that we've included two entrees in this math. So now, let's figure that it's $12.05 for the three of us. To have two entrees each and a completely unnecessary side vegetable. Had I not just mentioned that I cannot eat a pound and a half of food at one sitting any longer? Right. I did. Okay, so let's figure that we'll have only the pasta and sauce, and then we're looking at $5.54 for three. My money is on the $5.54 option. Though I'm sure the chicken will look quite lovely for its close-up just the same.