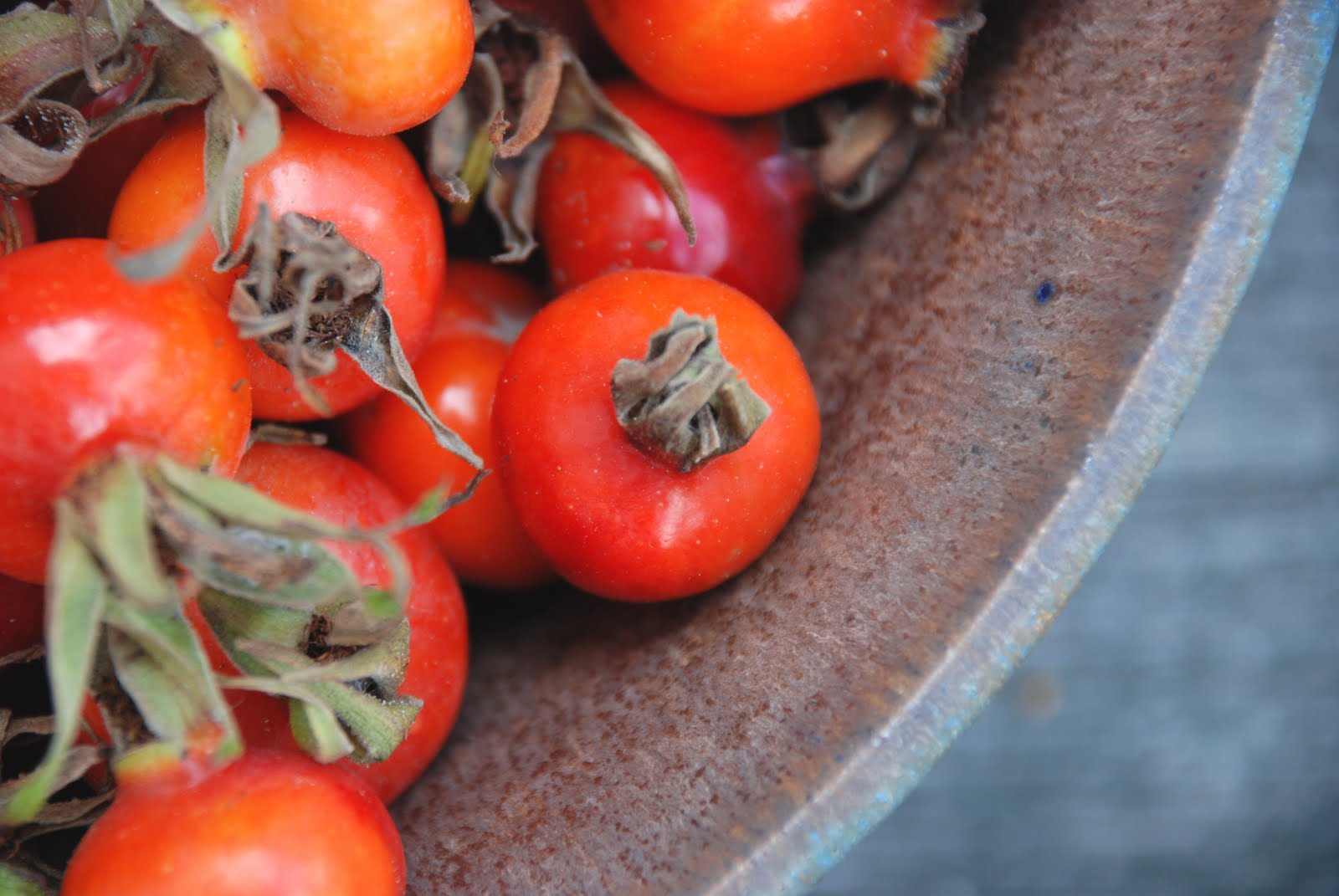 Lately, I've been scavenging for food. Or so it seems. In an effort to keep our food bill down, I'm being sure to use up everything I can collect or, um, harvest I believe is the more appropriate term, in the garden, and, it is that time of year again when my farmer neighbors' honor-system front yard farm stands are toppling over with squash, tomatoes, apples, peppers, beans, and, those harbingers of cold weather to come, pumpkins, corn stalks, and mums. Earlier this week, I scored 6 pounds of not-so-perfect apples (this is what they are called. It's on the bag and everything.) for $2.50 – that's a lot of snacking and pies, and a pound of Hungarian hot peppers for $1.50 that are now sitting on a screen drying for winter use as crushed Hungarian hot peppers. Herb drying has been underway for over a month, as the 16 ounce jar full of oregano can attest, and mint jellies are soon to follow.
During July, JR was kind enough to share that he had noticed a slew of blackberries growing on the back side of our barn, and for the cost of sugar and one lemon, I was able to put up two jars of gloriously sweet-tart purple jam that is sure to bring much joy to us this winter. Its capacity for mid-winter doldrums glee-inducing may only be matched by this, another virtually free preserving effort, rose hip jelly.
Rose hips. They sound so romantic, really, don't they? In homage, perhaps, to my extremely romantic (ahem, and slightly delusional) notion of Victorian-era England, I've long wanted to craft delicacies of rose petals and any associated rose byproducts. Rose water? Candied rose petals? (oh, candied rose petals are coming soon. Yes. They are.) I have lovely pale pink and fuchsia roses growing here on the side of the house – this is the first year of the eight they've been tucked into that garden that they are finally being generous with their flowers, but those are not the roses from which the rose hip jelly comes. Oh, no. The rose hips come from the beach rose – Rosa rugosa*, which is sometimes called beach tomato. And that is no accident. The hips, as you can see above, do resemble tomatoes, and after cooking them and straining their pulp, they also smell a bit like tomatoes. In fact, I thought that there was a chance that my jelly might end up tasting a bit more like sweet tomato paste, but I could not have been more wrong.
If you are on my Christmas list, it is advisable to let me know that you do not store preserves and such for some indefinite "later" time, as people who do not eat their gifts of preserves will not be in receipt of this rose hip jelly, and, oh, they want to be. Let me tell you. They want to be.
The jelly is a gorgeous autumnal shade of rust-orange – I'd like a mohair, or, heck, even cashmere, sweater in this shade, please. J. Crew, are you listening? And could you please have a sale upon release? Oh right. This is a food blog. The taste. The taste of rose hip jelly has been compared to red zinger tea, which strikes me as pretty accurate, though JR tasted it and immediately said, "hmmm…like tangerine. Wow. That's good. How much did you make?" Well, the "like tangerine" came first, then there was some muffled eating-tangerine(ish)-tasting-jelly-on-bread noise, then the question of quantity. That's how it really went down.
There is a fair bit of labor involved, though it may be stretched out over time. First, there is the collecting. I collected 5 cups of rose hips while walking off of the beach, which makes it seem not at all like labor. Once you get them home, you'll find that the rose hips have a center chock-a-block with seeds and little thistle-like scratchy hairs. Unappetizing, I know. To avoid spending an entire work day removing seeds, some foreparent of scavenged preserves came up with the idea of first cooking the fruit in water whole (after the removal of stems and the dried up bit that was the base of the flower), letting it steep overnight, then straining the juice and pulp through a fine mesh strainer or colander lined with multiple layers (say 4 or 5) of 100% cotton cheesecloth. I did the fruit cooking activity on a Thursday, the pulp straining on a Friday, placed the strained pulp and liquid in an airtight container, refrigerated it, and made the jelly on that Sunday. Once your pulp is ready to go, the whole cooking and canning process should take in the range of an hour. Not a bad investment for inexpensive – yet gloriously impressive – holiday gifts. Or as a condiment for cheese and crackers. Or even just for pb&j.
Ingredients
5 cups rose hips, stems and flower remnants trimmed off, as well as any nasty bits that look rotten or bruised, and rinsed of beach sand or other debris, including worms - it's not nearly as much as it sounds like to prepare them, though. Really.
4 cups water
1/2 cup freshly squeezed lemon juice (from 2 to 3 large lemons)
3 1/2 cups granulated sugar
Instructions
I like a slighly loose jelly, so I opted not to use pectin, the addtion of a packet of which would result in a firmer jelly, as pectin is used as a setting agent.
Place the cleaned and trimmed rose hips and the water into a large stainless steel stockpot (at least 12 cups capacity). Cover and bring to a simmer over medium heat, stirring occasionally. Cook at a gentle simmer for 20 minutes, remove from the heat, and let stand, covered, overnight.
The next day, place a colander lined with 4 layers of cheesecloth or a fine mesh strainer over a large ceramic, stainless, or glass bowl (at least 4 cup capacity). Working in batches, transfer the cooked fruit to the colander or strainer, and using the back of a metal spoon, press the pulp and juices through the strainer. Scrape the bottom of the strainer occasionally to remove pulp, but be certain to use a different spoon from the pulp-pressing one, as the spoon you are pressing with is in contact with the seeds and those pesky, scratchy thistle-like hairs. You do not want those in your jelly. Once the majority of what is contained in your strainer are seeds, discard them and start with the next batch until all of the fruit has been strained. You should have approximately 3 cups of pulp and liquid in an amazing rust-orange color. If you're a bit shy of 3 cups, add enough water to get to 3 cups. If you are no longer in the mood to can the jelly up after this, or if you'd plum forgotten about sterilizing your jars, place the pulp in an airtight container and refrigerate for up to 2 days.
Sterilize your jars, and get to work on the jelly. Place the pulp and juice mixture into a large (at least 8 cup) capacity stainless steel saucepan or stockpot. Add the sugar and lemon juice, stir to combine, and then cook the mixture over medium-high heat, stirring continuously, until a candy or oil thermometer registers 220 degrees. This will take between 15 to 20 minutes at medium-high heat, and the last two to three degrees typically take a bit longer than one might expect. Ladle the jelly into the sterilized jars, wiping any drippings off of the rim of the jar and the exterior with a damp cloth before affixing the lid and always being careful because those jars are hot. Seal the lid, and process in a water bath or steam canner to seal the lids if you, your friends, and family won't be eating the jelly within a month. Sealed, the jelly will keep for 1 year, unopened. But be sure to remind those who receive the jelly that there is no reason to wait a full year, and, for the love of all that is good in this world, you had to work really, really hard - at the beach - to scavenge that fruit, so it's an insult to not consume it in a timely fashion.
http://www.tinyfarmhouse.com/2009/09/rose-hip-jelly/
Estimated cost for approximately 5 (8 ounce) jars (or 8 (4 ounce) jars and 1 (8 ounce), as that's what I was able to rustle up in my house): $2.14. I will not factor in the gas money or any parking fees for going to the beach. This jelly is a bonus that you get for the effort you put forth while enjoying your beach day. The sugar costs just over 18-cents per cup, so multiplying the 18 and a fraction of a cent by 3.5, it costs 64-cents. Lemons cost 50-cents each, I used 3 because I had one lame, unjuicy one, so that's $1.50. Put a bow on it, and viola – gifts for all who are deserving.
*rose hips also come from Rosa canina – dog rose, as well as Rosa majalis. They can be used for tea, and in Sweden, a soup is made from rose hips.
Dinner tonight: Collard green pie. Mmmm, mmmm, mmmm. And, yes, the recipe is coming. Soon. Estimated cost for 2: $6.22. The collards came from our garden. I used 2 pounds, which if purchased at the grocery store would be 79-cents per pound at my regional market, or $2.49 per 1 and 1/4-pound organic bunch at Whole Foods. We'll go with the organic so that you can automatically save money if you choose to purchase them at the less-expensive location. So that's $4.98, though you will have 1/2 pound left for future meals. I used 48-cents in olive oil, 6-cents in crushed red pepper flakes (can't wait to use those crushed Hungarian hots!), and one medium onion at a cost of 38-cents or so. There is also 1 cup of fresh ricotta in this pie, at a cost of $3.00 ($5.99 for 2 cups/1 pound), 3/4 cups grated Pecorino Romano, which runs us about 75-cents, and two large eggs, at 26-cents each, so 52-cents. I was lazy, it was hot, I didn't feel like making my own pie crust, so I used a puff pastry sheet. One from a package of two costs $2.25. That's $12.44 for 8 slices, and this thing is rich and hefty – the collards are just about piled up to the edge of the crust. Still, we'll each probably eat two slices, and at $1.55 and a half-cent per slice, that gets us to $6.22 for two. If you went with the 79-cent option, that brings it to $9.04 for 8 slices, or $1.13 per slice, and, of course, the gardener's option brings it down even further to $7.46 for 8 – 93-cents per slice. Have I mentioned that gardens are good? Just checking.