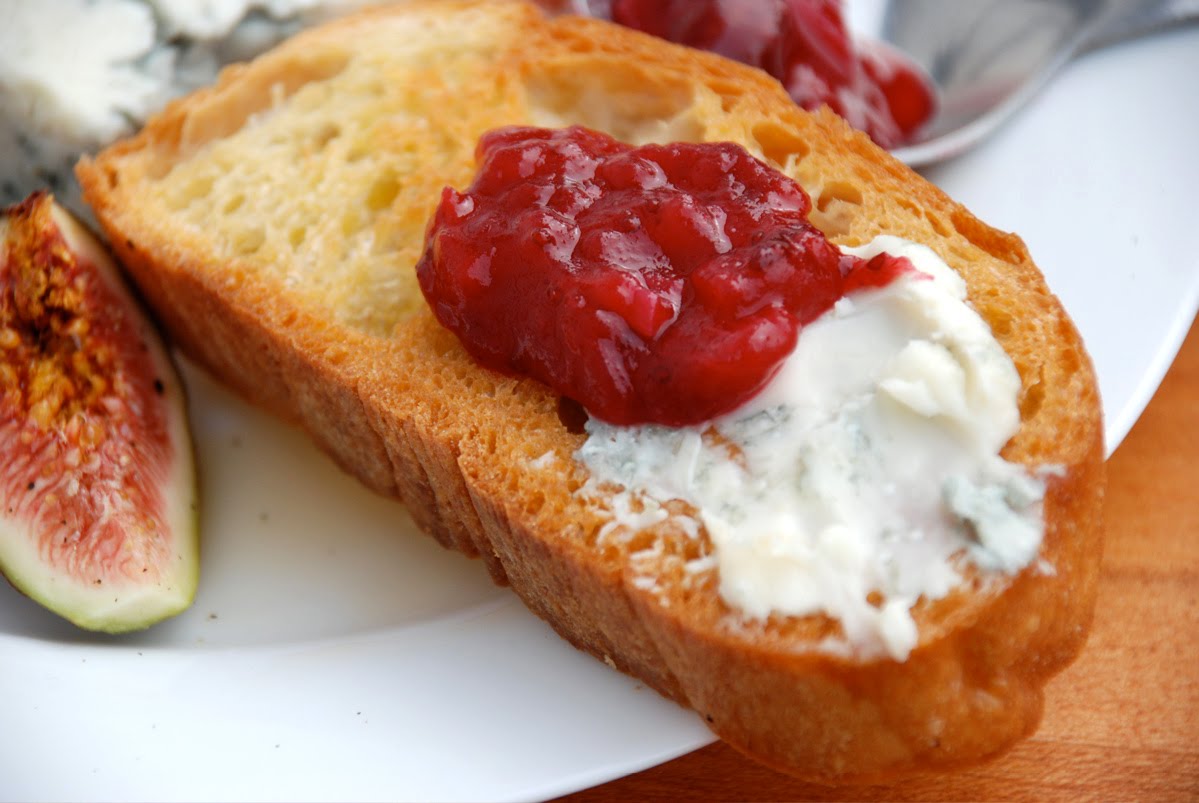 If you, like my brother, abhor the combination of cranberries and orange, for they produce a tangy cranberry sauce (we're talking homemade here, I'm not implying that one should ever pour orange juice over the gelatinous, can-ridged sauce), this cranberry-apple chutney should do the trick to satisfy your not-so-bracing holiday-sauce cravings.
With a base of apple cider and a touch of maple syrup, there is nary a bitter bite to be had, a fact to which I am able to attest as I have been eating it by the spoonful for days. Partnered with nothing – as though it were a spoonful of Nutella. Though nothing truly compares to Nutella, of course.
Should you have chutney remaining after the holiday, do not hesitate to serve it as part of a holiday-season appetizer course alongside a creamy Gorgonzola dolce or a sharp clothbound cheddar – with crusty bread on the side, of course. Always with the crusty bread. That said, you should try to have that wipe-out-the-leftovers snack within a week of making the chutney, though if you end up enjoying it as much as I, I don't think there's any need to worry that you won't. But if there is pressure mounting to eat it up within the week, you could always serve it as a condiment to pork, chicken, or, heck, even in one of those Pilgrim-style sandwiches with the stuffing and turkey. You know the ones.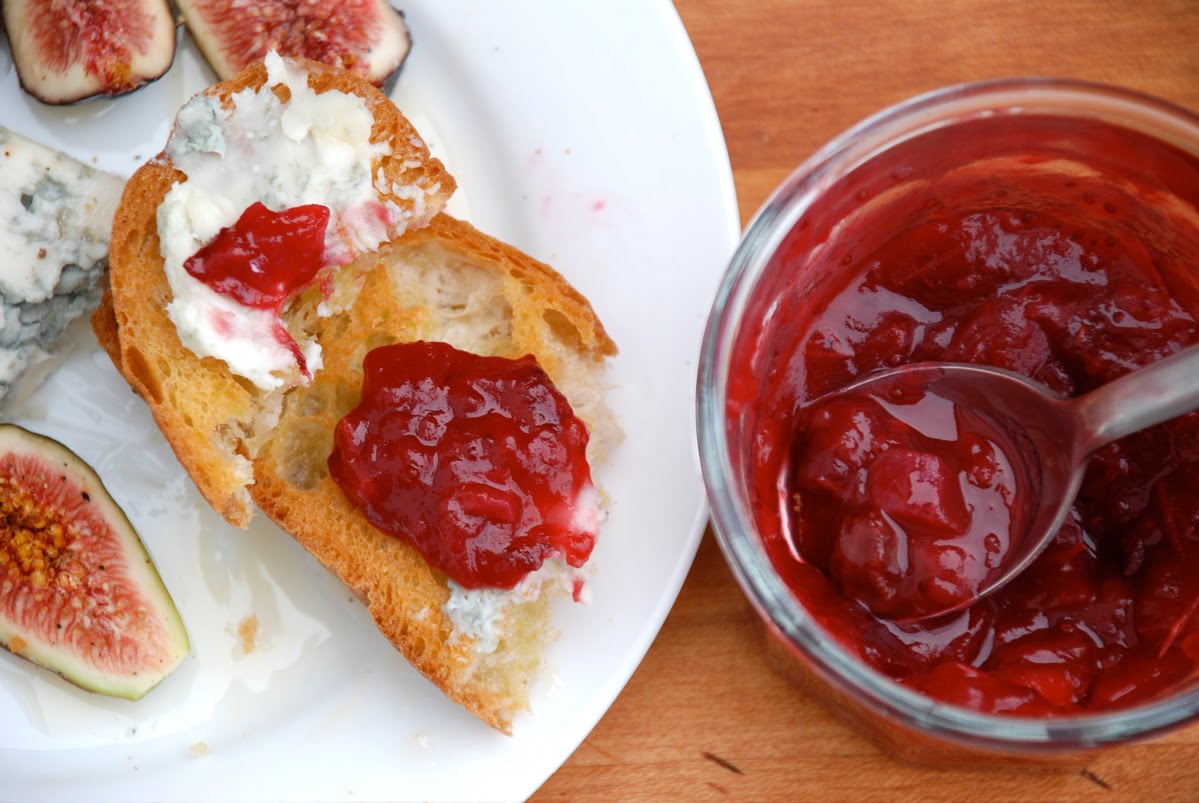 If you've never made cranberry sauce (or chutney) from scratch before, it is a very simple process. Simply simmer the cranberries in whatever liquid medium your recipe calls for until all of the cranberries have burst, and the mixture has thickened to that sauce- or chutney-like consistency you're familiar with – not from your experience with the jiggly cranberry sauce in a can, but from experience with good-quality preserves.
Ingredients
2 cups apple cider
1/4 cup maple syrup
1/4 cup packed brown sugar
1 cinnamon stick
1 (12 ounce) bag fresh cranberries, rinsed and picked over for squishy berries and stems, both of which belong in your trash bin
3 medium apples (I used a mix of Macoun and Empire), peeled, cored, and cut into 1/4-inch wedges
1 medium (10 to 12 ounce) Vidalia onion or other sweet onion, coarsely chopped
1/4 cup raisins
1/4 cup dried cranberries
Instructions
Pour the cider and maple syrup into a large (at least 4-quart capacity) non-reactive (stainless steel) stockpot, then add the brown sugar and stir it into the liquid to break up its cup measure shape. Throw in the cinnamon stick, then add the cranberries, apple wedges, onion, raisins, and dried cranberries. Bring to a simmer over medium heat and simmer, stirring frequently, until the cranberries have done that bursting thing, rendering the sauce a lovely strawberry-rhubarb jam shade of red, the apples have broken into pieces about one-quarter their original size, and the chutney has thickened to a loose-preserves consistency, approximately 20 minutes from the time the mixture begins to simmer. It will thicken as it cools.
Let the chutney cool slightly, remove the cinnamon stick, then transfer the chutney to a large (at least 6-cup capacity) airtight storage container and refrigerate it until it's time for it to sidle up to the turkey, mashed potatoes, stuffing, and gravy. If you make the chutney 2 days ahead of the Thanksgiving Day feast, that gives you until the following Tuesday to use any leftover chutney up.
http://www.tinyfarmhouse.com/2009/11/cranberry-apple-chutney/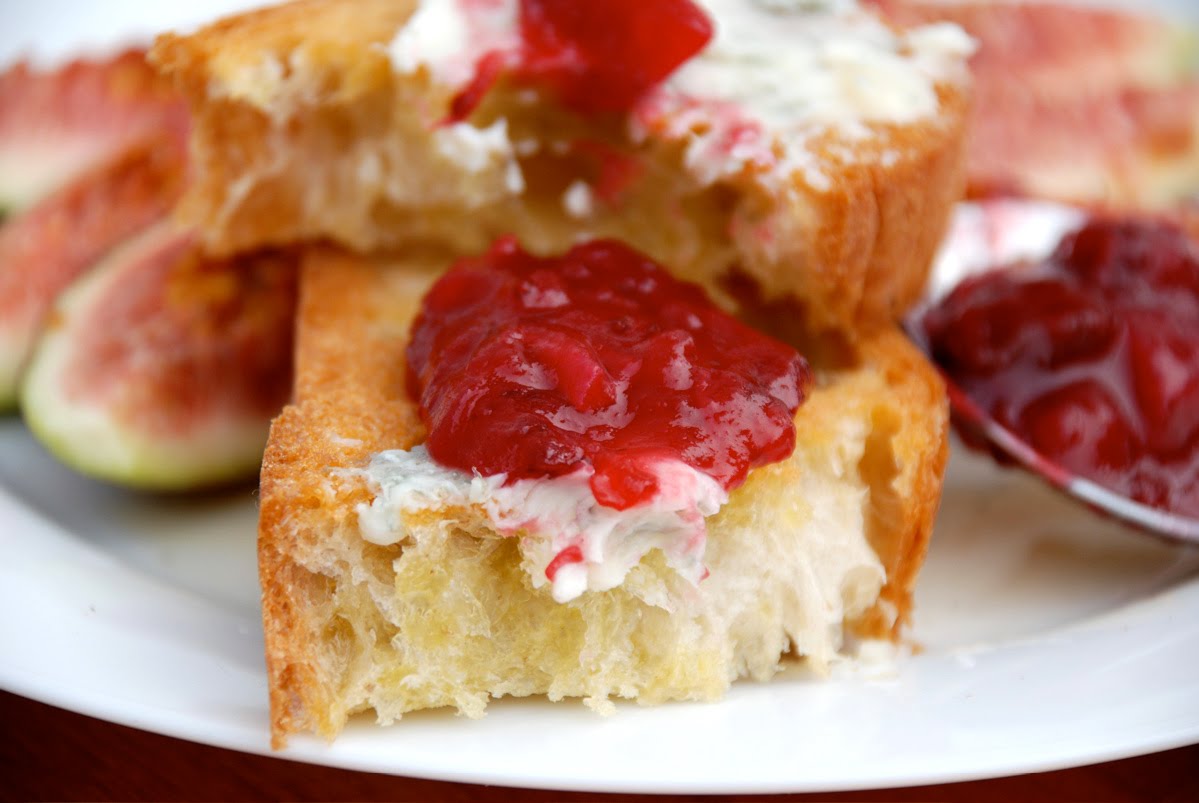 Estimated cost for the batch of chutney: $8.93, or around $1.79 per cup. The apple cider costs $2.99 for 8 cups, so it's roughly 75-cents for the 2 cups. The maple syrup costs 60-cents per tablespoon, we're using 4, so that's $2.40. The brown sugar costs 4-cents per tablespoon, so that's 16-cents. The cinnamon stick costs approximately 47-cents (figuring it's one of 10 in a jar that costs $4.69). Cranberries are on sale, 2 bags for $5.00 – tis the season – so $2.50 for our 12 ounces. The apples will weigh around 1 and 1/4 pound, and at 99-cents per pound, that's $1.25. The onion will cost around 75-cents. The raisins cost $1.99 for eight 1/4 cup servings, so that's 25-cents. The dried cranberries are also on sale this time of year, and they cost $3.99 for a package containing around ten 1/4 cups, so that's 40-cents.
Dinner tonight: Homemade Pumpkin Tagliatelle with Roasted Fig and Brown Butter Cinnamon Sauce. Estimated cost for two: $6.39. Yesterday, at my local Whole Foods, there was a cook-off between two restaurants and the Whole Foods prepared foods team. The prepared foods chefs made a sweet potato gnocchi with a fig and brown butter cinnamon sauce, and I have been planning to make pumpkin pasta for a while (part of my own personal Pumpkin Obsession 2009), so I must thank them profusely for pushing me to finally make the tagliatelle. The pasta will cost around $2.66 to make. The flour will run me around $1.30, the pumpkin around $1.00, and the olive oil will be around 36-cents. I'll probably use some egg to be sure it binds, so let's add in another 54-cents for two eggs, and that gets us to $3.20. I expect that will yield us at least two 2-person servings, so that's $1.60 for tonight. The figs were $3.99, the butter is 70-cents, and the cinnamon will be around 10-cents. All pumpkin, all the time! (I will tire of it soon, I'm sure. But I think I've got at least another 4 or 5 pumpkin preparations left in me before I do. You have been warned.)