I feel a sense of comfort writing this post. Not like I'm wearing a favorite pair of jeans, for my hips and inherited semi-pro-football-playing-dad's thighs have never quite been at their most comfortable in jeans, but as though a favorite friend, long missed, has come for a visit.
This apple cake has served me well, and it has done so for nearly a decade. Last year, family and friends received this cake for their holiday gifts, a substitution, and better one, at that, for our normally purchased presents. For though its enjoyment is fleeting (it hasn't lasted long in any of the households I've sent it off to), the memory stays with you, and its memory is better than nearly any mall-bought gift of which I can conceive.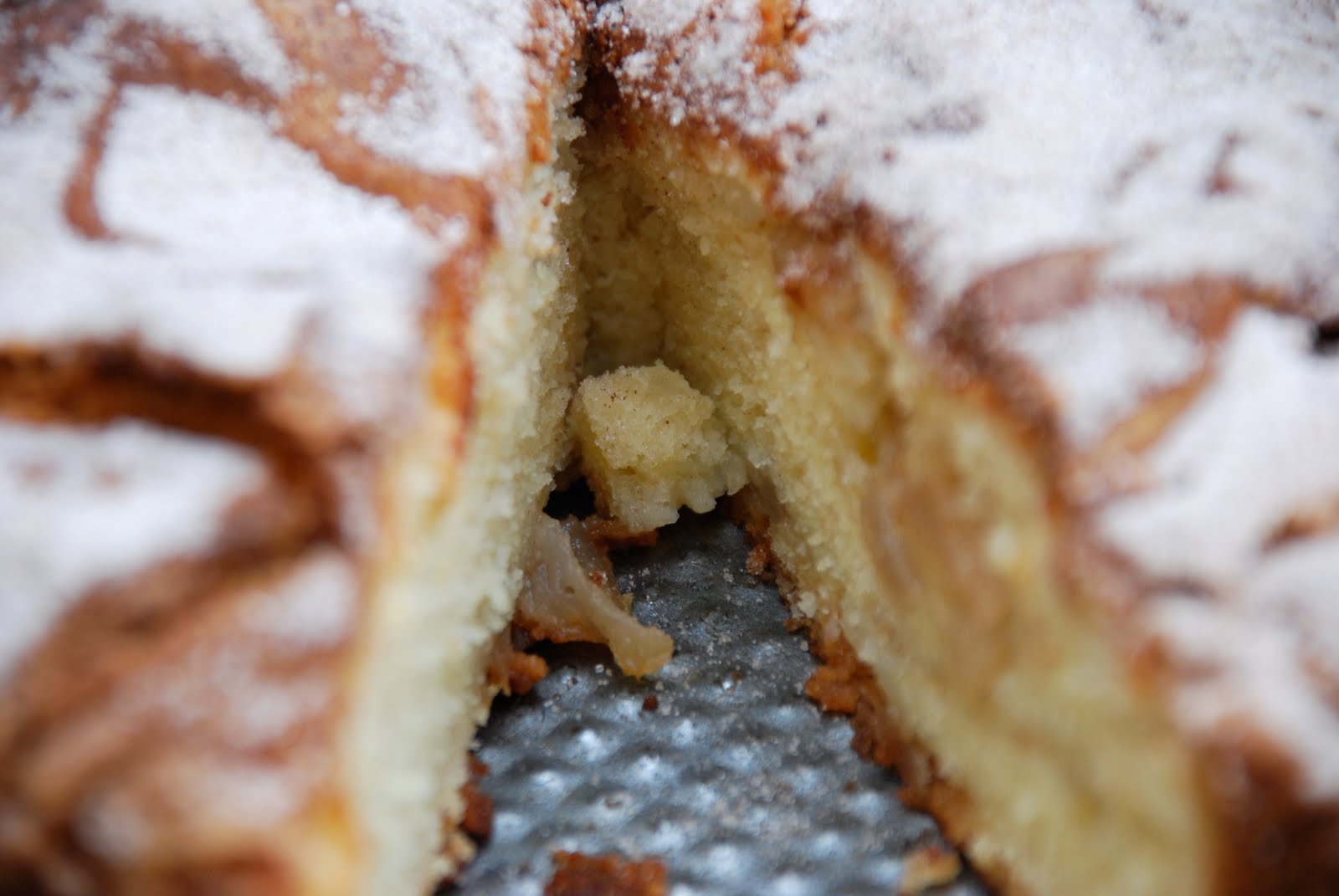 Aside from being well-received as a poor girl's holiday offering, it has also served as a learning tool; this recipe has provided a foundation for the creation of other cakes. Its ratios – embedded forever in my brain, having cooked scores of this cake over the years – have helped me craft all manner of baked treats, varying from season to season. From blueberry cake during the summer, to ricotta-apple cake, or pumpkin coffee cake in the fall, a little tweaking of the moist ingredients, seasonings, and toppings gets me where I want to be, depending upon what's available at the farm stand.
In that way, it really is like a good, old friend, kindly introducing me to her inner circle – produce-based though they are (I'm all about assigning anthropomorphic qualities to favorite foods, so there we are with that) – not minding if I choose one of them over her from time to time, for she knows I will always return, and when I do, I'll appreciate her charms even more.
I hope you'll give this cake a try – perhaps bring it with you to your holiday brunch, or serve it with vanilla ice cream after the prime rib roast and potatoes have had an hour or two to digest. Appropriate for breakfast, dessert, or gifting, this is my favorite holiday – and everyday – cake.
Apple-Cinnamon Cake, adapted from Cooking Light (so no longer light, fyi)
Ingredients
1/4 cup granulated sugar
1 tablespoon ground cinnamon
3 medium apples, such as Macoun, Rome, or Gala (though I use whatever my neighbors have on hand in the not-so-perfect bargain bags at their farm stand) peeled, cored, and sliced lengthwise into 1/8-inch pieces
8 tablespoons (1 stick) unsalted butter, softened
1 1/2 cup granulated sugar
6 ounces cream cheese, softened, and cut into approximately 1-ounce chunks
2 large eggs
1 teaspoon vanilla extract
1 1/2 cups unbleached all-purpose flour
1 1/2 teaspoons baking powder
1/4 teaspoon kosher salt
Instructions
Mix the 1/4 cup of granulated sugar and the cinnamon together in a small mixing bowl or cereal bowl. Place the apple pieces in a small mixing bowl, then sprinkle them with two tablespoons of the cinnamon-sugar mixture, and give it all a stir to distribute the cinnamon-sugar evenly. Let the apples stand for 30 minutes to release their juices (and cinnamony-apple aroma into the air).
Preheat the oven to 350 degrees Fahrenheit. Grease a 9-inch springform pan, and set aside.
In a large mixing bowl, mix the butter and 1 1/2 cups of sugar until they are well-blended, then add the cream cheese. Mix until the cream cheese has been completely incorporated into the sugar mixture, then add the eggs, one at a time, and mix until they are just blended into the batter. Pour in the vanilla and mix well to combine.
In a medium mixing bowl, stir together the flour, baking powder, and salt, then pour the flour mixture into the butter and sugar mixture. Mix until the dry ingredients are completely blended into the wet ingredients.
Pour the apples and any accumulated juices into the batter, and fold the apples into the batter. Transfer the batter to the springform pan, spreading the batter around the pan so that it is as level as possible, then sprinkle the remaining cinnamon-sugar over the top of the cake. Bake until the cake edges are golden brown, and a toothpick inserted into the middle comes out clean, 1 hour 10 minutes to 1 hour 15 minutes.
Allow the cake to cool on a cooling rack for at least 15 minutes before removing the springform ring and cutting into it, as it is quite moist and may want to fall apart on you if you dive in sooner. In order to remove the pan, simply run a sharp knife around the edge to unstick any apple bits that have adhered to the pan before releasing the latch. At home, I serve the cake out without removing the base of the pan, but if you'd like to remove it, you can line the base with parchment paper (grease the paper, too) before baking, then, once the cake is completely cooled, you can separate the pan from the parchment, pull of the parchment, and place the cake on the serving platter of your choice. Enjoy for breakfast, lunch, and dinner's dessert (you should have at least one savory meal during the course of the day, after all), and don't be shy about gifting it to any and all you'd like to make smile this holiday season.
http://www.tinyfarmhouse.com/2009/12/a-favorite-holiday-cake-apple-cinnamon-cake-for-hoarding-or-giving/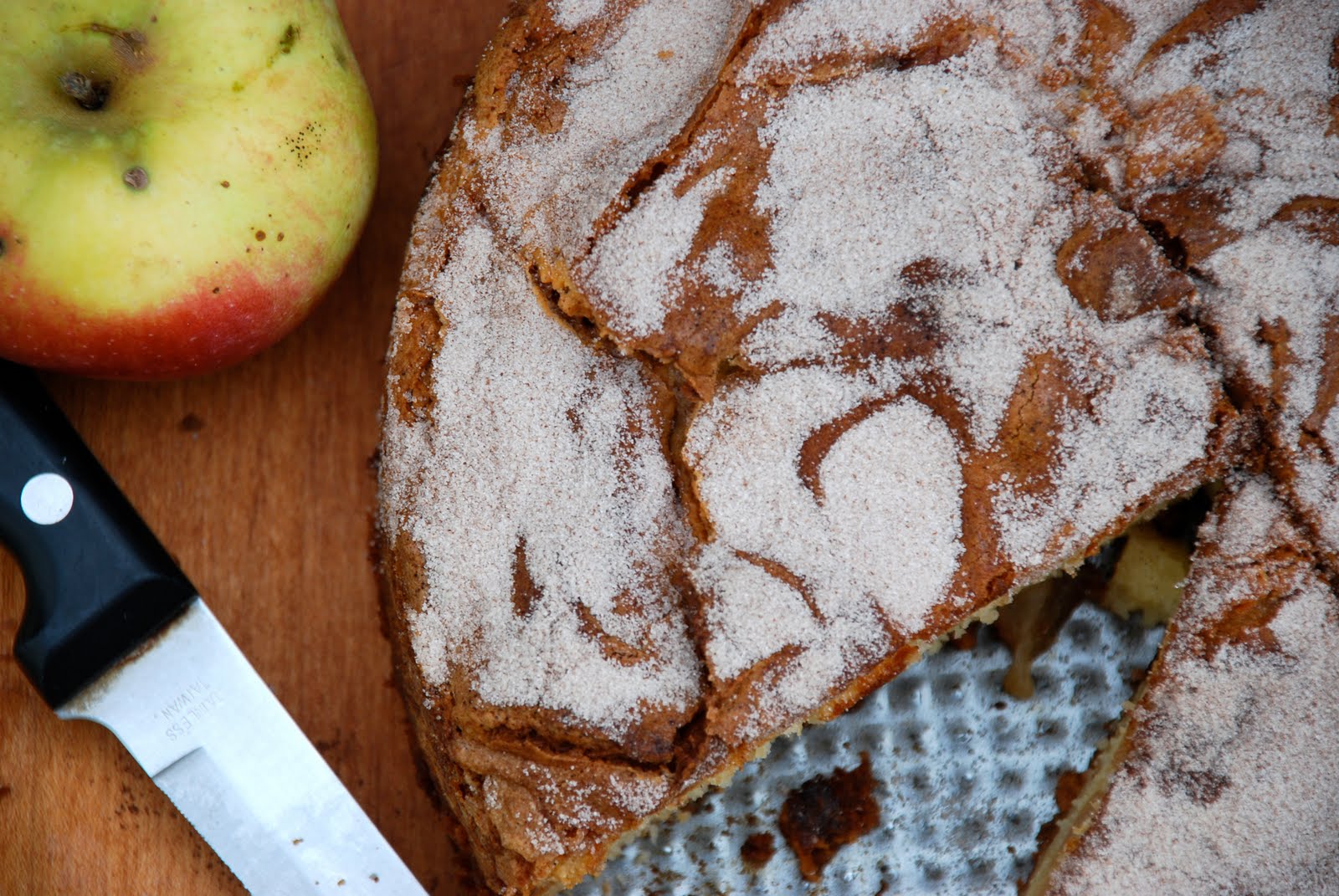 Estimated cost for one cake (but don't tell the gift recipient this part, okay?): $5.77. The cinnamon costs around 11-cents per teaspoon, so our tablespoon is 33-cents. The granulated sugar for the entire cake costs 32-cents ($3.49 for 19 cups). The apples should be no more than 99-cents per pound, and they will weigh somewhere in the range of 1 1/4 pounds, so that's $1.25. The butter costs 70-cents, as it is one stick of four from the Whole Foods 365 Everyday Value brand butter that costs $2.79. The cream cheese is on sale at this time of year, and you should be able to get it for close to one dollar, but in case you aren't able to, we'll call it $2.00, as it commonly sells for that as its regular price. The eggs should cost no more than 26-cents each, and the vanilla extract should run you around 22-cents. The flour costs 41-cents, the baking powder is around 2-cents, and the salt, we don't count in our estimated tally math.
For gift-giving, I bake these in bakery-style paper pans that I buy from King Arthur Flour, and the tree-shaped paper pan makes a nice holiday presentation. Just be sure to place the paper pan on a large baking sheet (10 by 15-inch rimmed is a good bet) before filling it with the batter lest it have the opportunity to splatter on the floor for lack of support. If you choose to bake in one of these paper pans, be sure to cool the finished cake sans baking sheet on a cooling rack before packaging it up for gifting, as it will become soggy on the bottom if left to cool on the baking sheet (pesky condensation!). The paper pans cost $4.98 (plus shipping) for four, keeping our cake in the fiscally responsible category, unless, of course, you opt for overnight shipping. This is why I'm sharing this recipe now, so that we can all plan ahead.
pssst: I've submitted this cake into the Bon Appetit "Blog Envy" contest. If you feel so inclined, please head on over there and vote. Much appreciated!
Dinner tonight: Last of the Slow-Roasted Tomatoes with Rigatoni and Cream. Estimated cost for two: $5.81. Those green tomatoes I purchased for $1.00 per pound at my favorite farm stand back in October had all ripened by the time JR and I returned from Thanksgiving in Vermont, and so, on Sunday, I roasted the last of them. I wish I had some black olives in the house, or at least the ambition to go buy black olives, for then I would forgo the cream, but, alas, I do not, and so we will have some cream-sauced slow-roasted tomatoes. The tomatoes were around 1-pound, so that's $1.00. The oil for roasting was a few tablespoons, so around 36-cents, we don't count salt and pepper in our math, and the oregano was from one of the many volunteer plants still growing in the garden (In December. In New England.), so it was free for me. However, were you to purchase fresh oregano, you would use around a quarter of a package costing $1.99, so that's 50-cents. The rigatoni costs no more than $1.99 (I paid a dollar, actually, in one of those ten-for-$10 schemes), the oil for the sauce is around 36-cents, the shallot would be around 25-cents, and the cream is a half of a pint (leftover from holiday cooking) that cost $2.69, so that's $1.35.