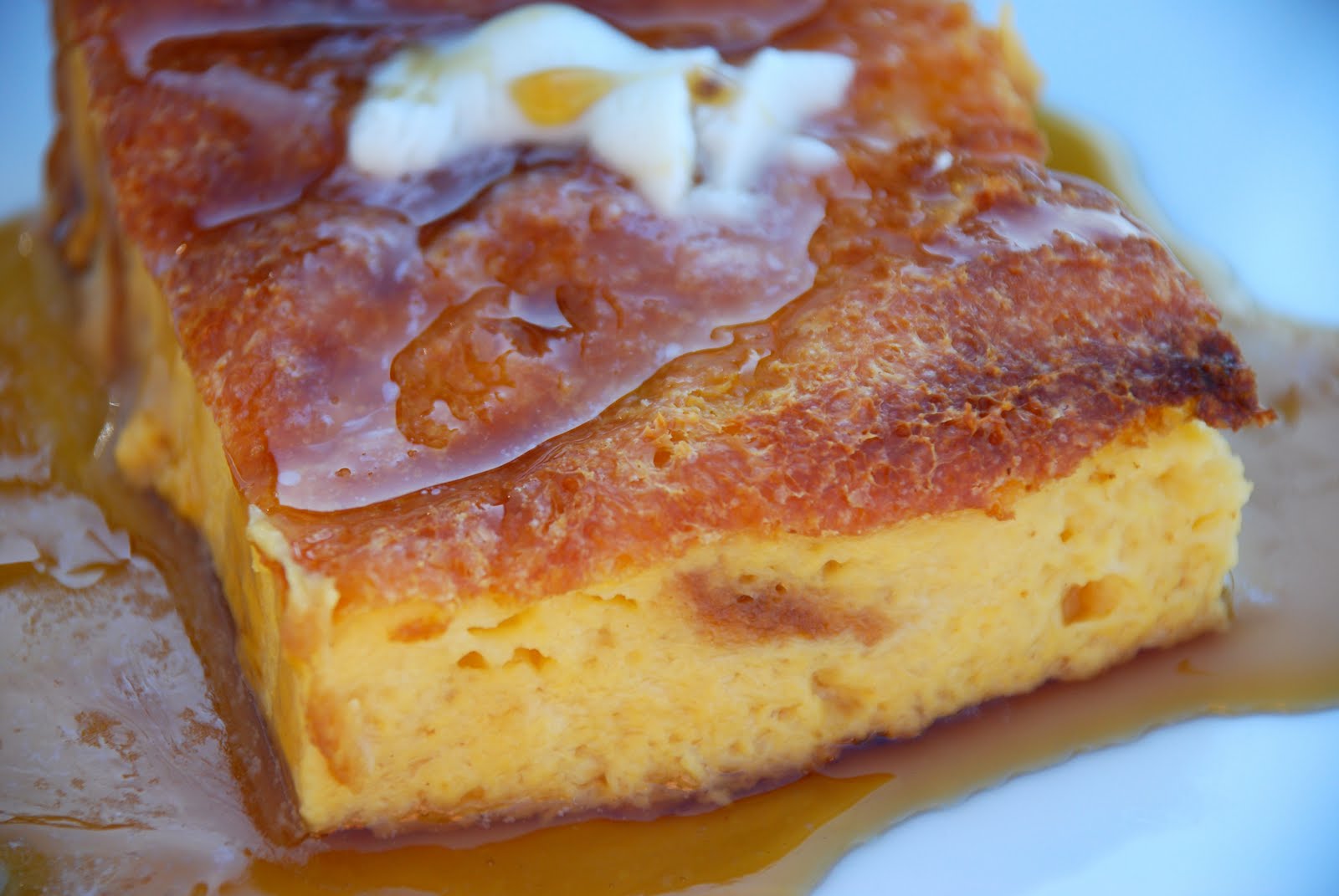 If you plan to start 2010, not with an all-night booze bash, but, instead, with a civilized and refined (though possibly booze-including) brunch on New Year's Day, then I highly recommend that you make this Egg Nog-Sweet Bread French Toast to serve or take along.
If the prognosis for the entire year can be gauged by what you eat on Day One, there could be far worse ways to spend 365 days. Aside from an overnight soaking up of nog and eggs (which you don't actively participate in, anyway, by the way), this is a quick dish to prepare, with outrageously tempting fragrances wafting from your oven while it bakes, and a rich, slightly souffle-type texture (only with the addition of bread. Sweet bread, at that) rewarding your efforts (cracking 6 eggs, slicing a loaf of bread, whisking egg nog and eggs together – efforts? Well, I was hard pressed to come up with another term that would make it sound dramatic, so efforts it is.), and surely gaining you the culinary admiration of guests or hosts. Heck, even your pets will admire you culinarily, I'm sure.
So you see, with this dish, I wish you ease, elegance, and pleasures of the palate all year long. Oh, and I wish it for me as well. Not entirely altruistic am I, it turns out.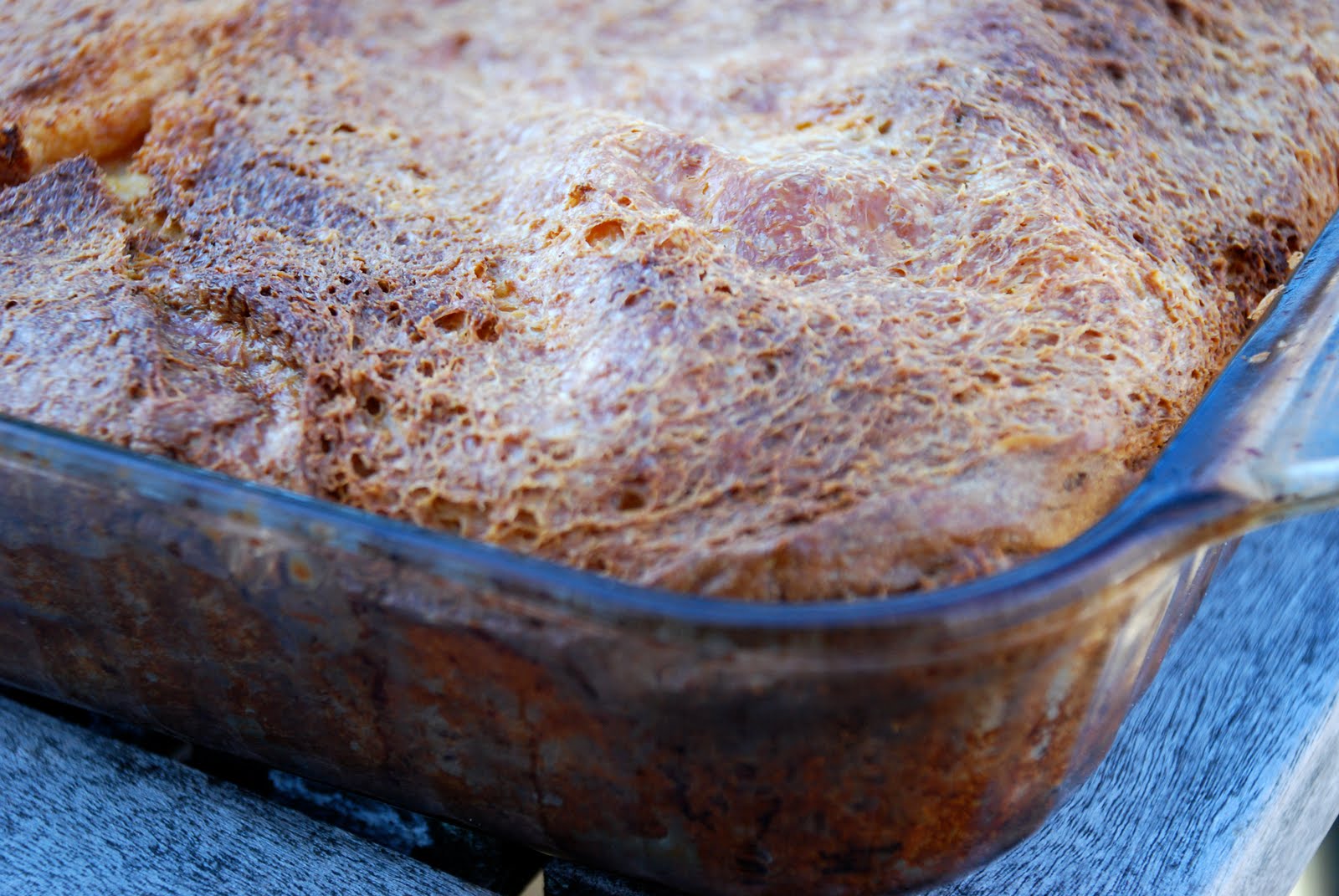 Baked Egg Nog-Sweet Bread French Toast
Ingredients
1 (1-pound) loaf of sweet bread, such as Portuguese Sweet Bread, sliced into 9 to 10 (1/2-inch or so) slices.
6 large eggs, lightly beaten
1 quart (4 cups) egg nog
(Three ingredients. Three ingredients. Not counting the butter for greasing the pan. Could it be any easier than this, I ask?)
Instructions
Ahem, so get ye a 9 by 13 by 2-inch baking pan and grease it with that butter I just casually mentioned. Unsalted butter, so as to not detract from the sweet, eggy elegance.
In a large mixing bowl, combine the eggs and egg nog, whisking them well. Even with your best efforts at whisking, there will be some yolky bits floating atop the mixture, resembling yellow pieces of stained glass set in a pale yellow frame. At least, this is what I thought of them.
Ladle just enough egg-egg nog mixture into the bottom of the pan to coat it, then arrange 2 and 1/2 pieces of the bread over the coating. Channel your love of arts and crafts, and slice filler pieces of bread to patch those spaces left empty. Pour 1/3 of the remaining egg-egg nog mixture over this layer, spread the nog mix evenly across the bread, then layer the next 2 1/2 pieces of bread and the arts-and-crafted patches for the second layer. I like to use any heel ends on the second layer as it helps avoid having heel in our top - or presentation - layer. Fairly anal, I realize, but I like pretty as well as tasty, and while we're attempting to foreshadow how 2010 goes with this toast (so much pressure on one brunch dish, I know, I know), we may as well add "aesthetically pleasing" to the list.
Pour 1/3 of the egg-egg nog mixture on the top of the second layer, pushing the bread down if necessary to prevent overflow. We're even able to prevent nuisance in 2010, now. Excellent - I'd been working on that for the last 39 years to no avail. Repeat the bread layering and the pouring of eggy mix with the last layer, then place waxed paper over top, seal that in place with aluminum foil, and place in the refrigerator overnight.
In the morning, preheat your oven to 325 degrees. We're cooking low and slow to get a nice, fluffy rise from the eggs and a tender, silken texture for our toast. Bake the toast until it has puffed up (it will sink back down as it cools, just as any souffle-ish item is wont to do) and the top is golden brown, approximately 1 hour.
Allow the toast to rest for at least 10 minutes before cutting into it, and when you do, have a bit of unsalted butter and maple syrup, or honey, at the ready. I, for one, am trying to figure out how I can lose weight on a Baked Egg Nog-Sweet Bread French Toast diet. Don't give up on me. It only took me 39 years to figure out how to symbolically avoid nuisance for an entire year by pressing gently on a custardy bread mixture. This high-fat, high-carb diet solution can't take much longer than that to be unraveled.
http://www.tinyfarmhouse.com/2009/12/baked-egg-nog-sweet-bread-french-toast/
Estimated cost for one pan of toast: $7.67, or around 96-cents per serving. The Portuguese Sweet Bread was $3.79 for the loaf (it is cheaper at the Portuguese grocery chain – by a whole dollar – but I wasn't in that neighborhood on this shopping trek). The eggs were $1.19 (I bought regional store brand as our hens aren't laying – um, it's frigid and horrible outside and layers don't like cold or dark. Which is a problem in a state where winter lasts 7, 8, or 9 months, like it does in mine. Normally, during these trying, no-laying times, I would buy Whole Foods store brand eggs, which are slightly more expensive (around $1.56 for 6), but please see the note about the Portuguese grocery, as it also applies to my not getting to the WF for this batch of photogenic toast.). The egg nog was $2.69 for the quart, though even the incredibly decadent egg nog from Christiansen's Dairy that I purchased at the Providence Wintertime Farmers Market a couple of weeks ago was $3.00 for a quart, so you should see if you can find yourself some farm-fresh nog instead – for an increase in price of 31-cents or so, it's worth it. Especially if we're subscribing to superstition, even those just conjured up in this post, whereby we can add decadent to our expectations for 2010.
I brought this same dish to my mother's house for Christmas brunch, and it fared well both in travel and in serving over an hour after it was removed from the oven. Of course, it was tepid, but still ethereal, and so all tepidness was forgiven. In the course of shooting the toast that stars in this post, the slice that I shot outside was, of course, ice cold after about 8 seconds in the 28-degree weather, but even a half an hour after slicing into it, a (small – I only took a small piece. It's part of the diet plan, after all) neighboring slice of toast that had stayed indoors in the pan was still quite piping hot.
Dinner tonight: Meatballs and Red Sauce with Some Sort of Pasta. Estimated cost for two: $4.87. The meatballs cost around 62-cents each. I've done some math on these (as you might have guessed with me just throwing 62-cents out there) for the Poor Girl Gourmet cookbook, so I'm not going to break it all down here. I hate to ruin a surprise, after all. The sauce is super-simple – just olive oil, onion, garlic, dried oregano from the garden, and crushed tomatoes, so around 48-cents for olive oil, 33-cents for the onion, 10-cents in garlic, free oregano (or around 10-cents if purchased), and $1.50 for the brand of tomatoes used. That's a total of $2.51 and Some Sort of Pasta will be 50-cents as it will be 1/2 of a box purchased in a 10 for $10 scheme, and, as I have at least 10 of these boxes, it will be at my (and/or JR's whim) to decide which type as the water comes to the boil. I'm thinking 3 meatballs ($1.86) in addition to the sauce and 50-cents in pasta, so a nice, frugal dinner for the second to last night of the year.