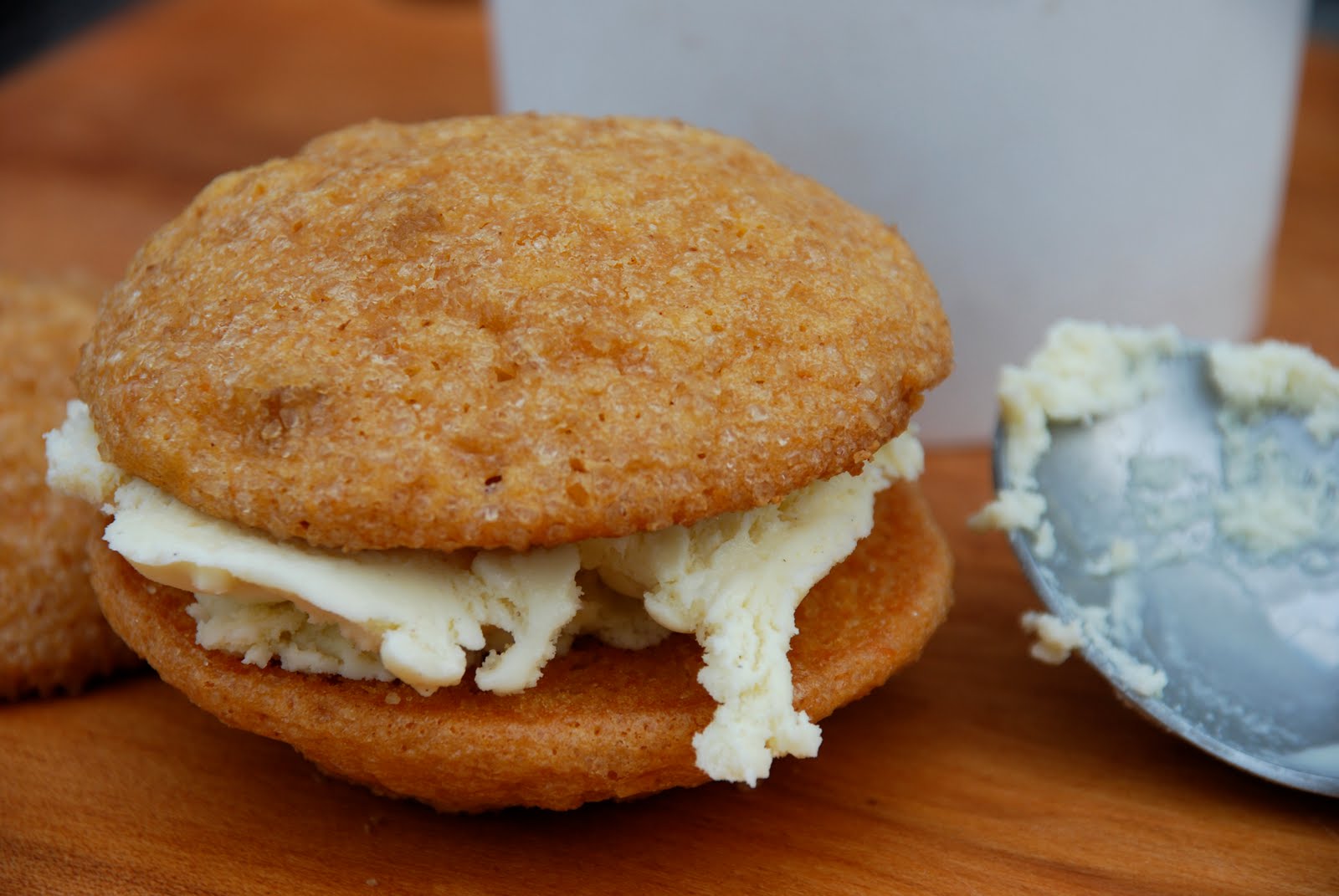 "You need to get off the farm," JR implored me, upon seeing my wrinkled and somewhat food stained three-day old garb, unkempt (and quite unshowered) appearance, and worse, my lethargic mood. He was right. Not only was I lacking motivation, I was also perilously low on inspiration. And when I'm not inspired, I'm generally testy. So perhaps it was his desire for self-preservation – or at least a blissful and calm late, late fall weekend – that caused him to lay out this charge to me. "Get off the farm."
On Saturday morning, a designated no-shower day every week (even if one is three days on from one's last shower), I found a map that indicated where the shower could be found in our house, deciphered the map key and scale, then made haste to said shower. Twenty minutes later, I emerged clean and – dare I say it? Yes. Refreshed. Amazing what a little hot water and soap can do for a gal.
The promise of meeting Jen from Last Night's Dinner had actually lured me off of the farm, with a schedule to be kept and everything, for we planned to meet at the Providence Wintertime Farmers Market – open at 11am and foolish not to arrive as close to the opening bell as possible (there is, in fact, a bell. My mother was there on Saturday as well and had to wait for the bell to ring to purchase her holiday gift items). Jen from Jen's Dish was working at the market, and we had also coordinated to meet up for a bit.
One of my most favorite things to do in life is to learn about new foods, new food products, and producers. When JR and I used to have the resources to travel, we would travel to where the good food was. Before our last trip to Italy (we have been extremely fortunate to travel there frequently, and I cannot wait until we can finally return again), I asked JR what he was most looking forward to about the trip. "Cinghiale, Pecorino di Pienza, fat back, and Brunello," was his reply. Cinghiale is wild boar, Pecorino di Pienza is a sheeps milk cheese from a town that we are enamored of, fat back is crispy pork fat (yum), and Brunello is a fancy Sangiovese wine produced in the medieval hill town of Montalcino. It should go without saying that we were looking forward to the art, the landscape, and la dolce vita, but it is the food that really gets us jazzed up anywhere we go.
In any event, I had been missing food exploration quite badly, and didn't realize quite how much until this weekend's trip to the farmers market. I had squirreled away enough money to allow for a few impulse buys, and started the morning with a planned-for cup of Guatemala Antigua coffee from New Harvest Coffee Roasters' brew bar, where the barista brews a cup for you through a special drip and filter process. As though their coffee isn't good enough however you choose to brew.
The barista and I discussed coffee as traveling along a parallel, though delayed, path with wine. Years ago, wine was just wine. It was white, or it was red, and when you ordered wine, you likely didn't know much about the grape, the growing region, or the way the wine was made. Now – if you are interested – you can learn about lesser-known grapes, small producers, the methods employed in making the wine (and you may even recognize what type of container the wine is aged within just on your own knowledge of what wine aged in oak tastes like). When you order wine in a restaurant, it is no longer just "wine", it is Montepulciano d'Abruzzo, Tempranillo, Nero d'Avola, Touriga Nacional (I'm going with the value wine theme here in my list), or perhaps Vernaccia, Inzolia, Godello, or Vermentino. To name a few. Coffee is just starting its journey down this road, gaining traction as a beverage finally being thought of as defined by many factors, including the type of bean, where it is grown, and how it is grown, harvested, and roasted. Truly fascinating. And a good start to my off-the-farm adventures.
From there, I met Jen H-C, Jen H, and Jen H's husband Michael, had a great chat, plus made a plan to have post-holiday drinks. This means another time that I leave my yard in the next month. Fabulous.
Next stop, Farmstead's table. Farmstead is a fantastic cheese shop in Providence, and Kate was busy making apple and cheese panini for an expanding line of hungry shoppers. I snagged some Berkshire blue cheese – a good, stinky English cheese – to accompany the savory shortbreads I would be making on Sunday, and walked away compelled to make my own grilled apple and cheese sandwiches when I got back to the farm.
Rhode Island has two apples that are native to it; the Rhode Island Greening, which is a tart pie apple, and Peck's Pleasant, which is a more rare variety. Hill Orchards had a bushel of Rhode Island Greening set next to their Granny Smiths, and so I purchased a couple of each – the Grannies for grilled cheese, the RI Greenings for use in that oatmeal bread I've been working on based on my oatmeal breakfast obsession, plus a quart of cider, all while coveting the apple cider vinegar, which I will certainly snag on my next trip to the market.
I was on a mission for fresh ricotta from Narragansett Creamery, located at the far end of the market, and on my trek there was waylaid by the egg nog at Christiansen's Dairy. One sip of the unlaced nog, and I had to have me some. I had been planning for creme brulee-making as it was, and as I placed the egg nog into my increasingly heavy shopping bag, knew that egg nog creme brulee it had to be.
I ran into Jen and Michael again just in time to express my undying love and adoration for Christiansen's egg nog, and then saw my friend, and long-ago high school English classmate, Christine, who keeps a homeschooling blog. She and her mother had also gotten off of their respective "farms" for a young-child-free morning, and, as it was their first time at this market, they were duly impressed. As you would be were you to visit, and if you live close enough, I hope that you do. We had a nice chat about growing food, and cooking, and children learning about where food comes from before realizing we all had to get a move on. I purchased the ricotta I was after, and then, just as I thought I was done – oh, and I was down to my last 6 one dollar bills as well – I stopped for a taste of Kafe Lila's white pepper ice cream. As though I wasn't inspired enough already. Freshly fallen snow is the color of the ice cream, and it starts out sweet, smooth, and refreshing, and then – once you've swallowed the last bit – the heat hits the back of your throat, surprising and addictive all at once. I dug for a dollar in quarters in my (similar to its owner) unkempt purse to meet the $7 requirement, and walked out of the market with a plan for sweet potato-crystallized ginger cookies that would also be formed into ice cream sandwiches with this white pepper ice cream.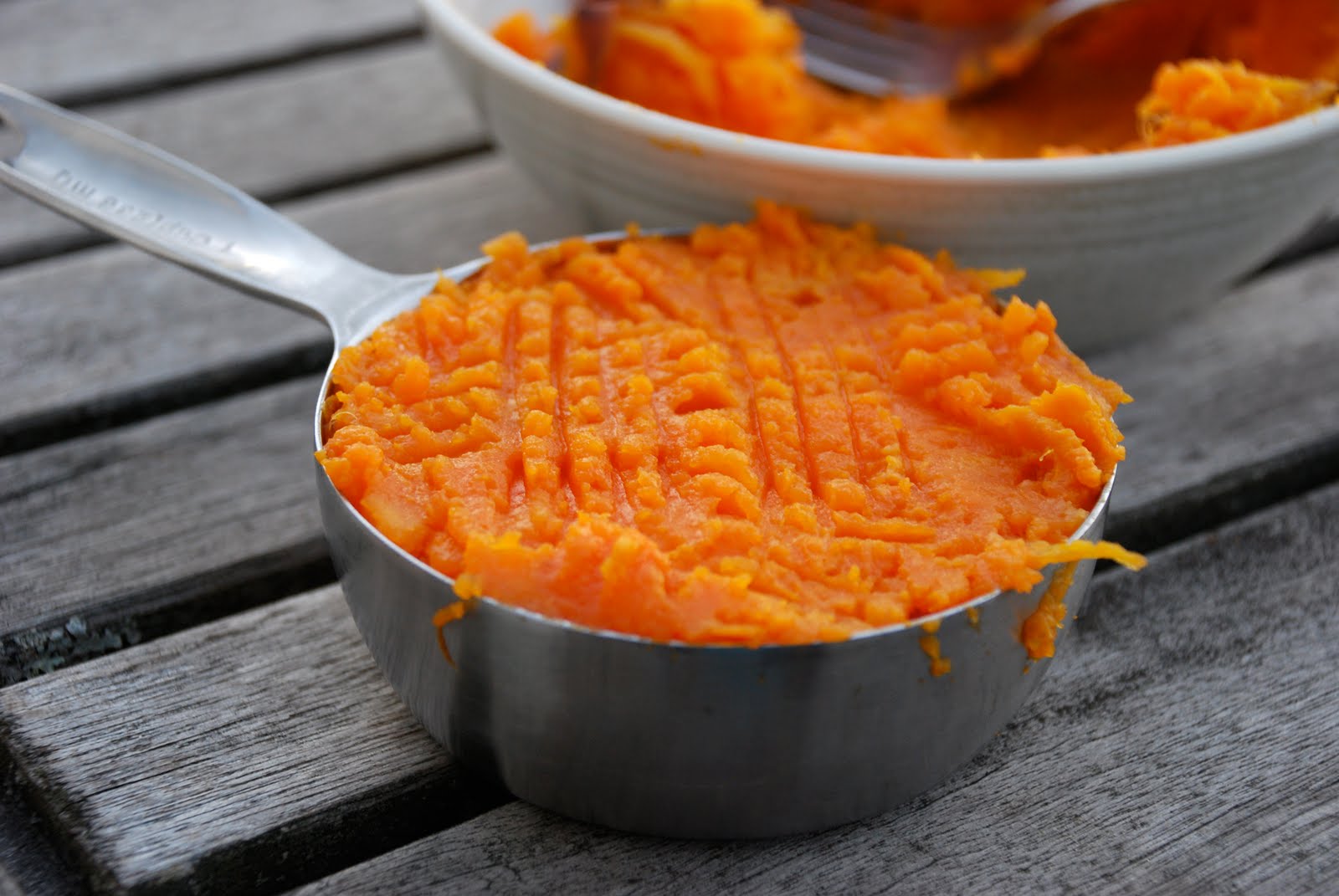 Sweet Potato-Crystallized Ginger Cookies
Ingredients
1/2 cup light brown sugar
1/2 cup granulated sugar
8 tablespoons (1 stick) unsalted butter, melted
1 cup mashed sweet potato (or pumpkin if you'd like, though I prefer the sweet potato version)
1 large egg
1 3/4 cups unbleached all-purpose flour
3/4 teaspoon baking powder
1 scant teaspoon kosher salt
3/4 teaspoon ground cinnamon
1/2 teaspoon ground ginger
1/4 cup finely chopped crystallized ginger
1/2 cup turbinado sugar (aka "Sugar in the Raw") for coating the cookies
Instructions
To get 1 cup of mashed sweet potato, roast an approximately 1-pound sweet potato. Preheat the oven to 375 degrees Fahrenheit. First, wash the potato to remove any dirt, then pierce it all over with a fork. Wrap the potato in aluminum foil, and bake it until it is soft, 1 hour 15 minutes to 1 hour 30 minutes. Allow the potato to cool for at least 20 minutes, then unwrap it, peel back the skin, and remove the flesh to a small bowl where you can mash it and measure out 1 cup. Allow the mashed flesh to cool to room temperature before using it in the cookies (you can throw it into the fridge to cool it down more quickly if you haven't all day Sunday to do this).
In a large mixing bowl, mix the brown sugar, granulated sugar, and melted butter together until they are well-combined. Add the sweet potato, mixing well, then add the egg and mix until it is fully incorporated into the batter.
In a medium mixing bowl, mix together the flour, baking powder, salt, cinnamon, and ginger, then pour the flour mixture into the sweet potato mixture and mix until the dry ingredients are all incorporated into the wet. Stir in the crystallized ginger, then cover, and refrigerate for at least 2 hours and up to 24 hours.
Preheat the oven to 325 degrees Fahrenheit. Line a 10 by 15-inch rimmed baking sheet with parchment paper and have it at the ready.
Place the turbinado sugar in a shallow bowl, such as a cereal bowl. Using a spoon, scoop enough dough out to form a golf ball-sized ball by rolling it in your hands. Drop the dough ball into the sugar, roll it about to coat it completely with sugar, then place it on the baking sheet. Repeat this step, leaving all sugar-coated dough balls approximately 1-inch from each other. Bake until the cookies are just just just beginning to brown at the edges, 20 to 22 minutes. Remove them from the oven and allow them to cool on the baking sheet for at least 5 minutes before transferring them to a cooling rack. Repeat the whole process with the remaining dough.
http://www.tinyfarmhouse.com/2009/12/sweet-potato-crystallized-ginger-cookies/
Now, even if you don't live near Providence, can't get to Kafe Lila, and aren't able to find white pepper ice cream, these would be fabulous with ginger or vanilla ice cream as well. Allow the cookies to cool, spread a bit of softened ice cream on the flat surface of one cookie, top with a second cookie, wrap in plastic wrap and freeze or eat at will. These cookies are equally good on their own – with your morning coffee (brew bar brewed or otherwise), and are a bit cake-like, which makes them almost like sugar-crusted whoopie pie shells. I don't care. I'm calling them cookies.
Estimated cost for 24 cookies: $3.90 or around 16-cents per cookie. The brown sugar costs 32-cents, the granulated sugar costs around 9-cents. The butter costs 70-cents. The sweet potato cost 99-cents (pumpkin would be about half of a 15-ounce can of pumpkin, so 50-cents). The egg costs 26-cents. The flour costs 42-cents, the baking powder less than 1-cent. The cinnamon costs around 9-cents, as does the ginger. The crystallized ginger costs around 50-cents. The turbinado sugar runs us around 43-cents.
Click on the link above to make a donation – in any amount – to help end childhood hunger. Everyone who donates will be entered to win fabulous gifts – check out In Jennie's Kitchen, the brains behind this virtual cookie swap, for more details.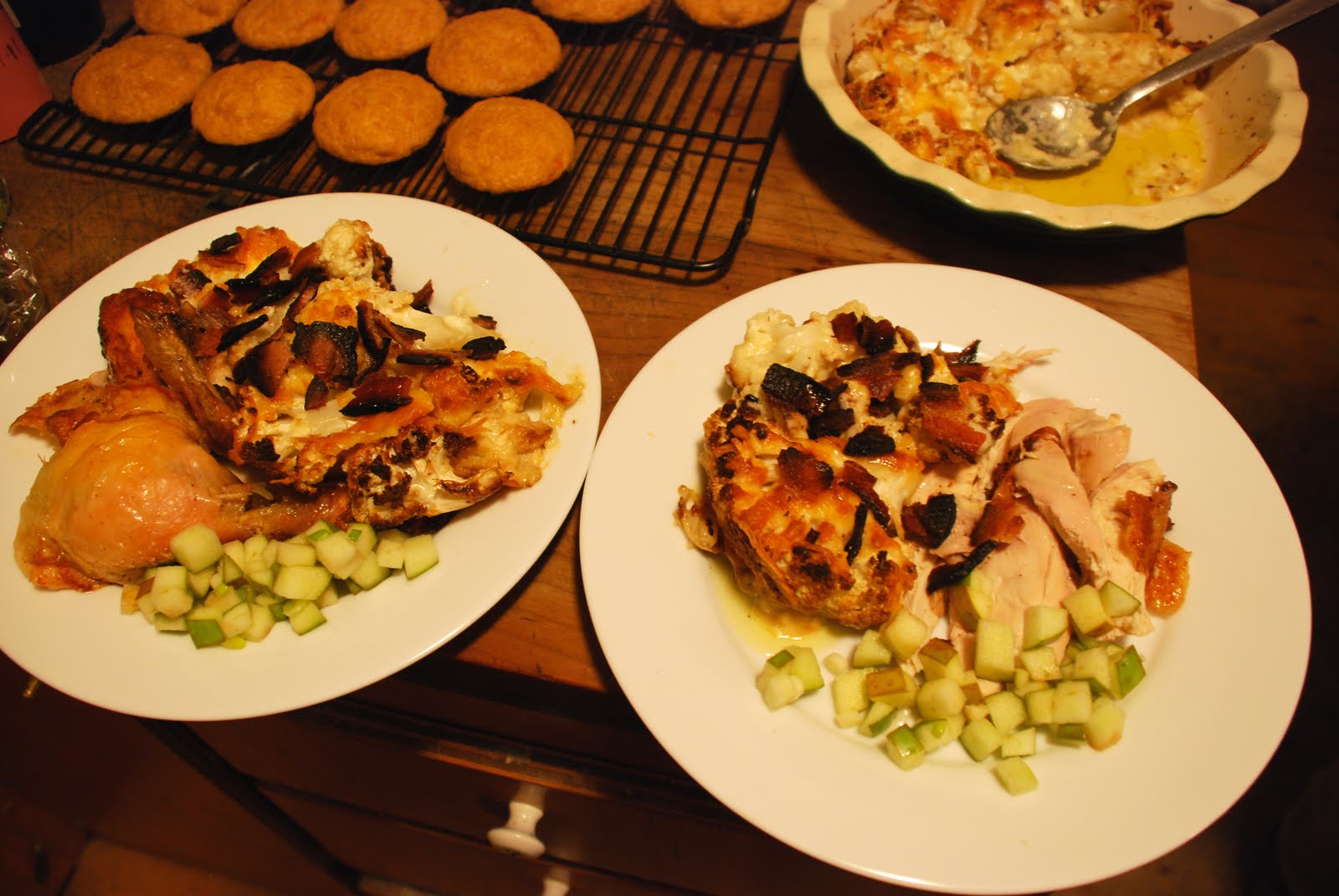 Sadly, after all this writing on and on about the market, I don't have time to estimate the cost of tonight's dinner, a pumpkin turkey lasagna with sage bechamel, but here is a shot of our dimly lit Saturday dinner: roasted chicken, Granny Smith and green onion salsa, roasted cauliflower gratin with bacon and green onions, and a blue cheese sauce that was put onto our plates after this shot was taken. You can see that we're hitting the cauliflower gratin hard at this meal – and you can bet we had a sweet potato-crystallized ginger cookie sandwich with white pepper ice cream immediately following.
On a side note, if you know of anyone growing Peck's Pleasant apples, please let me know, as Slow Food RI is working on an apple project and we'd like to get Peck's Pleasant back into local orchards.