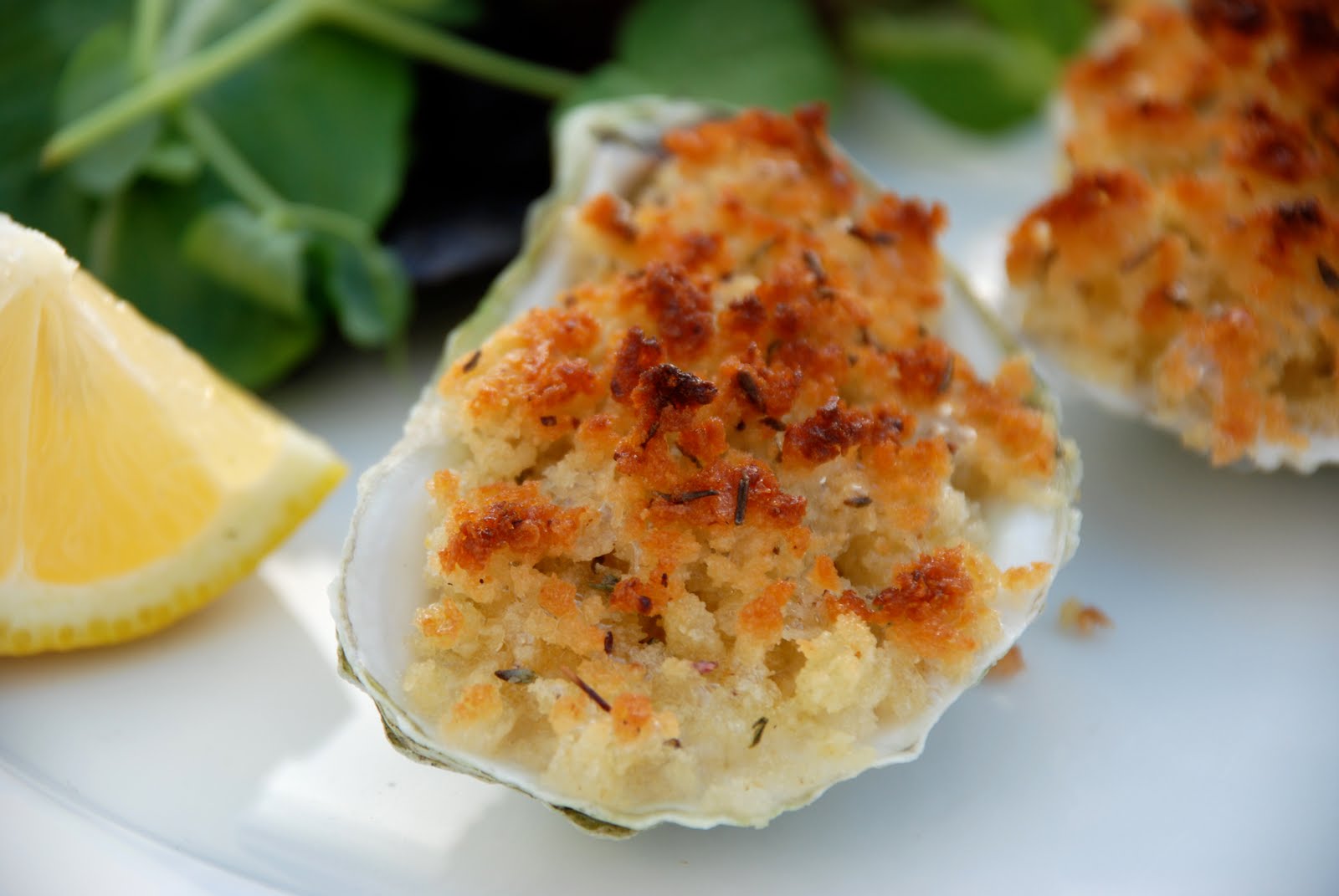 If only "oysters" began with a "b" – "boysters!" Who wouldn't want Broiled Boysters with Buttery Breadcrumbs? "I want me some Quad-Bs", we'd all say. Okay, maybe "boysters" is weird. I can accept that, but as much as I love these oysters, I also love alliteration. Perhaps to my dish-naming detriment.
Oysters surely are not top-of-mind when one thinks of budget food, but in my area, they cost around a dollar each on the high end (though I paid 95-cents each, even if I'm saving a nickel, I like to point it out, you know), and when you have a special (read: Valentine's Day – yes, I am a sucker for Valentine's Day, it's true – or birthday, or anniversary) dinner planned, a few bucks and some breadcrumbs yields a pretty rich (seeming) appetizer.
While I have long loved cooked oysters, until recently, I hadn't made them at home. And for what reason, I can't even begin to fathom (now that I'm an oysters-at-home cook), as they are super-easy to prepare. To avoid purchasing a chain-mail oyster-shucking glove (or deal with the alternative, an almost guaranteed six-hour emergency room visit for what would surely be my gashed palm), the oysters were first steamed just until their shells cracked open. They were then removed from the steamer basket to the sink, where they were doused with cold water. A quick (and wound-free) pry apart of the shells then found them on a baking sheet, where the breadcrumb mixture was applied atop each oyster. With greens and sliced lemon, the appetizer was then complete, and for a mere $4.91 (sans greens, to account fully for this dish, we can add a buck for the greens, so $5.91), voila – a fancy, restaurant-style appetizer completely suitable for a romantic dinner for two.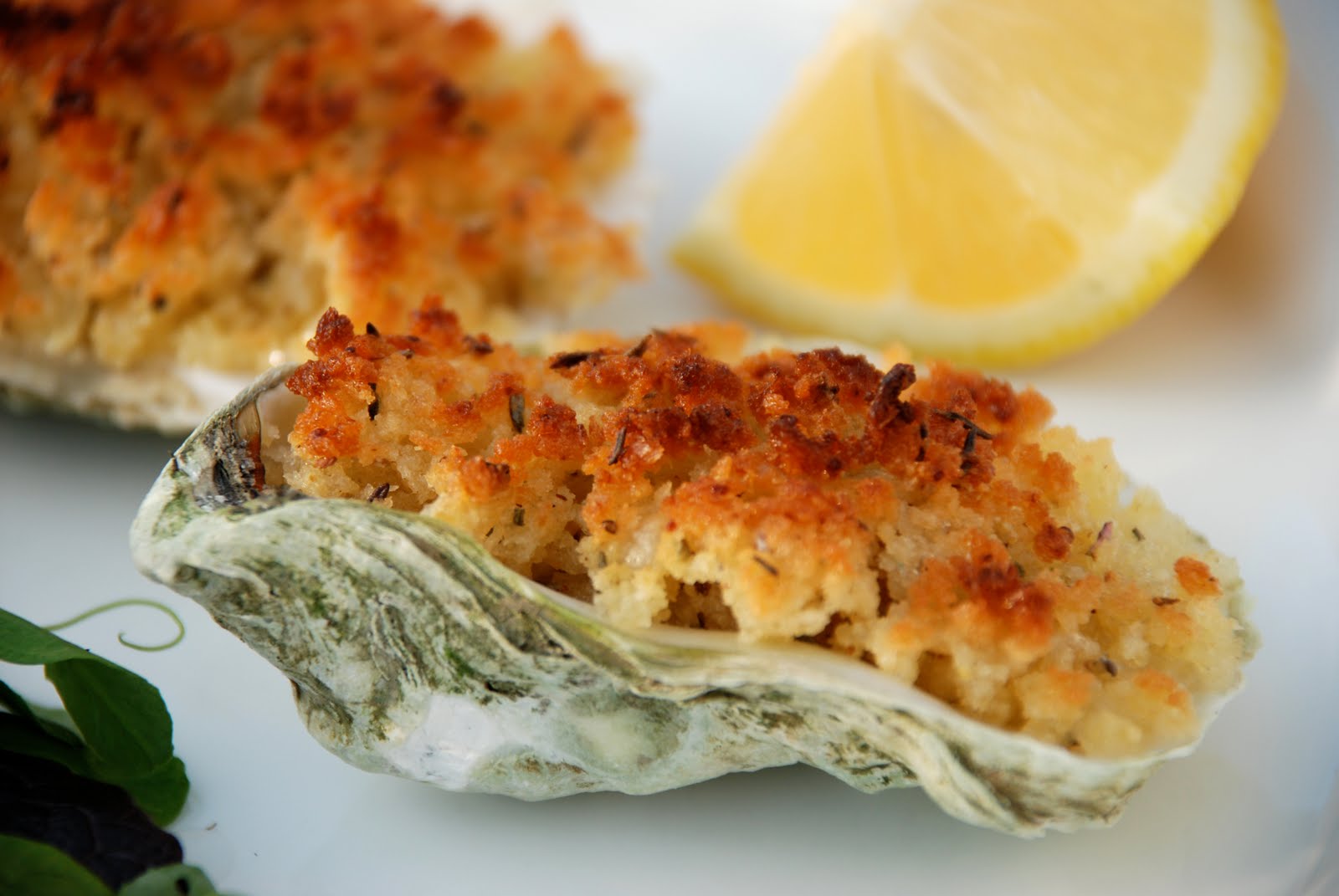 Broiled Oysters with Buttery Breadcrumbs
Ingredients
4 large oysters (we've used local Rhode Island oysters as well as Cape Cod oysters - for freshest flavor, use what's harvested closest to your home whenever possible)
4 tablespoons unsalted butter
2 teaspoons deli mustard
1/2 teaspoon dried thyme
1/2 cup panko breadcrumbs
kosher salt
freshly ground black pepper
1/2 lemon
Instructions
Raise your oven rack to the second position from the top. Preheat the broiler.
First, rinse the oysters to remove any sand from the shells. I do this as a matter of habit and preference. I don't really want to present sandy shelled oysters to JR as a symbol of my undying love. Grit is no diner's friend, and even less so at a romantic dinner.
Once rinsed of sand, steam the oysters until their shells just pop open, as described above. Rinse them in cold water so that they're easier to handle, then pull the shells apart, leaving the oyster intact on one of the shells. The shells have a flat(-ish) side and a curved side. The curved side strongly and conveniently resembles a cup. A cup that we are going to fill with oyster and breadcrumbs. If it happens that your oyster ends up on the flat part of the shell, it's perfectly okay to gently remove the oyster from that side and place it on the other, cup-resembling side of the shell. We want to be able to load the breadcrumbs atop the oyster while broiling, after all.
While the oysters are steaming, melt the butter in a large saute or frying pan, then stir in the mustard, sprinkle the thyme into the mix, and then add the breadcrumbs. I prefer panko breadcrumbs for their hefty, and therefore crunchy, texture. Stir the breadcrumbs into the melted butter mixture in order to coat all of the breadcrumbs with butter, which will take all of 30 seconds. Remove the breadcrumbs from the heat, season the breadcrumbs with salt and pepper, and return your focus to the oysters.
Place the oysters on their shells on a rimmed baking sheet (I used a 9 by 13-inch sheet). Spread 1/4 of the breadcrumb mixture over the top of each oyster. Place the sheet under the broiler, oysters aligned directly below the broiler (at my house, and I suspect at many a household, this means putting the pan in with the short end facing the back of the oven). Broil until the breadcrumbs are golden brown, 3 to 4 minutes. Remove from the oven, place on a plate with a handful of greens, and serve them forth with a wedge of lemon. And enjoy. These bad boys are good. So good, in fact, that I have been known to lick the shells. And I'm not ashamed to admit it. As you can now attest.
http://www.tinyfarmhouse.com/2010/02/broiled-oysters-with-buttery-breadcrumbs/
Estimated cost for two: $4.91. The oysters were 95-cents each. The butter was half of a stick that costs 70-cents, so that's 35-cents. The mustard cost approximately 20-cents. The panko cost 25-cents ($1.99 for 4 cups of Whole Foods 365 Everyday Value panko breadcrumbs), the thyme cost around 6-cents, and the lemon was 50-cents, so 25-cents for half (wrap that remaining lemon half up and use it within a day or two – I've got plans for steamed artichokes with lemon aioli for mine).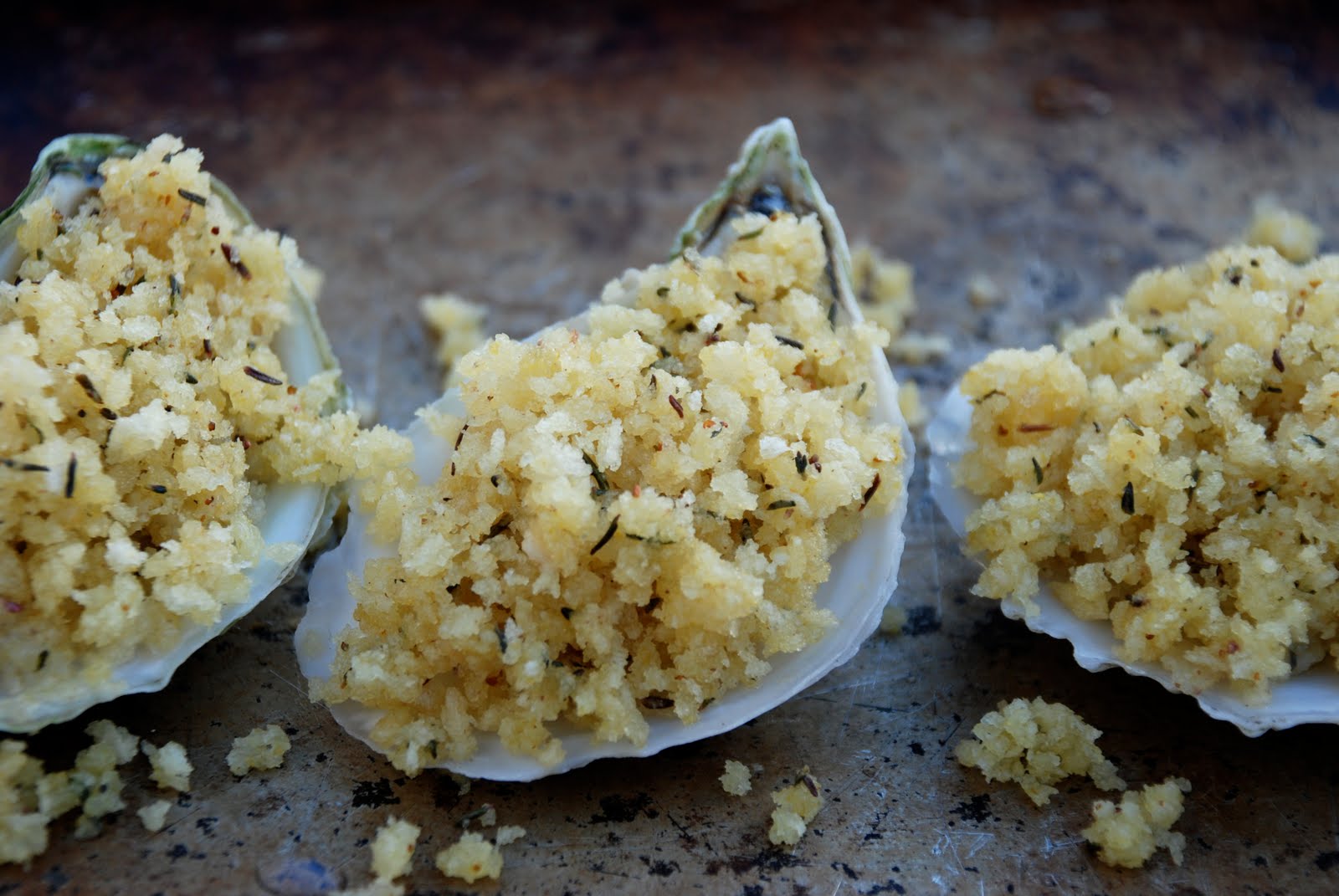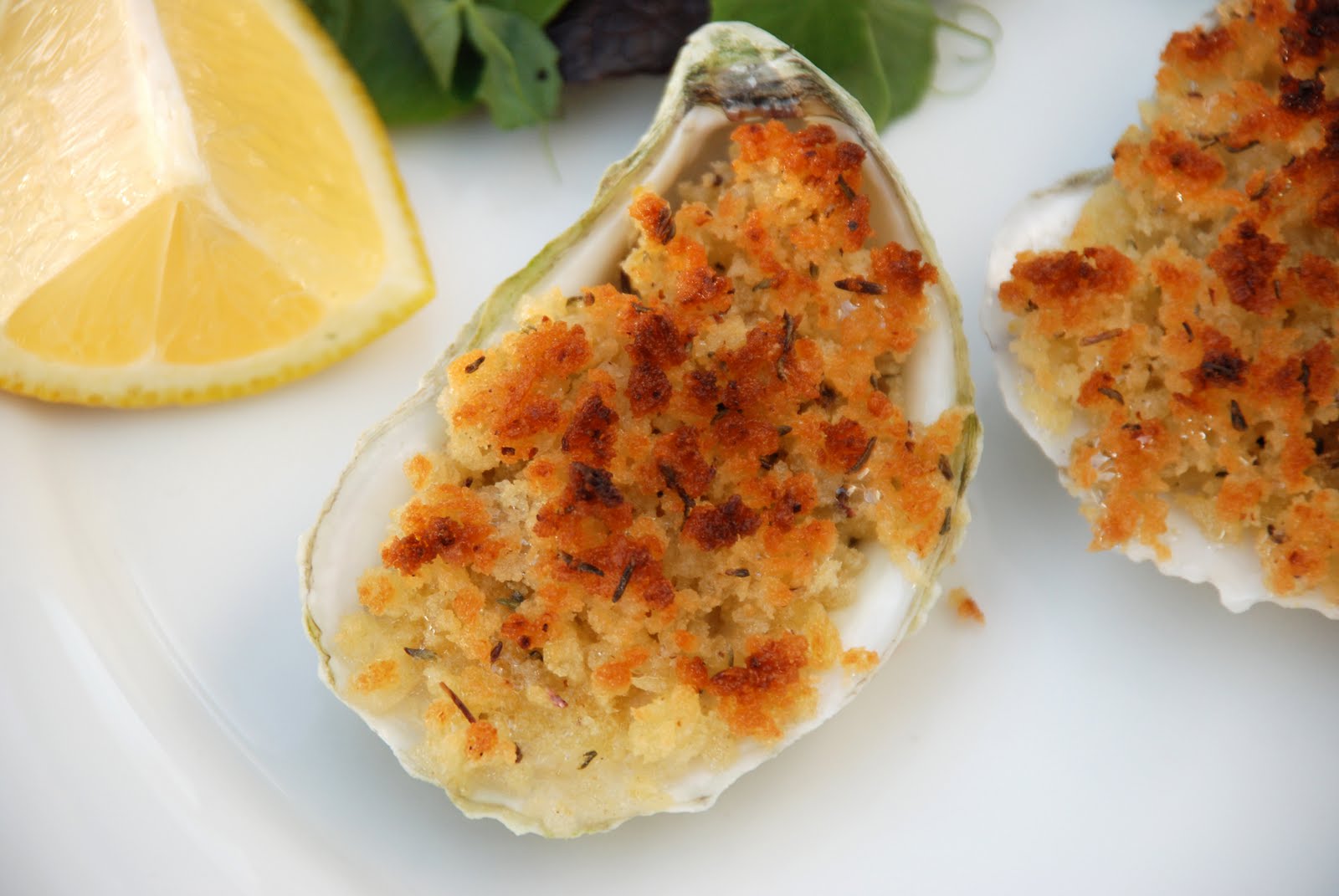 Dinner tonight: Grilled Sausage with Great Northern Beans and Roasted Fennel. Estimated cost for two: $6.51. The sausage cost $4.24 for 4 links. We're going to have 2 links and save the remaining two for lunches, so $2.12 for tonight's meal. The Great Northern Beans cost around 80-cents per pound, and I'm cooking up about a pound's worth. I'll first cook them with one carrot, one stalk of celery, and one medium onion in the pot, along with a few cloves of garlic, so the carrot costs 14-cents, the celery 20-cents, and the onion costs around 35-cents. The garlic will run me around 15-cents. Once the beans are cooked through, I'll remove the veggies, transfer the beans and their liquid to another pot, and add some sage from the garden, then simmer the beans for a short while longer to impart the sage flavor. I'd figure the sage would cost no more than 50-cents if using fresh sage from one of those $1.99 packages from the grocery store. We'll have half of the beans, and the remainder will also go into our lunches, so the total for 4 servings of beans is $2.14, two servings is $1.07. The fennel was a big splurge, in fact, costing more than the meat, at $2.96 for the bulb I purchased. I expect some leftovers from the fennel, but not significant enough to discount the cost for dinner. The olive oil to roast the fennel costs 36-cents. There was a dearth of meat at our house last week, so we're both quite looking forward to a hearty sausage meal.