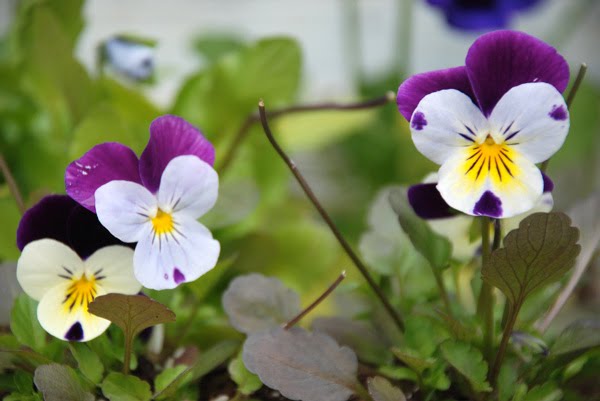 Yesterday, JR and I started our day with a ride to pick up replacement bees for our three hives, then spent the day starting seeds, assembling frames for the beehives, with JR installing all 30,000 or so bees in their homes in the early evening. It was warm, the pansies in the planters on the deck smelled sweetly, almost of honey, and we grilled our lunch, which we were able to eat outside in the warmth of the sun, the light casting that hyper-real golden glow, making the green of the lawn, the red of the barn, and the blue of the sky pop in such a way that you can't help but be happy and energized.
This morning, JR was up early to start building fires in the woodstoves – necessary to keep us warm on this chilly, damp spring day. Spring in New England is like that; one day perfect, almost to the point of surreal, the next dreary and mood-deflating. The last week and a handful of days have been this way, though not solely because of the weather.
Last Friday night, as I left work, JR's sister called from her home in New Jersey – a call that somehow, I missed. I called her back moments later, and asked the standard, "How are you?" Her voice came over the line, strained, exhausted, "Not good. Bill had a heart attack this morning."
JR and I fell into the funk quickly and easily. JR has known Bill for 40 years; it's hard to get a grasp on a lifetime, but harder still when the person lying in a medically-induced coma is your sister's husband, your peer, and family joy and heartbreak binds you.
Yet it's harder still for JR's sister, and her and Bill's kids, who sit and await the results of tests and observations of the hospital staff. Each day, the news varies, from the positive of legs and arms moving, to the negative of not breathing well and needing the ventilator. To speak of surreal, their experience surely must be that. Hope and then fear, fear and then hope, to be repeated daily, perhaps hourly, as they visit first thing in the morning and last thing at night.
As we moped around our yard one night last week, I asked JR to tell me about when he first met Bill. We sat down in our garden chairs as the dusk set in, while JR thought back to the year I was born, 1970. JR lived on the Cape with my uncle and a couple of other friends, while his brother lived on the Cape as well, in the next town from JR's. Their sister and Bill came down for a visit from Boston, camping on JR's brother's rental house front lawn. The landlord must've been thrilled.
JR, his brother, and Bill decided to hunt herring in a nearby lake for dinner. They were college-aged, after all. Herring sounded good, and free. Lacking fishing nets or poles, they decided to improvise. When they approached the lake, their broomsticks with kitchen knives latched to the broom-end in hand, they weren't aware that broomstick harpoons aren't the most ideal herring-fishing tools.
The lake was alive with herring, herring bumping into their ankles, like wading through fish rather than through water. Then the hunt began. Herring after herring was slashed in half, drifting down to the bottom of the lake, the three of them attempting to scoop up half-herrings as best they could. Eventually, one of them had the idea to aim for the herring heads. Also a horrendous failure, with many decapitated herring bodies followed by herring heads to the lake floor.
Bill had reminded JR of this misadventure a year or two ago at Thanksgiving; it's really a typical story of JR's life at that time (there was a sign above the door of the Cape house that read, "No Sweathogs Allowed" – whatever that means. All I know is that my grandmother would go to the Cape to deliver bags of groceries to my uncle, JR, and their roommates, driving there in her convertible Cadillac, looking as glam as ever, and then had to enter the house under a sign that had something to do with sweathogs. She was a good sport, though, so there's that.).
Just a few years later, JR's sister and Bill were married. Following their honeymoon, they moved to New Jersey, just far enough away that we can't be there now, during the ups and downs, as we all hope for a return to health, and for Bill to have the opportunity to appreciate another springtime, and all the seasons.