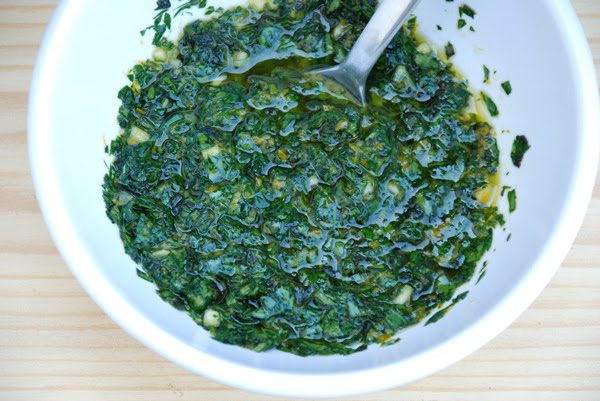 My family has a long history of putting out copious amounts of food on any given holiday. Not one to break with tradition – at least not with food traditions, especially not as far as the tradition of plenty goes – each year, for Easter, we make a leg of lamb and a ham. Why have only one meat entree on a holiday when you can have two?
To go with the meats, I make no-cook sauces. They're easy and fancy-up the holiday just that much more for very little effort. This year, there's an orange gremolata for the lamb and a maple mustard for the ham (so easy, I shouldn't even bother to call it a recipe, but if you're in a rush and would like a little extra somethin' somethin' for your holiday ham, this will definitely do the trick). Gremolata is traditionally made with lemon zest, garlic, and parsley, but JR and I liked the idea of orange and mint with the lamb, so this is what we ended up with.
So, without further ado, two easy no-cook sauces for a spring feast: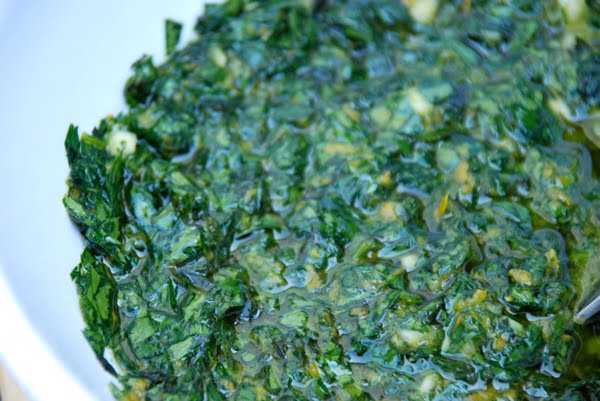 Ingredients
3 medium cloves garlic, peeled and finely chopped
6 tablespoons fresh mint leaves, finely chopped (approximately one store-bought container of fresh mint, or three stems)
1/2 cup fresh parsley, finely chopped (for me, this was around 12 stems)
the zest and juice of one Navel orange
1/4 cup extra virgin olive oil
kosher salt
freshly ground pepper
Instructions
Before we get into the super-easy part of this recipe, it is helpful to know that for the mint, you want to remove the leaves from the stem, then tear (or cut) out the tough vein that runs down the center of each leaf. This vein is toughest near the base of the leaf, so you want to focus on removing it at that end before chopping.
As far as parsley goes, you can chop the leaves and stems to use in this dish, though I did limit the stems to the very thin parts and discarded the thicker stem pieces.
In a small mixing bowl, combine the garlic, mint, parsley, orange zest and juice, and olive oil, and give it a good stir to be sure all ingredients are as evenly distributed as you can muster. Add salt and pepper to taste.
Once you're done mixing the gremolata together, be sure to cover all of the chopped herbs with the oil and orange juice in order to keep them from turning an unappetizing shade of dark brown on you, then refrigerate the gremolata for at least two hours and up to 24 hours to allow the flavors to blend before serving forth at room temperature (remove from the refrigerator approximately 1 hour before serving time).
If you have any gremolata left over, you can mix it with mayonnaise or Greek yogurt to make a sandwich spread. Boy, I sure do hope we have some left over.
http://www.tinyfarmhouse.com/2010/04/two-easy-no-cook-sauces-for-a-spring-feast/
Estimated cost for one batch of orange gremolata: $4.62. It's a holiday, so sauces that cost just less than $5.00 are still a good deal. Maybe not on a weeknight, but with leg of lamb and a house full of guests, it sure as heck is a good value. The garlic costs 15-cents or so. The mint cost $1.99 (unless you have a plant, in which case, it's free, and you probably have more than you'll ever know what to do with). The parsley was about half of a bunch that cost $1.99, so $1.00. The orange cost just about one dollar, and the olive oil cost 48-cents for 1/4 cup.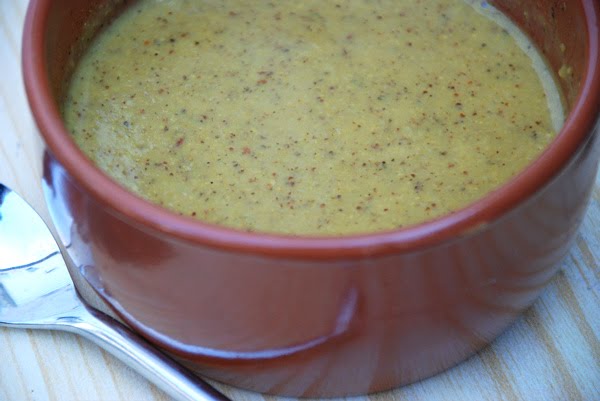 Maple Mustard, not even worthy of being called a recipe

Ingredients

1/2 cup Dijon or deli-style mustard
1/4 cup maple syrup

Instructions

Just guess what happens next. Yep. That's right, get yourself a small mixing bowl and stir these two items together until the maple syrup disappears into the mustard. Viola - instant maple mustard for ham, chicken, pork, what-have-you. It's quite good on sandwiches, too, as you might imagine.

http://www.tinyfarmhouse.com/2010/04/two-easy-no-cook-sauces-for-a-spring-feast/
Estimated cost for one batch of maple mustard: $2.04. The mustard costs around 8-cents per tablespoon, so for this "recipe" it's 64-cents. The maple syrup is a bit expensive, as it should be given the process it goes through to get to your table (clear sap is extracted from maple trees when days are warm and nights are cool, then the sap is boiled down until it gets to that consistency of that brown syrup we know and love. This year in New England, it's been a rough year for the sap flow, so prices will likely go up – just a word of warning. Still, maple syrup is worth it. Just use it sparingly.). It costs 35-cents per tablespoon at $22.00 for one quart, with 64 tablespoons per quart. So that's $1.40 for this recipe. Still, for $2.04, your family will be quite pleased with the maple mustard condiment, and, if you have a crowd coming to dinner, even at $4.08, it's still well worth it.