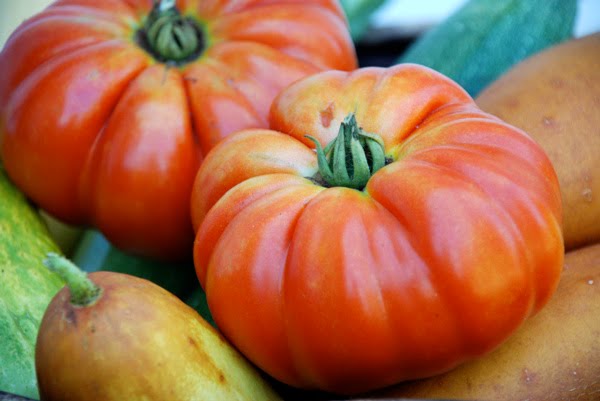 We planted the asparagus patch during the spring of 2008. "I won't be able to eat those for three years," JR would just about shout, exaggerating the claim slightly as is his way, and pointing to the wispy, yet sparse fronds, 21 plants packed together in one raised bed. "But it will be worth it," I'd reply, "by the time we are able to harvest it, the asparagus will be practically free."
That the asparagus would eventually be practically free wasn't really a selling point for me at the time, but it sounded like a good way to assuage JR's concern that he'd be temporarily denied asparagus growing right there. In our yard.
JR's grandparents had kept an asparagus patch that JR and his brother and sister keenly recall running through during their childhood summers, the patch seeming as though a soft, feathery forest, with green-trunked trees. I imagine that it is as much for the memory of playing amongst the fronds, as it is for the flavor, that asparagus is one of JR's two favorite vegetables. The other being artichokes (which, on a side note, grow quite crappily here in our garden. Which is to say, they do not grow. At all.).
The rest of our 2008 garden was pretty predictable, and sparse, even. The requisite 8 basil plants were accounted for, as was the dill, parsley, oregano, and cilantro – of the last four herbs, only parsley having been planted new, the others volunteer from year to year – a few straggly-looking heirloom tomato plants denied of regular watering due to the gardeners' post-work fatigue, zucchini and summer squash under siege by squash bugs and cucumber beetles, and lettuce barely picked and ready to bolt, bitter and inedible. At least for humans. The chickens rather enjoy bitter, bolting lettuce, packed as it tends to be with slugs.
One lazy August Sunday of that sad gardening season, while JR and I were likely yanking out never-harvested bitter lettuce to toss into the chicken run, a dear friend stopped by, relaying to us some news he had recently heard on NPR. "Two economists were on, and they said that right after Labor Day, there's going to be a freeze of the credit markets, and a total meltdown of the economy."
"That seems a bit extreme, don't you think," I replied, "I mean, a total meltdown of the economy seems unrealistic, doesn't it?"
A couple of months later, I stood looking out the window over my kitchen sink on a workday, though no longer a workday for me, speaking with another good friend on the phone. It was a perfect, crisp fall day outside, stunningly blue skies, leaves just beginning to turn gold, she and I discussing our strategies for eating whatever was left in the pantry.
"I don't go to the grocery store until I absolutely have to," she said.
"Do you think we're living through the start of another Great Depression," I asked.
"I don't know," she paused, "I don't know. But maybe."
She and I were both freelance broadcast producers, the business- and schedule-minders for promos and graphic packages for cable and news networks. We had both worked on projects for A&E, History Channel, and Discovery. Had both worked on projects for the CBS Evening News. And in the fall of 2008, we were both sitting on our hands, waiting for the next job to present itself.
Early on after my work dried up, I spoke with one of my biggest clients who informed me that they had just had layoffs, and that it would be 9 months to a year before they started spending money out of house. And I was definitely out-of-house. Whatever money I had in the bank was all the money I was going to have for a while, and though I did attempt to get eight dollar an hour jobs, I never heard so much as a "thank you for applying; we'll keep your application on file" for my attempts (not that this is unexpected, given the 10%+ unemployment rate in Rhode Island).
Perhaps from the very beginning of my career in television I had wanted out, though I do remember enjoying some early projects, as well as learning a fair amount in my first year of producing. Given that I recall occasional fun and some learning leads me to believe that it's more accurate that I wanted out sometime during Year Two of producing. Producing, you see, at least on the end that I worked on, is not creative. It is money management, vendor management, schedule management, and client management. Sitting in edit suites, not being creatively invested in what I was working on was soul sucking, yet it paid well, and I was scared to leave.
Over the years, I had whined to many people about how much I despised my job. No one more than JR, of course, for he has to speak to me daily, being my husband and all.
"So what do you think I should be when I grow up?"
"I don't know," he'd reply, "but I know it has to be something to do with food."
This answer would always cause me to sigh, as I knew I didn't want to be a chef. I had watched my grandmother and step-grandfather in their restaurant business, and as glamorous as it seemed to the child, teen, and young adult mes (that's "me", plural. I know. I made it up.), I knew that the reality was a long way from glamor. Just as television producing was also a long way from glamor.
Regardless, I visited culinary schools. I did the tuition math. I considered going to culinary school from 4pm until midnight, all while still producing television graphics and such. Only I wanted to see my husband. I wanted to have a life. And, oh yeah, I still didn't want to be a chef. Nor a television producer. I decided against culinary school. I continued whining. I continued working. In television. And then, the bottom fell out.
In the fall of 2008, it didn't feel like a growing experience. Nor did it feel like an opportunity. All it felt was scary.
Once, in my early twenties, I quit a job I hated with $60 in the bank, and then proceeded to go to New York City for a weekend getaway on borrowed money. Not that this is wise, mind you, but in the end, it all worked out just fine. Friends helped me out until I started working again, and while there was some stress, it wasn't overwhelming. Of course, in my early twenties, with sixty dollars and the chutzpah to travel on someone else's money (thank you, Kellie), I also didn't own anything. The risk was much smaller. Small risk equals small stress.
In the fall of 2008, with me out of work for the foreseeable future, and another, horribly tedious and stressful financial strain that we'd been battling for years still weighing on us (I won't bore you with the details, because eminent domain is a snooze for anyone whose property isn't being batted around like a kitten's toy by quasi-governmental agencies, but if you're interested, you can read a little about it here and here.), I needed something to keep me busy, to keep me sane, and to give me some hope.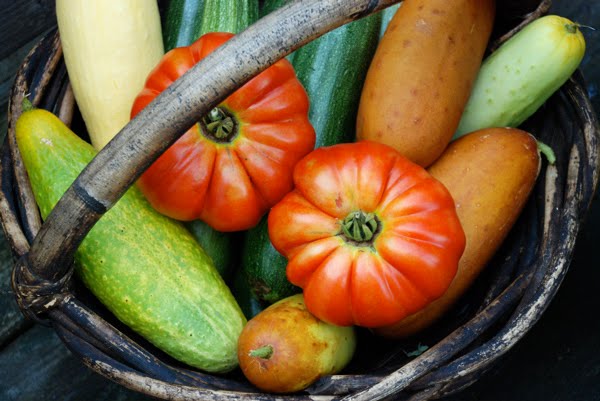 The instructor of a food writing class I had taken at Grub Street in Boston around the time of the initial Julie & Julia craze had recommended that one of we students start a food blog. So what if it was three, maybe four, years later, who cares? I wanted to write. I wanted to do something with food. Maybe if I kept a food blog, I could build up enough work to get the occasional writing gig. And, maybe, just maybe, I could stave off the near-certain depression that would accompany joblessness and the juggling of which bills to pay when, depending upon what would be shut off for nonpayment when.
I debated the name of the blog for a while, bouncing it off of JR, my brother, and a few friends (thank you, again, Kellie, and thank you, Lori.). Would it be offensive? Would the word "poor" be too charged? At the time that I started the blog there was no denying that I was still firmly in the middle class. Poor was a stretch. But by the time I hadn't worked for 7 months, poor we were, and struggling to stay afloat.
And yet, at just about that same point, the blog had garnered a book deal. A little better than the occasional writing gig I had first envisioned, and a heck of a way to transition from one job to another.
Working on the book all of last summer was, truly, a dream job. A low-paying dream job, but unequivocally the best job I have ever had. Cooking early in the day, photographing those dishes that looked most attractive that day (there was much testing and retesting, so some dishes had to wait until they were pretty enough to be photographed), then writing in the afternoon. The learning. There was so much to learn. The difference between how I wrote recipes at the beginning of the process and the end was staggering. They became more succinct, more explicit – generally better. At least I hope better.
And then there was the learning about things not related to writing recipes: that we could live well on less, that I could actually be happier and more fulfilled even as we struggled financially.
Once the manuscript was completed, the revision process began. I sent the manuscript away, and its absence would make me question whether it was even real. But then, the manuscript would reappear, confirming that it was real, and it would be quite clear also that it needed some cleaning up as indicated by my editor's notes. Once those notes were addressed, the manuscript would go back to the publisher, this time to return with copy edits – all of the nit-picky items (such as "add salt and pepper to taste" rather than "salt and pepper to taste" – salt and pepper aren't verbs, after all) that had previously been ignored. Two weeks later, it was returned to the publisher, just in time for the type to be formatted into the layout of the book. Then that colorful version of the book, printed on huge sheets, came back for me to review it once more before it was sent off to the printer, right around the time I slow roasted my last, ripened-in-a-brown-paper-bag tomato of 2009.
Last summer's garden was plagued by excessive rain. Rather than tomatoes ripening on the vine, they were plucked – in a panicked rush – from the plants to save them from late blight and then ripened in those aforementioned paper bags. Last summer's garden was also where we took our daily respite, the end of the day spot to sit and discuss the day's events, the stresses, setbacks, and glories (generally food related). Last summer's garden also brought many new experiences. Heirloom lettuce, Brockton Beans, Marina di Chioggia squash. The discovery of a stand of blackberries in the corral attached to our barn. A few stalks of asparagus plucked and eaten, even (don't tell the asparagus-growing-rule-makers, okay? We know we were supposed to wait another year – we couldn't help ourselves. And we only took a few.).
The heat this year has already been excessive, and the rains heavy when they come. But our garden grows lavishly. We couldn't eat all the asparagus the patch provided, and now, it resembles a green Snuffleupagus (made of fronds rather than Muppet fur, of course). We've learned how to combat tomato blight, our tomato plants are now heavy with fruit in varying shades of red, pale green, and deep chartreuse. The eggplants are as robust as I've ever seen, our potato patch will provide potatoes for the entire winter. The winter squash – Boston Marrow, Potimarron, Marina di Chioggia, and Galeux d'Eysines (fancy, yes!) – will also provide us enough squash that we shouldn't spend one red cent on squash through the cold weather. Lettuce, spinach, chard, cucumbers, beans, summer squash, zucchini, and herbs are all abundant as well, and six baby watermelons will make this August's desserts that much sweeter, knowing that they come from our garden of plenty.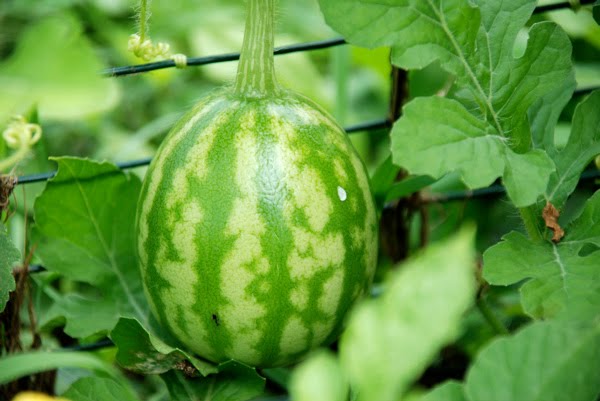 Dinner tonight: Homemade Pizza Margherita (with fresh tomato rather than sauce, so not a true Margherita after all). Estimated cost for two: $4.53. The flour cost $2.99 for a 5-pound bag of Whole Foods 365 Everyday Value all-purpose, unbleached flour. That's around 19 cups of flour, and I used 3 1/2 cups, so that's 55-cents. The yeast was bought in bulk from King Arthur Flour, so that was less than 10-cents for the 1 1/2 teaspoons used, but we'll just go with 10-cents to keep consistent with the rounding up thing we do here. There's 1 tablespoon of honey in the dough, so that's 25-cents, there's also 1 1/2 tablespoons of olive oil, so that's 18-cents. Plus water from the tap and some kosher salt (which I don't count in the math). The dough costs $1.08 for enough dough for two pies, so tonight's dough costs 54-cents. We'll use a tomato from the garden, in fact, the one in the background of the photo at the top of this post – that's practically free, a few leaves of basil from the garden, also practically free, and some Narragansett Creamery mozzarella, which costs $3.99 for 8 ounces. So $4.53 for our fancy pizza, which may or may not provide us leftovers.