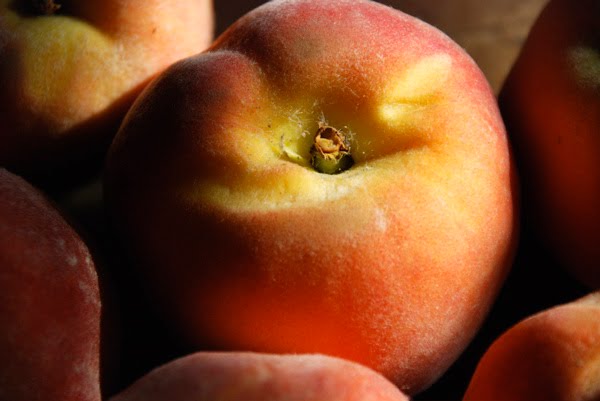 The glassy, refreshing Rhode Island ocean and cloud-free lapis lazuli skies are to blame for the brevity of today's post. Really, I had intended so much more commentary; commentary about my obvious, and quite wholesome love of peaches, my far less wholesome love of bourbon, the joy of grilling chicken thighs over a charcoal fire, and the magical pairing of peach, bourbon, and said chicken thighs.
However, with not nearly as much time as I had intended to wax poetic about these things, I'll just get on with it (and realize that more than one of you are thanking the universe that I have once – just this once – embraced brevity).
Fortunately for all of us, this sauce also embraces brevity. Or would, were it human. Which is to say that it is a quick-to-complete sauce. In just about 15 minutes, you have a fancy fruit sauce suitable for company, but just as easily busted out on a Wednesday night to dress up the mid-week chicken and help dodge a boredom bullet. Or avoid chicken fatigue. However you'd like to look at that.
Peach-Honey Bourbon Sauce
Ingredients
3 tablespoons extra virgin olive oil
1 medium shallot, finely chopped
3 medium peaches (approximately 1 to 1 1/4 pounds), peeled, pitted, and chopped into 1/2-inch chunks1/8 teaspoon crushed red pepper flakes (optional if you happen to not like a little heat with your fruit sauce)
the leaves from two sprigs fresh thyme
2 tablespoons honey
1 tablespoon bourbon (such as Jim Beam)
kosher salt
freshly ground black pepper
Instructions
Heat the olive oil in a large skillet, then add the shallot and cook until it's translucent, 2 to 3 minutes.
Add the peaches, crushed red pepper flakes, and thyme, and cook until the peaches are starting to soften, approximately 5 minutes.
Pour in the honey, and cook for 2 to 3 minutes, then add the bourbon, and cook for 2 to 3 minutes more.
Add salt and pepper to taste, and serve the sauce forth with grilled chicken or pork (my two preferred vehicles for the sauce, though I'm totally open to other vehicles - please feel free to offer other options up).
http://www.tinyfarmhouse.com/2010/08/peach-honey-bourbon-sauce/
Estimated cost for one batch of peach-bourbon sauce: $5.20. The olive oil costs 36-cents. The peaches are $2.79 per pound at my favorite farm stand, so that's $3.49. The crushed red pepper flakes cost around 3-cents, the thyme (if you aren't growing thyme in a pot or in the garden) would be in the range of 50-cents from a store-bought package of thyme that costs $1.99. The honey costs 50-cents, the bourbon 32-cents.
And with that, I'm out – to continue with the late-summer post-beach bliss. I hope that you're enjoying your very own late-summer bliss, post-beach or otherwise.