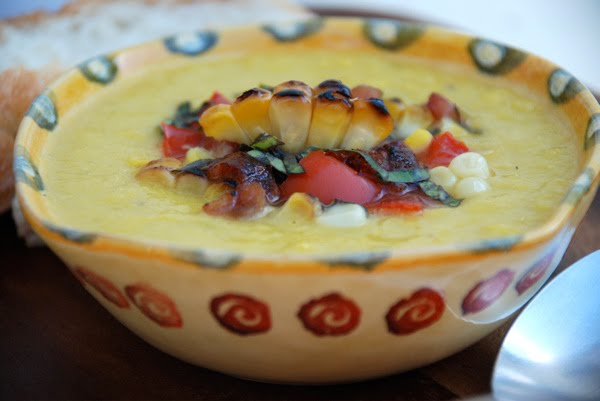 Summer is fleeting, especially here in New England. Even those of you who don't live here know it's true. You see us on the weather map in February and marvel at our low temperatures, hanging right in there with South Dakota or occasionally even Canada. We don't want to hang in there with the frozen plains or our neighbors to the North – oh, but we do, we do, whether we like it or not (move? oh, no, mon amis, this is how we like it – it makes us hardier, more resilient, and, um, more likely to have something about which to complain. For we do like to complain. Wouldn't you? I mean, if you were so cold for so long. You would, right?).
Yes, summer is fleeting, and so, too, is her produce. Corn quickly transforms from tender, succulent, and sweet to tough and mealy – though that sweet is somehow buried within the mealy just the same.
To uncover that sweetness, and to stretch the local corn season further, even in the face of tough and mealy, a pureed soup is just the thing.
This one is quite simple and rather addictive. An added topping or two, and you've got yourself a lovely looking and lovely tasting meal. When making the soup, you'll puree the kernels from 4 of the 6 ears of corn, reserving the kernels from those last two ears for garnish. All other garnishes are optional, and feel free to try ones that suit your fancy – perhaps pesto? Or green onions? Maybe even some guacamole and black beans? I've decided to stay with a little clique of foods that I'm happy get along so well together: the grilled corn, of course, with its compadres bacon, tomato, and basil. Find them on pizzas at our house, find them in salads, find them atop this soup.But know that when you find them, you will find them together.
If you aren't familiar with grilling corn, before making the soup, you'll want to take a look at this post – it's an easy process, and worth using with both perfect sweet corn as well as the late-summer, slightly past prime ears.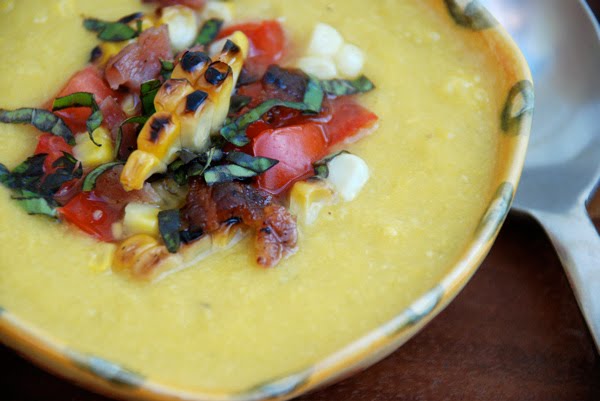 Grilled Corn Bisque with Sweet & Savory Accoutrement
Ingredients
6 large ears corn, grilled, kernels cut from the cobs, and kernels from 2 ears reserved for use post-puree
2 tablespoons extra virgin olive oil
1 medium shallot, coarsely chopped
1 medium leek, white and light green parts only, well-rinsed, coarsely chopped
1 medium carrot, peeled and finely chopped
2 stalks celery, trimmed and finely chopped
1 tablespoon fresh thyme or 1 teaspoon dried
4 cups vegetable stock
kosher salt
freshly ground black pepper

Optional garnishes

2 slices bacon, cooked to desired doneness and crumbled
2 tablespoons basil, sliced into thin ribbons
1 medium tomato, chopped and seeded
Instructions
In a large saucepan or stockpot, heat the oil over medium heat. Add the shallot and leek, and saute until they're just translucent, 2 to 3 minutes. Add the carrot and celery, and cook until they're softened, stirring occasionally, 10 to 15 minutes.
Add the thyme and cook for an additional 1 to 2 minutes. Add the kernels from 4 ears of corn, then pour in the vegetable broth. Bring the pot to a simmer, cover, and let simmer for 20 minutes.
Allow the soup to cool to room temperature, then puree the soup until it is smooth using a blender, a food processor, or using an immersion blender. Season the soup with salt and pepper, and serve it forth with toppings of your choosing, including a quarter of the grilled corn kernels per bowl.
In a restaurant, they would most likely pass the soup through a sieve to remove any solids before serving, but I figure that we're home cooks, and we don't mind the occasional chunk in our homemade soup, so I serve it forth as is, after reheating it to my desired serving temperature. Of course, I also sprinkle the sweet and savory gang of chopped tomato, crumbled bacon, and basil into each bowl.
http://www.tinyfarmhouse.com/2010/09/grilled-corn-bisque-with-sweet-savory-accoutrement/
Estimated cost for 8 cups of soup with optional garnishes: $10.76. Without optional garnishes: $7.89. The corn costs $3.30 for 6 ears at my local farm stand. The olive oil costs 24-cents, the shallot 25-cents, the leek $1.00 or so, the carrot costs 13-cents, the celery 40-cents. The thyme costs 18-cents if using dried, I'm hoping you're growing some if you're using fresh. The vegetable stock costs $2.39 for 4 cups. That's $7.89 for the soup and grilled corn garnish, or $1.97 per serving. If you add basil, that's another 50-cents or so (if you're purchasing it and not growing it, that is), the bacon is 88-cents, and the tomato should be around $1.48, so that adds $2.86 to the total, or 72-cents each, for a grand total of $2.69 each.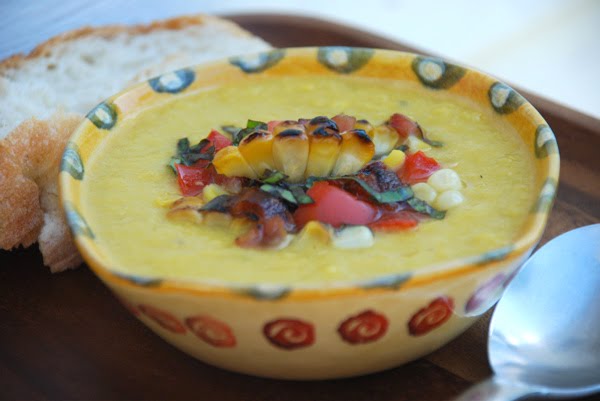 Dinner tonight: Pear & Onion Braised Pork Butt with Pumpkin Honey-Wheat Rolls and Pear-Ginger Sauce. Estimated cost for two: $6.06. The pork butt cost $13.03 for 4.27 pounds. The pears cost $1.49 per pound – one pound went into the pot, along with one medium onion (65-cents or so), a teaspoon of thyme (18-cents) and 4 cups of apple cider, which costs $1.50 or so. There was also some olive oil involved, to the tune of 48-cents, and some honey, at 50-cents. The total cost for the pork butt was $17.83 for 8 servings (on the conservative side, and factoring in waste), so that's $2.23 per serving, or $4.46 for the meat portion of this meal. I'm making the pumpkin honey-wheat rolls (and had better get a move on if that's going to happen today), and they will consist of pumpkin from the garden, whole wheat and all-purpose flour at a cost of around 71-cents, yeast at 3-cents (I buy in bulk from King Arthur Flour), honey for 50-cents, and water, which is free. With purchased pumpkin, I'd estimate that 8 rolls cost no more than $1.45, so 18-cents each. The pear-ginger sauce used another pound of pears, so $1.49, a cup of apple cider – 37-cents, about 12-cents in ginger, and another 50-cents in honey for a grand total of $2.48. We'll figure on using half of that to be on the safe side, so that cost is $1.24. We'll probably have honey-mustard coleslaw from the Poor Girl Gourmet cookbook to include a vegetable in our meal, which adds $2.15 to the total (well, it would add $2.15 if we were buying cabbage, but we still have a few cabbages to harvest from the garden, so in that case, it adds $1.09 instead).