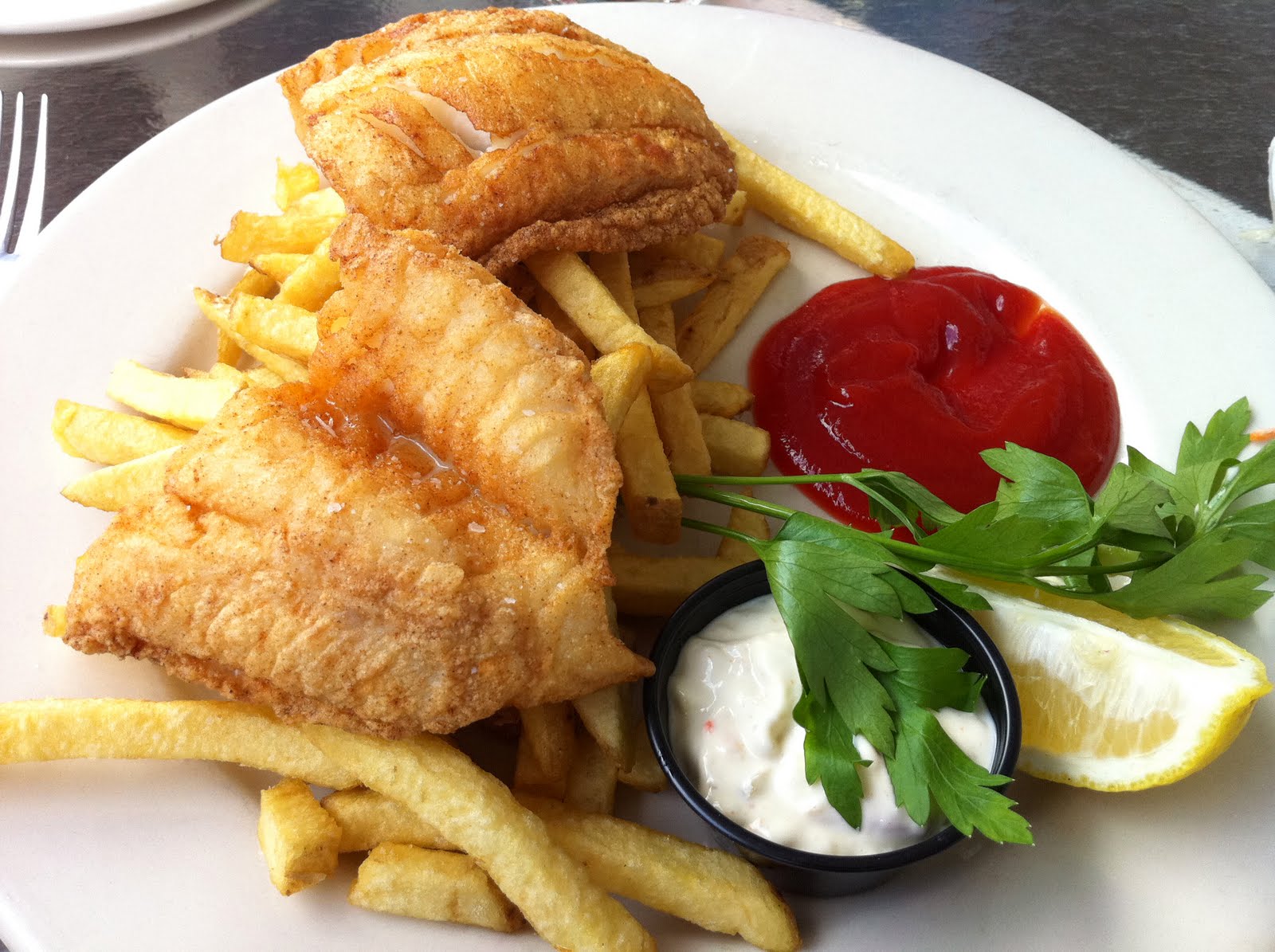 As you probably realize, being financially embarrassed doesn't allow for a whole lot of restaurant meals. However, for the next few posts I'll be focusing on restaurant meals. Some of these meals are in celebration of the fact that I am about to turn half 80 this week (which sounds far more horrible than twice 20, doesn't it? Perhaps the choice to go first with "half 80″ indicates how I'm feeling about this whole aging thing. Perhaps.), and some of these meals are the luck of the draw, it's just the way the scheduling worked out. The combination makes it such that I am pretty much having my own personal restaurant week. Only without the nifty discounts.
In the interest of keeping work to a minimum as I ponder 40 years, and because there is sure to be far more drinking than usual in my life this week (therefore leading to a diminished ability to craft coherent sentences) my posts will likely be more brief than usual (cue the collective sigh from the interwebs. I can hear it, you know.).
The real birthday is still a day away, but on Saturday, before my family and I went out for what can only be described as a spectacular wine tasting at Gasbarro's on Federal Hill in Providence (and that tasting will be fodder for a regular, long-winded post after the debauchery and woe of Birthday Week are over), JR and I finally succumbed to my months' old craving for fried seafood.
This particular craving is usually sated by one serving of what JR's niece Kristen so eloquently calls "clams with clam-clams": clam chowder, clam cakes, and fried clams. The trifecta of clams, if you will.
There is no shortage of clam shacks with decent name recognition in the Southeastern Massachusetts/Rhode Island area. Alas, our last visit to Flo's was disappointing. Perhaps it was an off day at Evelyn's, but more rubbery food we have never had (and we didn't have much, as we tossed both orders of fried clams in the trash and drove off, despondent). Our last clam basket at Quito's was decent, and Finn's was fantastic, but we were not on Block Island on Saturday, thus rendering Finn's impractical.
As the clam craving intensified these last few weeks, I've spent an inordinate amount searching the web for fried clam recommendations. Among the shacks listed on the boards at Chow came mention of The Back Eddy, a favorite restaurant of ours, and yet, somehow, the idea of heading there for clams had eluded me.
With a commitment to locally-produced and sourced food, The Back Eddy has long been ahead of the buy local curve. The space is clean and bright with hardwood floors, an open kitchen, and a slightly breezy deck (it is on the water, after all) looking out over Westport harbor. Typically (and by "typically", I mean back when I used to be able to go out to eat with regularity – like, before the fall of 2008), I'd enjoy a blue curacao margarita or two with my meal, but with a looming wine tasting, JR and I decided to forgo the adult beverages this time.
Alas, a scan of the menu revealed no clams with clam-clams (the fried clam dinner was missing from the menu, so a deal-breaker on the trifecta). JR confided that clams or no clams, he had already been planning to order the fish and chips. So there. Two fish and chips, please.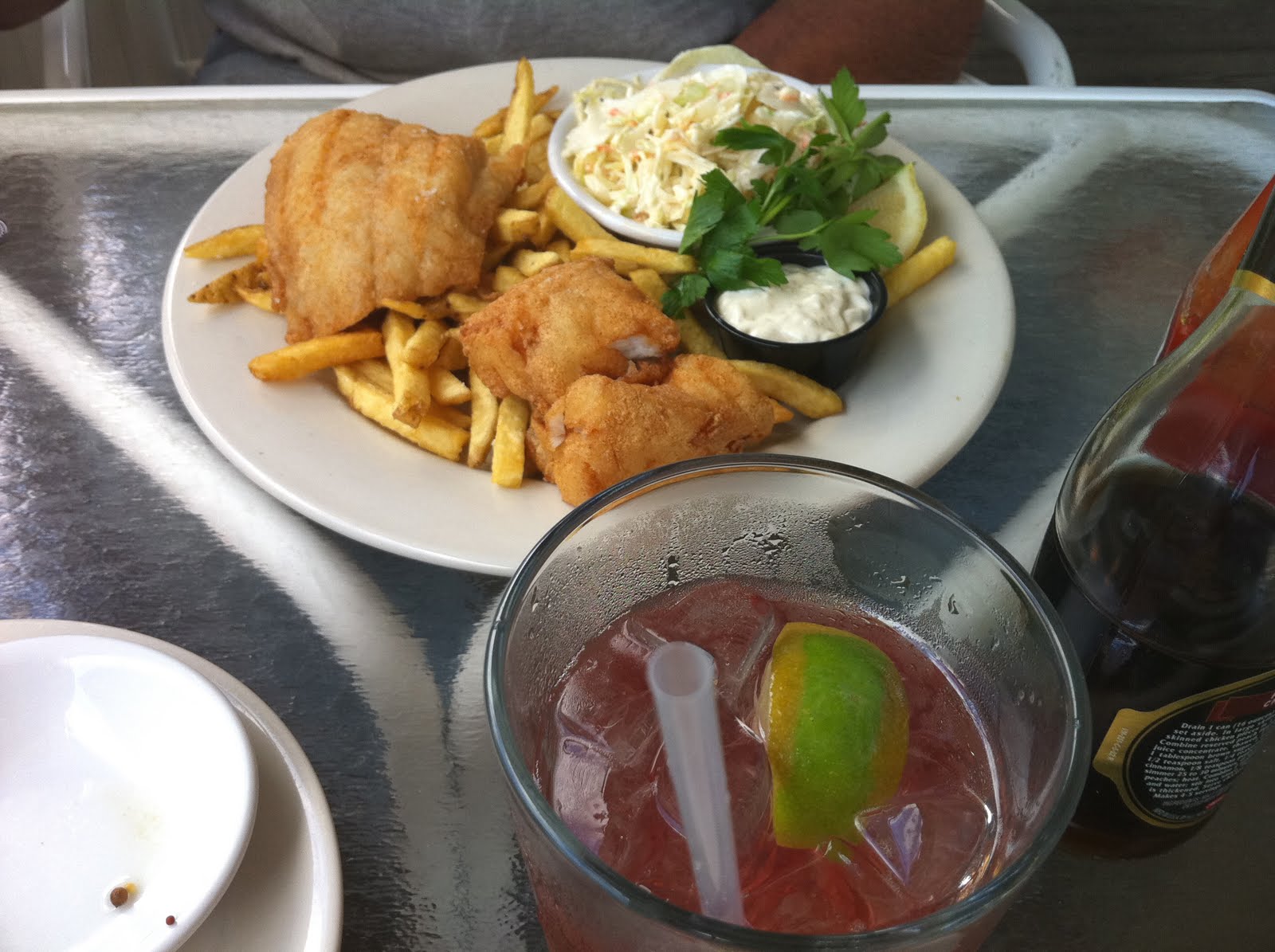 It's hard to tell whether the lack of restaurant dining and the lack of fried seafood over the last two years impacted our experience, but I'm pretty sure that this is the most delicious fish and chips I have ever had.
I don't know about you, but I always start my fried meals by partaking of the chips. Crisp on the outside, with a soft interior tasting of potato (if you've eaten fries that actually taste of potato, you know what I mean – we're not talking about the bland mushy texture that usually passes for potato) and perfectly salted, the fries caused JR and I to simultaneously look up from our plates after our first bites in an involuntary "mmmmmmm" chorus.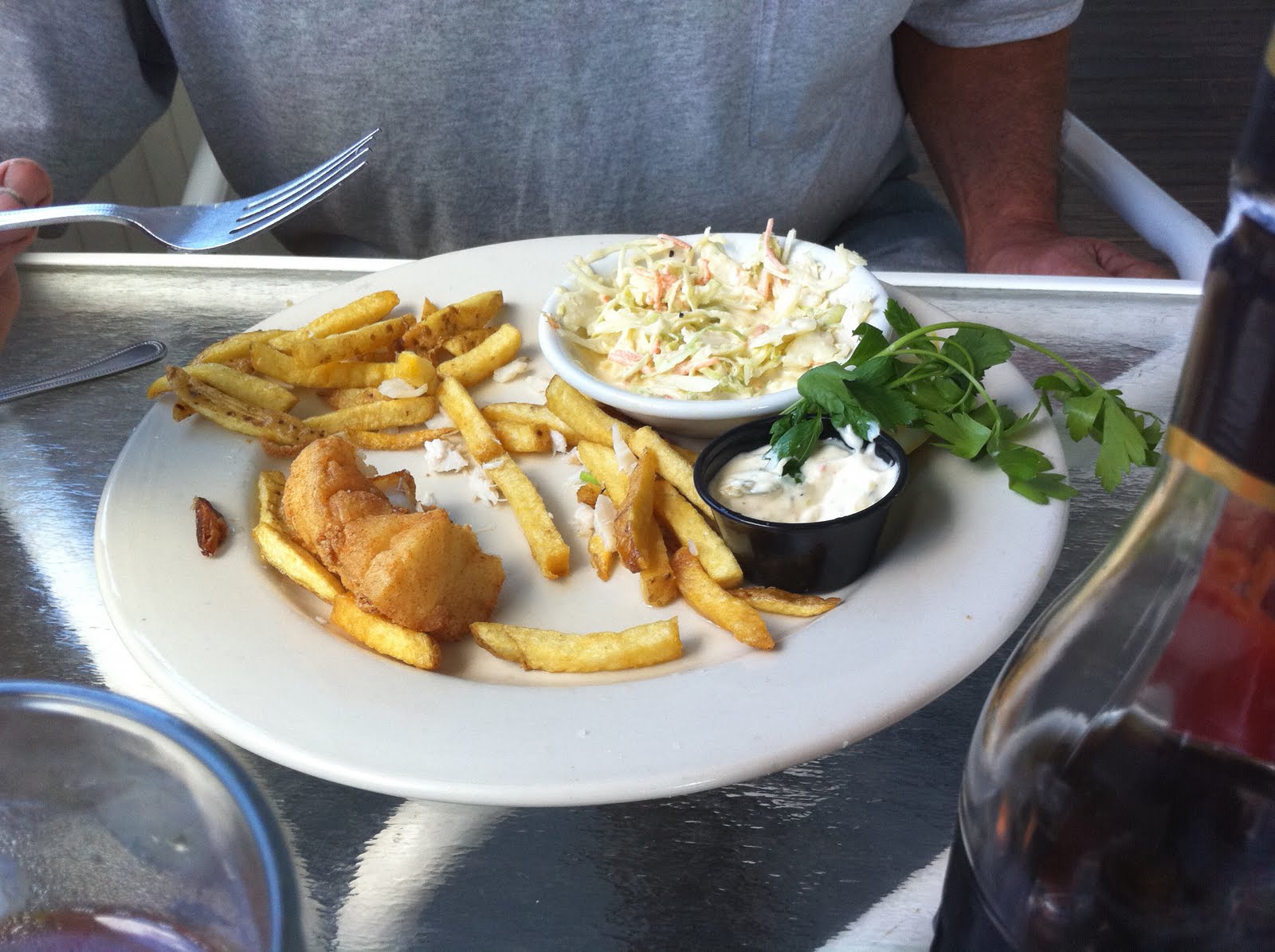 Likewise, the fish was lightly battered, crisp on the outside, yet the flesh was sweet and flaky. "If you dip it into the tartar sauce, it's almost like clams with clam-clams," JR informed me early on. Almost. But so good as the fried fish that it is, that clams with clam-clams can be put off for another few days.
But hopefully only for another few days.
The Back Eddy
1 Bridge Road
Westport, MA 02790
508.636.6500
Just over $44 (not including tip) for 2 incredibly delicious platters of fish and chips with crispy-sweet coleslaw and bad-ass tartar sauce (tartar sauce worthy of dipping fries into – I recommend alternating fries between ketchup and tartar sauce), plus two non-alcoholic beverages.
Important note: The Back Eddy has seasonal hours – be sure to check when they're open before you go, and don't plan on eating there from January 2 through the last weekend in March each year.