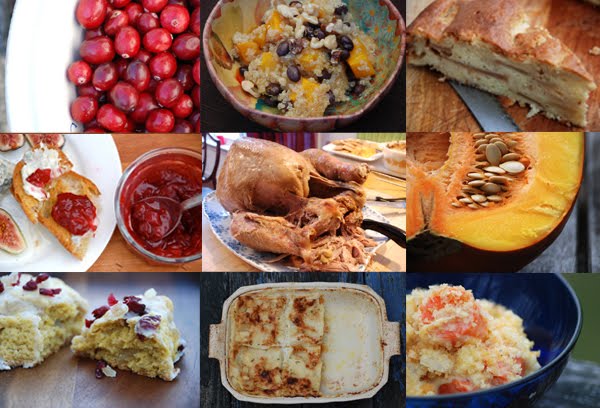 And we all wanna know, what the heck to serve with that (please tell me that you are sing-songing this with me, right? Those cursed early-play, always-play Christmas carol radio stations have gotten the best of me. Clearly.).
The main event at our family's Thanksgiving celebration is a special kind of madness which we fondly call turkey-in-a-hole-in-the-ground. FineCooking.com recently caught wind of the hijinks, and, as it was very astutely noted in their post, beer plays almost as large a role as fire does in the whole affair.
You can read about it here, though I strongly recommend against you trying these shenanigans at home. We've been cooking our turkey in a hole in the ground for fourteen years now, which makes us nearly professional, and heck, we even have a volunteer firefighter in the family (hey, they train for fire extinguishing, too, you know.).
Along with mashed potatoes (made with butter and cream, of course – it is a holiday and therefore no time to skimp), my Mom's Mushy Stuffing is a favorite starch. Nothing fancy, no fruit, no sausage, just buttery, mushy, aromatic bread with sauteed onions and celery.
If you're cooking for a crew that likes a little smoky meatiness with their potatoes (especially if you go the mushy stuffing route and have nary another bite of sausage in your meal), the recently posted chourico and potato hash is a make-on-the-stovetop mashed potato alternative (I know, I know, you have no room in that oven of yours for a gratin. Trust me, we don't either.).
JR's family has always made Welsh Rabbit (I'll steal the recipe card for this dish this year, I promise), and a carrot casserole, only they omit the curry from theirs. So my version would be reviled, ridiculed, then banned, but if you like curry, this version is worth a try.
Should you have a vegetarian in your midst this Thanksgiving, this butternut squash lasagna fills that main dish void without trying to recreate a large fowl in sculptured soy matter. No one really likes a faux turkey extruded out of a mold, do they?
For the gluten-free, dairy-free, vegan and/or omnivorous human who simply enjoys the nuttiness of quinoa, and also enjoys squash and beans (not to mention honey – honey AND walnuts), this quinoa, squash, and black bean salad could be your new Thanksgiving tradition (to work the "this is our heritage" angle, use heirloom pumpkin and Christmas lima beans – these went into the first version I made of this dish, and it's worth seeking out the Christmas lima and pumpkin. Check your local farmers market for interesting pumpkins or squash – just like that, you've got a Thanksgiving scavenger hunt going on. Of course, that's only fun if you're a food dork like me and enjoy that sort of thing. Far be it for me to add more work to your Turkey Day prep.)
Cranberry sauce, cranberry sauce, oh, cranberry sauce. Why push it out of a can when it's so easy to make? Here's a more tart version, and here's a less tart version (read: kid-friendly).
No festa is complete without sweets, and you may know that I heart pumpkin, so if you have overnight guests, perhaps they'd like a pumpkin scone or two. Or maybe pumpkin pancakes? Or maybe they should eat pumpkin-maple tiramisu with their coffee? Sounds like a good idea to me.
Of course, a person can get pumpkined out (though I'm not really clear on how), so an apple dessert could be a good change of pace. I'm thinking something like this ricotta apple cake with cider-maple glaze, which also doubles as breakfast pastry (yes. this is intentional. I do like me some dessert for breakfast every once in a while, in case you hadn't guessed.).
With any luck, this list helps you out with your Thanksgiving planning. For us, well, we have to get to work stashing away 30-packs of domestic, watery beer lest we run out on Thanksgiving Eve. The only thing worse than that would be if we ran out of fire before midnight (notice that the bird itself doesn't factor into the list. There are plenty of side dishes, we know we can live without turkey. But without beer? Hell, no.).