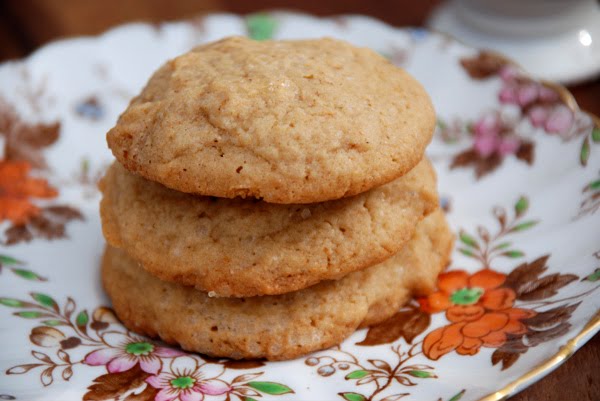 It seems that I quite often say something like, "if you've been reading along here for a while, you may have noticed that I can be a bit obsessive about (insert name of food here)." Recently, it occurred to me that to uncover this "secret" of mine, perhaps it's really not necessary to read along for a while, perhaps you only need to read along here once in a while (or have just one face-to-face encounter with good, ole, OCD me) to realize that, ah, yeah, girlfriend's a bit nutty about certain food items.
One such item is egg nog. I know, I know. This is strange to many people. I hear the eeeeewwwws and gaaaaaahs right through the internet, I do. And I'm not necessarily talking about homemade egg nog (though it is a delight, to be sure), which aids some egg nog revilers in looking past their usual derision of the nog.
No, pretty much any egg nog will do when I'm in obsessive mode, which, coincidentally, runs from the fourth Friday in November (well, maybe the fourth Saturday. I'm generally still embroiled in turkey-overload on the fourth Friday) through December 29th.
Why the 29th? Sure, the obsession could continue through New Year's Eve, but I thought I'd use 2009 as the benchmark for this particular fixation (the blog forcing me to keep records of these things as it does, and finding that holiday 2009 posting and my trusty recipe development notebook clearly indicated an egg nog infatuation). And, as it happened, my friend Artie sent me a recipe for his egg nog cookies on December 30, 2009.
I wanted to make them right away. Really, I did.
Remember, I am obsessed. And/or obsessive.
However (and please note that I am a lazy, pre-made egg nog purchaser), the dairy farm that sells exquisite egg nog at the Providence Wintertime Farmers Market was fresh out of nog, and this fact was made more painful (if there could be something more painful than a shortage of egg nog) by this cruel joke: As I approached, on that first Saturday after December 30, 2009, the farm's prominently displayed Bill of Goods still listed egg nog among their offerings. Available egg nog. And sadder still this trick became, as a crumpled napkin came out of the farmer's pocket to wipe away the dry-erase marker indicating its existence and availability, even as I spoke of the nog.
The script "Egg nog: $3.00/Qt." disappeared into the creases of his napkin, as I stood, forlorn, pointing and muttering something like, "But….buuuuuut…it says it…you haaaaave it…there."
Bill of Goods cleared of egg nog, I retreated, head slumped down, muttering still, this time at the ground.
As luck would have it, so, too, had it disappeared from the shelves of every grocery store within a 20 mile radius of my house (I'm obsessive, but I'm also a bit of a homebody, you know. Twenty miles around the pivot point of my house is the limit for grocery shopping excursions).
But the promise of soft egg nog cookies hadn't left my consciousness. Oh, no. It hadn't. So, on the fourth Saturday in November – 2010, of course – I dispatched myself to the grocery store in search of egg nog. And egg nog I shall have (and you shall, too, should you so desire it). All the way through December 29th (possibly even 30th or 31st if the nog despisers have assisted in keeping some on the shelves for us).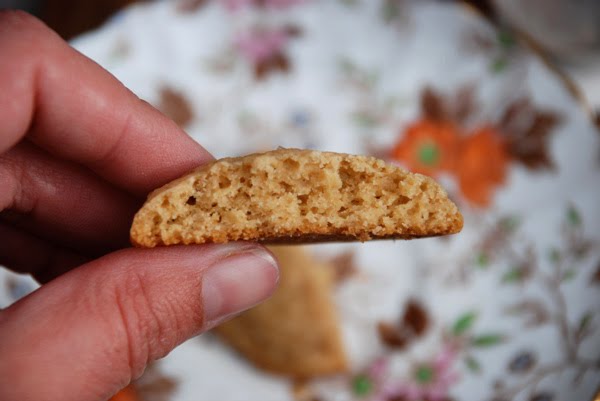 Artie's cookies are soft because that's the way he likes them. I know that this is the case because he worked on this recipe for a while before getting these cookies to come out exactly as he desired.
Another obsessive? How refreshing. It's so nice to not be alone in the world.
The cookies are a little cake-like, and somewhat deceptive – they seem at first simple of flavor, but then you find yourself wanting another, and realizing how well they go with coffee (dessert for breakfast? But of course.), then realizing how well they'd work with a bit of vanilla ice cream sandwiched between a pair.
Artie sprinkles his with grated nutmeg before baking, though I found I liked a crunch with these cookies, so I recommend a sprinkle of turbinado sugar (also known as Sugar in the Raw). Or you could work up a little egg nog glaze to top them off if glaze speaks to you.
Ingredients
2 1/4 cups unbleached all-purpose flour
1 teaspoon baking powder
1 teaspoon ground nutmeg
1/2 teaspoon ground cinnamon
1/4 teaspoon kosher salt
3/4 cup (1 and 1/2 sticks) unsalted butter, softened
3/4 cup (packed) brown sugar
1/2 cup granulated sugar
3/4 cup egg nog
1 teaspoon vanilla extract
2 large egg yolks

Optional toppings:

grated nutmeg
turbinado sugar
egg nog glaze
Instructions
Preheat the oven to 300 degrees Fahrenheit. Get that 10 by 15-inch rimmed baking sheet of yours out - or use your favorite cookie sheet. Line it with parchment paper, and set aside.
In a medium bowl, mix together the flour, baking powder, nutmeg, cinnamon, and salt.
In a large mixing bowl, combine the butter and sugars, and mix until the butter-sugar mixture is a light and fluffy consistency (also known as creamed). Add the egg nog and vanilla extract and mix until they are incorporated into the butter-sugar mixture, then add the egg yolks, and mix until they are just incorporated.
Add the dry ingredients to the buttery-egg noggy-sugary concoction, mixing on low speed if using a mixer, and mix just until the dry ingredients have been blended into the wet.
Scoop out a tablespoon of dough per cookie, and place it on the parchment-lined baking sheet. Place the dough mounds at least 1-inch apart from one another on the sheet, then sprinkle with nutmeg or turbinado sugar, place the cookies into the oven, and bake until the edges are golden brown, 20 to 22 minutes.
Allow the cookies to cool slightly on the baking sheet, then transfer them to a cooling rack. If continuing on to glaze, allow the cookies to cool completely before glazing, as the glaze will melt if applied to warm cookies (though it would give a good excuse to eat a cookie straight away. You know, to hide the evidence of imperfect toppings. We can't have imperfect toppings.). Just in case you don't have an eggnog glaze recipe, there's one right here.
The cookies will keep for up to 5 days if they're sealed away in an air-tight container.
http://www.tinyfarmhouse.com/2010/12/egg-nog-cookies/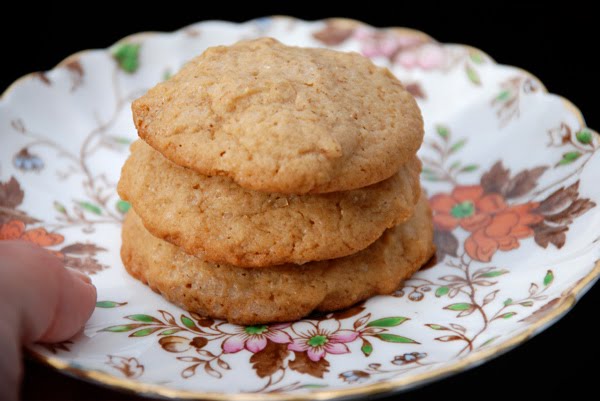 Estimated cost for one batch of egg nog cookies: $4.05. The flour costs $4.49 for a bag containing 19 cups, therefore, the flour costs us 52-cents. The baking powder costs around 1 penny, the nutmeg is approximately 30-cents, and the cinnamon 15-cents. We don't count salt because it and pepper get a free pass in the math here (though it would be a fraction of a penny if counted, as it comes from a box of kosher salt that contains 1,133 1/4-teaspoons of salt and that box costs a mere $1.99). The dairy and sugar ingredients have gone up in price a touch this year, as I'm sure you bakers know, so the brown sugar costs us 45-cents, the granulated sugar costs 18-cents. Even the trusty Whole Foods 365 brand butter has gone up 50-cents per package, so 1 and 1/2 sticks now costs us $1.23 (it used to be $1.05), the egg nog is a veritable bargain, $3.99 for a half-gallon, so our 6-ounces cost 37-cents. The vanilla extract costs around 22-cents per teaspoon. The egg yolks should cost no more than 26-cents per egg, so 52-cents, and you can stash those egg whites away for future use (up to 6 months if frozen, no more than 2 days in the refrigerator), but we'll count the full expense of the eggs in case you haven't the storage space and/or the will to store. Less than 10-cents per cookie, even if you experience some loss due to (highly recommended against) dough eating.
You may be wondering what to do with the additional egg nog from our half gallon, and so was I.
So here's what happened: these cookies, and the desire to use up the remaining egg nog, begat these cupcakes (those ones. Down below there.). They need another test run or two, but they're so pretty – and so darned tasty – that I couldn't help but post a photo before the recipe hits the blog. Egg nog-hazelnut cupcakes with Nutella buttercream is what I'm talkin' about. Uh-huh. Figure 6 or 8 dozen into it, and we'll have all of our egg nog used up. I don't see this as a problem, either, mind you.
Let the Season of Nog begin.