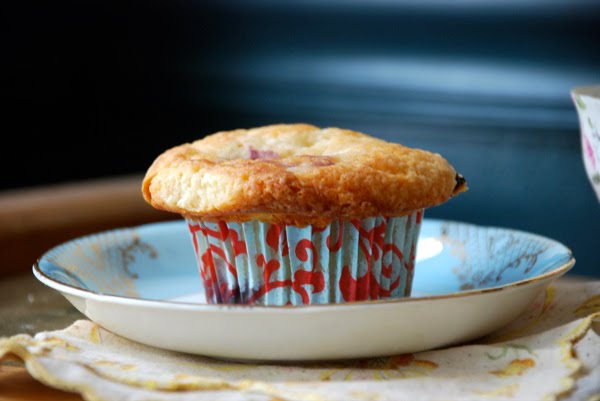 This morning, JR caught me glancing out the kitchen window at him as he returned to the house, having finished shoveling a path to the barn, then to the cars, then down the driveway for the – ahhh, one thousandth time this year. Okay, fine. You're right. One thousand shovel-outs are not possible, as winter is technically only 89 days in length, and we're still 22 days away from its merciful (oh, please, I beg of you, Mother Nature, do be merciful, won't you?) end.
Answering my glance, he threw down the shovel, threw up his hands, and said, "I am DONE. DONE with this. All of this," waving his arms around to be sure that I understand that every last flake on the planet had rankled him this Sunday morning.
"You and every other person in the northeast," I replied.
"But me first. I want to be done first."
It occurred to me that the only thing to help lessen the sting of another 3 inches of snow was something decidedly bright – tangy, and citrus-y, yet sweet and with some forbidden – or, more accurately, completely out of season – fruit.
Ideally, this forbidden fruit would come to you as mine had, from the neighbor's blueberry bushes, frozen for just this sort of late-winter mood-enhancing emergency, but if not – while we're using lemons that don't exactly grow wild in Massachusetts – a bag of frozen blueberries from your market's freezer case will do. I know, I know. Sacrilege. But maybe next year we'll all plan ahead and have a couple bags of local blueberries in our freezers for just this sort of emergency.
With this plan for next year now in mind, we still need to act to alleviate our winter doldrums. And act now. So let's move quickly to the pantry, gather up the flour and sugar, then get ourselves to our respective fridges for butter, eggs, cream cheese, and a lemon, and finally pull that bag of berries out of the freezer, and get to work on these bad boys. Twelve muffins being just enough to inspire glee for a few days as we roar into March.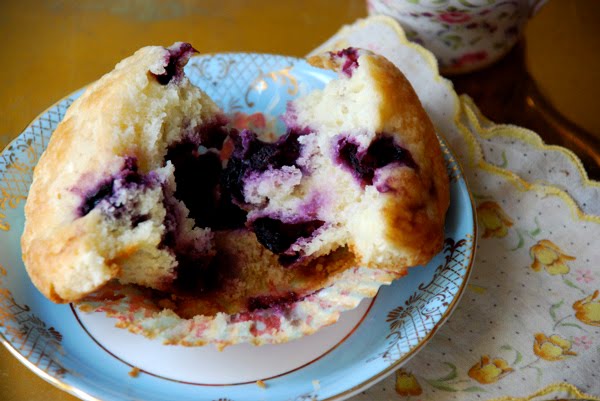 Ingredients

1 1/2 cups granulated sugar
8 tablespoons (1 stick) unsalted butter, softened
6 ounces cream cheese, softened
2 large eggs
the zest and juice of one lemon (approximately 1/4 cup of juice)
1 1/2 cups unbleached all-purpose flour
1 /2 teaspoons baking powder
1/4 teaspoon kosher salt
1 1/2 cups frozen blueberries (one 10-ounce bag if using frozen berries)

Instructions

Preheat the oven to 350 degrees Fahrenheit. Line a standard muffin tin with paper liners.
In a large mixing bowl, mix the sugar and butter until it is creamed. Add the cream cheese until it is completely blended with the sugar and butter mixture. Add the eggs, one at a time, until they are incorporated into the batter, then add the zest and pour in the lemon juice. Mix until zest and juice are also incorporated.
Meanwhile, stir together the flour, baking powder, and salt in a medium mixing bowl so that the baking powder and salt are evenly distributed, then add the dry ingredients to the wet. Mix until the flour mixture has just been incorporated into the wet, then gently fold in the frozen blueberries. Folding in is just as it sounds: pour the berries into the mixing bowl, then, using a spoon or a spatula, move batter from the bottom of the mixing bowl to the top to cover the berries, mixing those batter-covered berries into the rest of the batter, and repeat until the berries are evenly distributed throughout the batter.
Using two spoons - one to scoop from the mixing bowl, and one to scrape into the muffin liners (as we have ourselves a very sticky batter) - transfer approximately equal amounts of batter to each of the 12 muffin liners.
Bake until the muffins are golden brown, and a toothpick inserted into the center of a muffin emerges batter-free, 32 to 35 minutes. Allow the muffins to cool in the muffin pan for 10 minutes, then transfer them to a cooling rack until they are completely cooled.
These muffins are good warm, but their true lemony character shines most brightly once they've cooled completely. No harm in trying 'em both ways just to be sure, though.

http://www.tinyfarmhouse.com/2011/02/lemon-blueberry-muffins/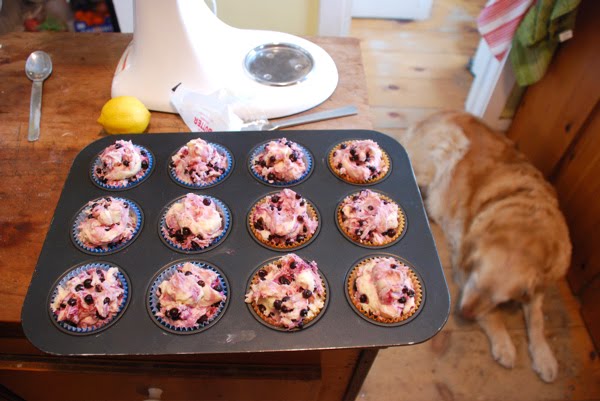 Estimated cost for 12 muffins: $7.05. A bargain for a winter bright spot and reminder that berry-growing days will be soon be upon us. Hey, JR and I even spotted a daffodil shoot against the chicken coop this afternoon, so it really is right around the corner, this warm weather of which we've been so cruelly deprived (I know, I know. I live in the northeast. It's not exactly news that winter is cold and, yeah, brutal here. But I don't want to let the truthful expectation of what winter is like get in the way of a good, overly dramatic moment. Thank you for indulging me).
Okay, now back to the pricing: The sugar costs 16-cents for 1 1/2 cup. The butter has gone up in price recently, and is now 83-cents per stick for Whole Foods 365 Everyday Value store brand. The 365 cream cheese has also increased in price, and is now $1.69 (up 40 cents!) for 8 ounces, so our 6 ounces cost $1.28. I used a lemon from a bag of 8 that cost $3.99, so roughly 50-cents each, but if you were to buy one lone organic lemon, it's going to cost you around 99-cents, so I went with that for this math. The flour costs $4.49 for 19 cups, so 28.5-cents for our lemon-blueberry muffins – we'll call it 29-cents (I did see King Arthur Flour for $3.44 at Target this week, fyi, but we'll go with the higher price to be on the safe side). Baking powder costs less than 1-cent for the quantity used here, but we'll call it 1-cent, and the blueberries that I bought from my neighbor cost $3.50. 365 brand wild blueberries cost $2.99, so you can save 51-cents if you go that route. Not too shabby for a baked treat that (possibly) staves off the last round of winter depression for 59-cents per each citrusy, sweet, forbidden-fruit laden muffin.