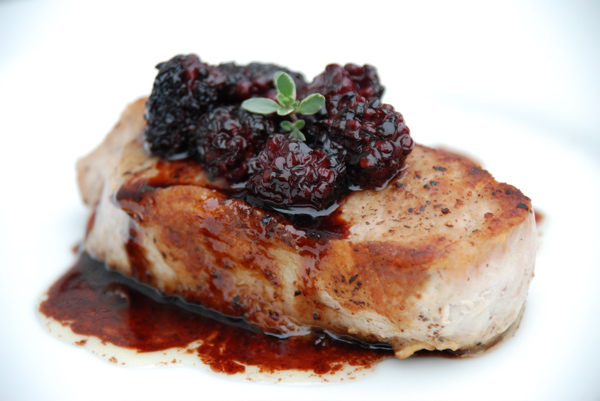 Please do read all about P. Allen Smith's fabulous book here, however, the giveaway is closed. Congratulations to City Girl, the winner of a signed copy of P. Allen Smith's Seasonal Recipes from the Garden
, and a $50 gift certificate to Monticello.
The very first meal that I made for JR was for his birthday. I was 26, and was living in an apartment with sloping walls, extra-long windows, and antique woodwork, all evidence of the apartment building's 1800′s origin.
At the time, I was also in my first year as a broadcast producer, and was producing a show open for a show that was to air on Discovery Channel. I remember the designer wanted to evoke the Spanish artist Joan Miro's paintings in the animations, no small feat in the late 90′s, as the technology wasn't nearly as advanced as that which we now take for granted. Heck, we laid stuff off to tape and shipped it, in fact. 
One would think that, just starting out in my career as I was, I'd be completely focused on that show open project. Oh, but no. On the Friday before JR's birthday, all I was concerned with was the birthday dinner menu, all the way down to the cloth napkins (blue and white checks), and napkin rings (yes. you heard that correctly. And they were rustic red metal tulips, to celebrate the season, as it was the end of April. While it may be hard to believe, they were actually nicer than they sound.).
The main course was a pan-seared pork chop with raspberry sauce – tangy and sweet – served with mashed sweet potatoes, and – in a clear I-don't-know-how-to-match-food moment – mushrooms in cream sauce.
Regardless of the palate-pummeling combination, the pork chops were a huge hit. And I have never made them again.
When I received P. Allen Smith's Seasonal Recipes from the Garden
cookbook in the mail, I did as I always do with new cookbooks: I began pouring through, looking for what I'd make first. Would it be the Smoked Blue Cat Pate (that's catfish, of course, not Felix)? Maybe the Bacon-Thyme Biscuits with Orange Marmalade Butter, then? I knew that the Savory Grit Cakes with Oven-Smoked Tomatoes would have to wait for August – as would the Fresh Peach Punch (and that's punch with a kick, mind you), so I worked my way through from Spring to Summer to Fall, and stopped on the page that said, "Blackberry Pork Chops".
I read the recipe through, and announced to JR, "remember those pork chops I made for your birthday?" "Yes." "Well, check this out." His eyes lit up.
You should know that 14 years have passed since that birthday, and yet, "remember those pork chops I made for your birthday?" gets an immediate "yes" and happy feed-me-that-now-please eyes.
P. Allen's recipe is more finessed, and less sugary, than the one I made all those years ago. As with the rest of the book, the approach is generally straightforward. He knows, as do most gardeners, that fresh ingredients make the best meals, so no need for too much fuss if you're using the best ingredients available to you. If he's inviting you – and believe me you, it will feel like he's inviting you as you read along – to make a more complicated dish, he's kind enough to inform you that it's more involved. And who doesn't like to know what to expect?
Though it was spring here when I made the chops, it felt an awful lot more like fall – most like early November, to be exact, so I made his Spiced Red Cabbage with Apples and Thyme for the side. As we took our first bites, JR blurted out, "holy cow – this is good. Really, really good." Between the two dishes, the flavors were alternately savory, sweet, and piquant.
I plan to make the cabbage for Thanksgiving this year – it's easy, as it's an assemblage of the ingredients that bakes in the oven, and it has such a contrast of flavor and texture, it's sure to be a hit with the rest of our clan.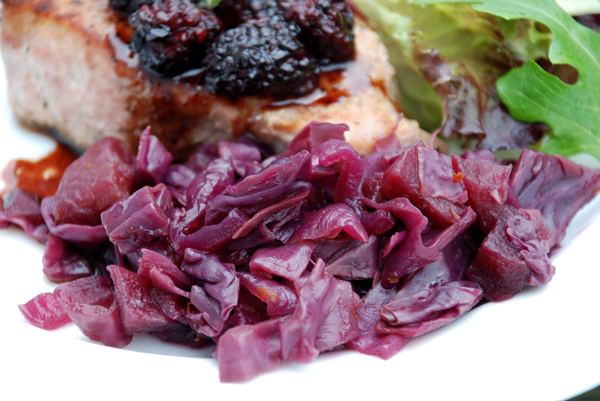 As a side note, but one that I can't really pass up, cabbage and apples aren't expensive, and the only ingredient in the list that might cause you to spend a few bucks is red wine (which you probably already know you can freeze leftovers of and use down the line), so it happens to be a piggy bank-friendly dish, too.
Since making the pork chops, I've made the blackberry sauce multiple times to serve with chicken, and have also made Allen's corn bread, which is savory, not sweet. We northerners tend to like sweet corn bread, so I was shamed into embracing the savory by Allen quoting his grandmother, who was discussing cornbread with a sweet-corn bread advocate: "Listen, Lois, you've got to decide if you want cornbread or cake!"
I'm a convert. I'll take cornbread with blue cheese, caramelized onions, and bacon in it, thankyouverymuch.
This conversational tone permeates the book, making you feel as though you know Allen – as though you spent time sipping a strawberry lemonade on his front porch with him, getting gardening tips, and learning what to do with all that in-season produce.
You'll also feel as though you know his friends and relations, many of whom have endearingly colorful names. Buckland Leesberg Farnour III, more commonly referred to as Bucky, shared his apricot cake recipe, so now you and I can make Bucky's Apricot Cake with dried apricots this upcoming winter.
Allen also occasionally quotes Thomas Jefferson, whose gardens at Monticello I have a particular weakness for, and proudly (as he should) lets his biodiversity and food history geekdom shine throughout the book. Which I can totally relate to. And get geeked out about myself.
Of course, P. Allen Smith is a gardening expert, so there are helpful gardening and produce preparation and storage tips scattered amongst the recipes. I now know how best to store kale in the refrigerator, and know what variety of apple is the oldest heritage variety (Calville Blanc d'Hiver, dating back to the 1500s) and that it was grown by Louis XIII, as well as by Thomas Jefferson.
The list of recipes I have yet to make is long – and, to be perfectly honest, it's more a series of dog-eared pages, and a torn-up orange envelope serving as page markers. The dill is coming up like a wispy forest in the herb patch, so maybe Oven-Fried Catfish with Fresh Dill Tartar Sauce is next. I know that I'm soon to make the Speckled Strawberry Ice Cream, as well as that Strawberry Lemonade we're all going to be sipping on Allen's front porch together, and if the okra I seeded ever comes up, Okra Fritters are a must.
I think that you need a copy of this book, too. And Allen has graciously agreed to sign a copy for the winner of this giveaway.
Just to sweeten the pot – or the tea – as we're talking about a very southern-flavored cookbook here, the winner will also receive a $50 gift certificate to Thomas Jefferson's Monticello shop, which can be used for whatever you please, but they do sell heritage apple trees (which should be planted in the spring, so plan to order early next year), and seeds
(keep an eye out for the decorative, and huge, Horminum Sage – it is a stunner if you can order the seed before it sells out), as well as seed starts.
The contest will run through Monday, June 13 at midnight. The winner will be drawn at random and will be announced on Tuesday, June 14 at noon. The contest is open to residents of the USA and Canada only.
To enter, please leave a comment here about your favorite seasonal recipe from the garden (or farmers market, farm stand, or CSA), and no need to limit yourself to the season we're in – if roasted parsnips make you weep with joy each winter, let us know.
If your contact information isn't linked to your comment, please provide a way to contact you in your comment.
For an additional entry, please tweet your favorite seasonal dishes to @poorgirlgourmet and @PAllenSmith.
Allen was kind enough to share his Blackberry Pork Chops recipe with us here. I know you'll enjoy it.
From P. Allen Smith's Seasonal Recipes from the Garden:
These days it is rare to find people who raise their own meat for the table, but it hasn't been that many generations since most Americans lived on farms and grew all their own food. Prior to refrigeration, meat such as pork was served fresh in the fall and winter. Farmers would wait until the temperatures cooled, so the pork would keep throughout the winter. Around Thanksgiving, or soon afterward, my grandparents would process their meat, but it had to wait until the corn had been put up in the crib, the apples were picked, all the canning was done, and the fall plowing was finished.
They had preferences on how they cut their meat, and they always had nice, thick pork chops. I remember how good those were back then, and I still like them that way. When you cook a thick chop, it's important to go slow so you don't overcook it, or it will be dry. Letting the chops simmer in their own juices helps keep the meat moist. The crowning glory of this recipe is the sweet tang of the blackberry gastrique, a thick sauce made with a reduction of vinegar, sugar, and blackberries. It adds just the right accent to the flavor of the chops.
Ingredients:
cooking spray
6 thick center-cut pork chops (about 2 pounds total, trimmed of fat)
freshly ground black pepper

For the Blackberry Gastrique:
1 tablespoon light brown sugar
2 tablespoons water
1/4 cup fresh or frozen blackberries
4 1/2 teaspoons balsamic vinegar
1/2 teaspoon sea salt

1/4 teaspoon cracked black pepper
1/2 cup fresh blackberries, for garnish
Spray a wide nonreactive skillet with nonstick cooking spray and set it over medium-high heat. Arrange the pork chops in the skillet and sprinkle them generously with pepper. Brown the meat well on both sides, 8 to 10 minutes total.
Reduce the heat to medium-low, cover the skillet, and cook until the chops are moist and look slightly pink in the center, 6 to 8 minutes. Lift the chops onto a platter and keep warm.
Over medium heat, add the brown sugar and water to the fat and drippings left in the skillet. Stir, allowing the mixture to caramelize, 3 to 4 minutes. Then add the blackberries, vinegar, sea salt, and pepper, and cook, stirring, until the consistency becomes syrup-like, 5 to 7 minutes.
Transfer the pork chops to a serving platter, and pour the blackberry gastrique over them. Garnish with fresh blackberries and serve.
Reprinted from the book P. Allen Smith's Seasonal Recipes from the Garden by P. Allen Smith.  Copyright © 2010 by P. Allen Smith.  Published by Clarkson Potter, a division of Random House, Inc.
You can see why I've geeked out over this book, right? I mean, he's talking about family farming, the seasonality of meat, growing (and raising) your own, and then follows it with a savory-sweet-tart meal. I love it.
The fine print: I received a complimentary copy of P. Allen Smith's book from P. Allen Smith's Garden Home. They will be providing the winner's book. I will be purchasing the gift certificate to Thomas Jefferson's Monticello for the winner.