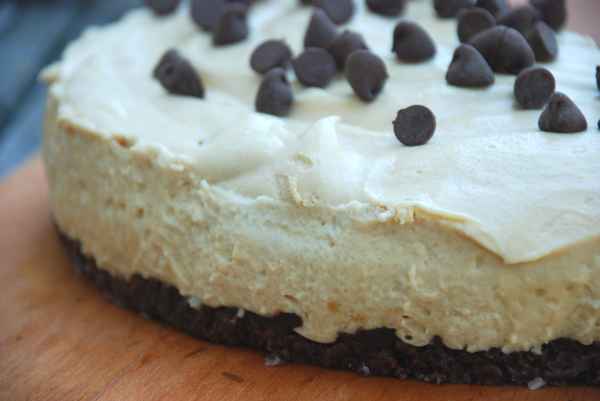 Nearly three weeks ago, Jennie, of In Jennie's Kitchen, lost her husband, Mikey, and their girls their father when he was stricken by a heart attack. 
Even before Jennie asked for this pie to be made in his honor, I knew that I wouldn't be able to write a thing here without writing of her loss. It was the second loss in less than a week that had hit far too close to home for us, and while I haven't met Jennie in person, I have known her through her lovely blog and Twitter for nearly as long as I've been writing here.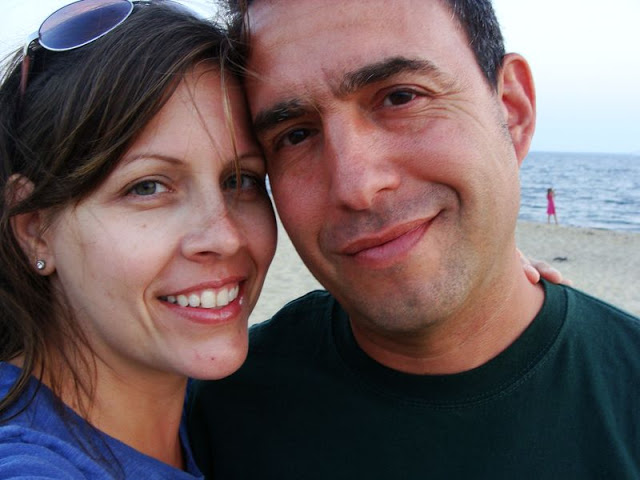 Jennie and Mikey took family vacations to Cape Cod each summer. I know this from Twitter, and also from Jennie's posts about the fare they'd eat on their vacations. A couple of years ago, I tweeted an invitation to stop by our house for a beer (yep. a beer.) on their way to the Cape, as we don't live so far from Route 195, which Jennie and Mikey were traveling along on their way to their holiday.
I remember standing in the back yard, telling JR that one of my Twitter friends might be stopping by with her family for a beer. I also remember the what-the-hell look he cast at me in response.
Twitter was a brand-new phenomenon in my life, and JR sure as heck wasn't (and still isn't) on Twitter, so it was a bit of a stretch. I went on to describe Jennie, and what I knew of her, and how I knew from her tweets that she was as in love with Mikey as I am with JR. This seemed to alleviate the concern on JR's part, and he quickly got over the "what is Twitter and why does it bring people to our house?" attitude.
However, as anyone traveling to their vacation destination knows, a pit stop, no matter how appealing it might sound during the planning stage, isn't all that practical when the vacation destination is only another 40 minutes or so away. Jennie and Mikey didn't stop by, that they had a wonderful vacation was clear from Jennie's tweets.
This post, originally meant to be about a pie for Mikey, has been hard for me to write, not least because of JR's accident, and the knowing that life is but fleeting and can be changed in an instant is no longer just a saying for us.
Many times, I have sat here at my computer, trying to finish this up, and have only managed to change the first line of this post to reflect the current passage of time (a week ago, a week and a half ago, nearly two weeks ago…), so inadequate were words to express my concern for Jennie and her girls.
Part of this inability to finish this post has been the wondering about how Jennie and her daughters will fare without Mikey in their lives -without the emotional support, and the bond that was so clearly evident in Jennie's writing about Mikey and her family.
I had hoped that there wouldn't  be financial stress in addition to the emotional loss, but sadly, there is. Health insurance for Jennie and the girls is more than the mortgage payment on their home. The mortgage could prove to be another issue, as it was solely in Mikey's name, and Jennie may have to pay it off in one lump sum (I certainly hope that there is ONE banker out there who can find a way to do the right thing, but nonetheless).
This week, #afundforjennie was started by Bloggers without Borders to help her as best we all can. She should be able to grieve the loss of her husband and the love of her life, without the added weight of financial stress.
If you'd like, you can donate directly to Jennie at Bloggers without Borders. Even one dollar would make a difference, so please don't think any contribution too small.

In addition, many bloggers are participating in auctions to raise money for Jennie and her family, so please take a look at what's being offered here.
In honor of their annual family beach vacation, I'm auctioning off this print, my Polaroid transfer, "Adirondacks".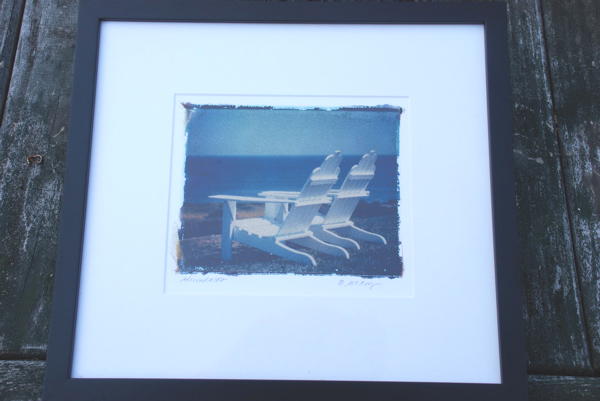 It is framed in a black gallery frame, and measures 14 inches by 15.5 inches. The image is printed on archival watercolor paper. The image size is approximately 8 inches by 6 inches. I will also include a signed copy (customized to whomever you like) of my cookbook, "Poor Girl Gourmet: Eat in Style on a Bare-Bones Budget".
Bidding starts at $75, and bids will be taken in the comments section below.
The auction will close on Wednesday, August 31, at 11:59pm.
I will cover shipping costs out of pocket, and the entire winning bid will go to help Jennie and her family. Thank you for your help – it is truly, deeply, greatly appreciated.