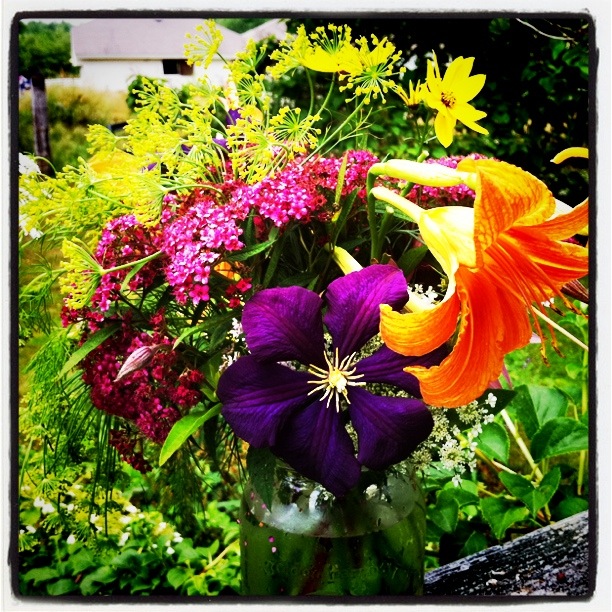 I am always grateful for the friends I have -  for my friends here, and from all of my experiences: travels, jobs, schools, what-have-you.
We both are so thankful for all of the well-wishes we've received over the last four weeks – thank you thank you thank you for the kind words, the positive thoughts, and the acts of kindness you've sent our way – it's made a world of difference.
It's hard to believe it's been four weeks since JR's car accident. In some ways, it seems longer, and in others, shorter. But it is firmly in the past. We are traveling away from it, occasionally glancing back at it – it will always be there, but still, we are moving forward, for he is recovering well – each day brings incremental improvement, both in his health, and in our moods.
I'm sure that I don't have to tell you that this accident was the most frightening experience either of us has ever had. And once the fright had subsided, finding the balance between recuperation (JR's very important job), minding the recuperation (my role, of course) and household chores (the chickens! the turkeys! the bees! the garden!) left very little free time – very little time to share with you here. And I cannot thank you enough for your patience with the long lull.
But we have been eating, of course. And raising poultry (I do need to find more coop-worthy footwear than my ratty, worn flip flops, though. And soon.). And kind-of, sort-of gardening. So there are stories, and recipes, and general silliness that must be shared.
This weekend marked a milestone: we ate the first meal since the accident that we actually cared about, that we actually tasted, and ate with enthusiasm. With glee, even. It was simple – grilled rib eye (heck, we deserve a splurge after all this, right?), local potatoes, mashed with loads of butter (what would a splurge be without butter?), and grilled corn on the cob.
You don't need me to share a recipe for that dinner with you, I know, but our enjoyment of it signifies to us that JR really is on the mend, and also that we're ready for me to start writing again, to start sharing again. I'm thrilled. He's thrilled. And most of all, we are thankful. Thankful for his health, thankful for our luck, and thankful for your support.
xoxo,
Amy