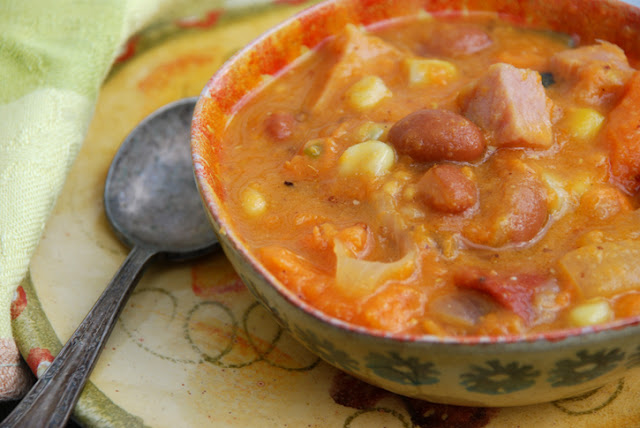 This is a far more improvisational dish than I would normally post here. I prefer to test a recipe at least twice, if not more, before sharing, but the thought that you, too, may have too much leftover ham on your hands after the holiday weekend has pressed me into fast recipe-sharing motion.
Let's think of it as leftover ad-lib, rather than as a formal recipe.
Into a big stockpot, pour 3 or 4 tablespoons of olive oil. Heat the oil over medium heat, then add in one large onion that has been coarsely chopped.
Chop up a pound and a half or so of leftover ham, going for bite-sized chunks. Decide that you'd like your soup spicy, so go on and add 1/4 teaspoon or so of crushed red pepper flakes.
Remove the skins from your leftover sweet potatoes, and add the flesh of 2 or 3 of them to the soup. If your sweet potatoes weren't maple-mustard sweet potatoes when you started, perhaps add 2 tablespoons of maple syrup and 1 tablespoon of whole grain mustard to the pot.
Notice the leftover corn in the refrigerator, and add about a cup of kernels to the soup mix. Then add those leftover green onion slices (white and light green parts only) to the pot.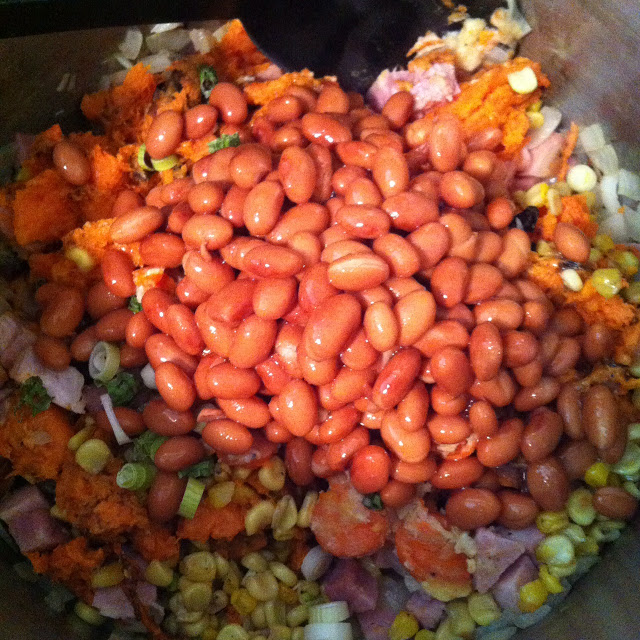 Wish that you had a can of black beans in your cupboard, but decide that pinto beans are a good substitute, then drain those and add them to the pile. Toss in a few leftover carrot rounds, then pour in 4 cups of vegetable broth before covering and simmering for at least 20 minutes.
Top with a dollop of creme fraiche or sour cream and more chopped green onion if you've got it, then serve forth this soup that does not at all taste like a hodge-podge of leftovers. While you're at it, head into the pantry where you'll probably find just enough tortilla chips to serve toasted (with leftover cheddar cheese from the holiday cheese platter) on the side.
Viola! No waste, only deliciousness. What's your favorite leftovers-improv dish?