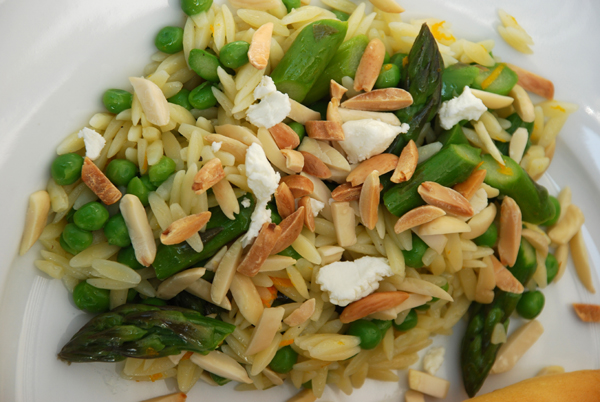 Oh, but that isn't all that there is to this orzo salad. No. No it isn't. There's also orange zest and freshly squeezed orange juice in there, as well as goat cheese. Mint, too, if you'd like.
This is one of those dishes that serves a number of purposes. For Easter, we needed a substantial vegan side. Sans cheese and with the inclusion of a couple tablespoons of mint, this did the trick.
On nights spent working late in the yard – or, heck, spent working late in general – it's an easy make-ahead side. If you happen to eat it while it's still warm, it's delightful, yet it's still delish when chilled or at room temperature. Don't like goat cheese? Use feta instead, or ditch the cheese entirely.  Want a more substantial one-bowl meal? Add grilled chicken or shrimp.
If you're headed to a party, make a full batch, and serve 8 to 10 people easily. For a family dinner, a half-portion easily serves 4, very likely with leftovers for tomorrow's lunch. Oh, and it's one of those dishes that by the time the pasta is done cooking, everything else is ready to go, so it's a 30-minute or less recipe, too.
Versatility, thy name is: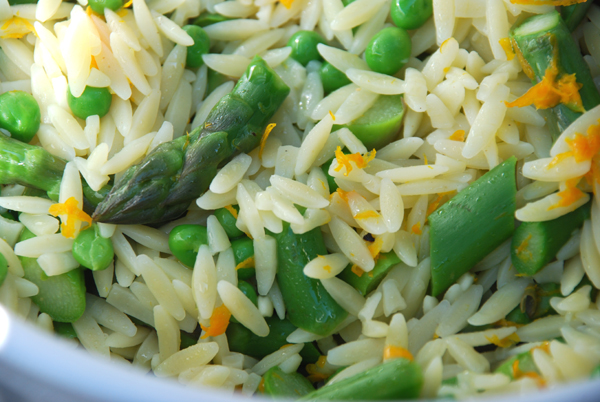 Orzo Salad with Asparagus, Peas, and Toasted Almonds

Ingredients

1 pound orzo
1 pound asparagus, tough bottom portions snapped off, stalks sliced crosswise into 1/2-inch pieces
2 cups fresh peas (from 2 pounds peas in their shells), or thawed peas if using frozen (see note below if using frozen peas)
1/4 cup extra virgin olive oil
the zest and juice of 2 medium (8 ounce) navel oranges
4 ounces goat cheese
8 ounces slivered almonds, toasted to golden brown (10-12 minutes at 350 degrees Fahrenheit)
kosher salt
freshly ground black pepper

Instructions

You see how easily this can be halved, right? Super-simple math.
Cook the orzo in a large stockpot of salted water according to the manufacturer's directions.
Meanwhile, while the pasta cooks, toast the almonds (helpful economy-of-time hint).
Two minutes before the pasta cooking time has come to its end, add the asparagus and fresh peas to the pasta pot in order to blanch them.
Pour the orzo, asparagus, and peas into a large colander, and allow the cooking water to drain completely. Rinse the pasta and veggies with cool water to stop the cooking process if you're not planning to serve the salad immediately.
Transfer the orzo, asparagus, and peas into a large serving bowl, pour in the olive oil, then stir well to distribute the oil evenly, which will help to prevent the orzo from clumping.
Add the orange zest and juice, then add the cheese and stir well. Season with salt and pepper, toss in the toasted almonds, and serve the salad forth.
Note on peas: If using frozen peas, place the defrosted peas in the bottom of a large colander while the pasta cooks. When you will pour the orzo and blanched asparagus into the colander, the peas will be warmed - or, if not thoroughly defrosted, they will then be devoid of freeze.
Note on serving this dish at room temperature or chilled: If you're not planning to serve the salad immediately, store the toasted almonds in a separate air-tight container, then add them once you're ready to serve in order to keep the almonds crunchy.

http://www.tinyfarmhouse.com/2012/04/orzo-salad-with-asparagus-peas-and-toasted-almonds/
Estimated cost for one big batch of orzo salad: $17.52 for a minimum of 8 servings, or $2.19 per serving, or a total of $8.76 for 4 hefty servings if you're making half of the party-sized portion.
Orzo can be had for $1.00 per box in those 10 for $10 deals, but if you've missed out on that sale, Whole Foods Market store brand orzo costs $1.99. A pound of asparagus costs $3.99 in the supermarket now. Peas should cost no more than $3.00 (2 pounds of fresh peas in their pods will yield approximately 2 cups shelled, and frozen peas cost $2.39 for 3 cups). Olive oil costs have dropped – possibly the only thing in the shopping cart that is less expensive than at this time last year – as Whole Foods Market 365 Everyday Value blend has decreased in price from $7.99 to $5.99 for 67 tablespoons, or 9-cents per tablespoon for a total of 36-cents in this dish. Navel oranges are no more than $1.00 per pound (I bought a 4 pound bag of oranges for $2.99, which comes to 75-cents for the two 8-ounce oranges). Almonds cost $3.19 for 8 ounces, goat cheese is $3.99 for 4 ounces. If you use mint instead of cheese, it drops the total cost by $2.99, and if you add mint into the mix and include the cheese, it adds $1.00 to the overall total, or 12 and a half cents per serving more for 8 servings.