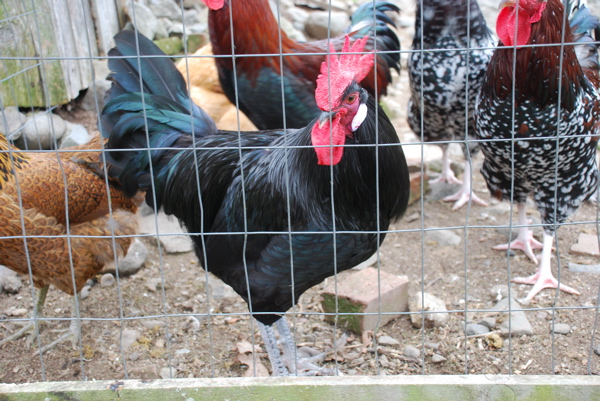 I had really wanted this post to be about pigs. Heck, I want every post to be about our pigs, but then, I know that would be horribly boring for you, and you'd wonder when we might ever be able to talk collard greens or beets again (nearly everyone's favorite vegetables, so clearly hot topics), but Boss Man the rooster had other plans for us.
This week, JR was on Nantucket for work. I really like that island, but it kind of sucks when JR has to work there. The ferry ride (or the float over, as he calls it) takes 2 1/2 hours, so an overnight is usually required. This week, it required two.
On the second night, the chickens needed water and, as we like to eat their eggs, those needed to be collected. Easy jobs, really. Unless you have an angry rooster on your hands.
It all started one morning about three months ago. I was feeding the pigs in their pen, which JR had constructed in the equipment bay of the barn, so it was open to the yard.
There I stood, ready for work in my long black skirt and sissy dress shoes, cooing and making stupid love-you-you're-so-adorable noises at the pigs while scratching Prudence Pig's back.
Distracted as I was by this swine love fest, I didn't notice the rooster slinking up toward me, waving its mean little head at me. By the time I turned to face the rooster – still in the crouched piglet petting pose – he was ready for battle.
Now, not one hen was near the pigs or me at the time, so when his neck feathers ruffled, I was a bit surprised, as I hadn't considered the pigs his charges as well. I'm not really sure that that's what was going on (you know, we haven't chatted about it since), but I do know that Boss Man hates my freaking guts. And he was not going to let the opportunity for a brawl with me pass when he had such a perfect opportunity for one.
If you haven't ever had a fight with a rooster, first, I recommend against them, but second, they are horrific, generally because the rooster won't back down.
During this sissy-shoe and skirt battle we had, I was pinned in a corner of the barn, the nasty bastard flying at me, talons first (as they do, for this is how they fight), until I found a half-destroyed blue plastic water bucket on the shelving behind me, and threw it at him long enough to distract him and for me to run – and I mean sprint like Usain Bolt, only a way slower, shorter, chubbier version of him – to the house. But not before Boss Man had pierced my calf with his talons, leaving me with blood streaming into my sissy shoes, which is a nice look for the office.
Boss Man has attacked JR numerous times inside the coop, apparently not recognizing that out of 25 roosters that he grew up with, 24 are gone – all in the freezer or pleasant memories of soup or pie now – and that the reason that he alone was selected to live was that he was pretty. We should probably get a chicken mirror the next time we want a rooster to understand this point.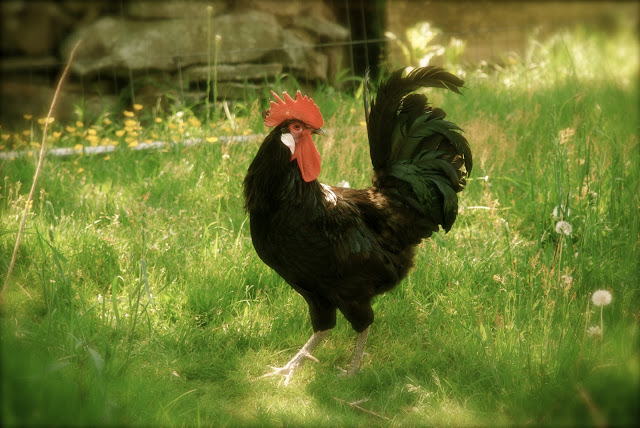 Even if he can't see his loveliness, you can look at him, and see that he is gorgeous. Beautiful posture, a shimmering plume of tail feathers, a wattle like no other, and even those dangerous talons are on regal silvery feet. No garish yellow chicken legs for Boss Man. Oh no.
I've avoided Boss Man since the slow sprint with blood trickling down my leg incident, up until two days ago. I waited until the chickens were all strolling around in the run, then locked them outside so that I could enter the coop alone. I collected a dozen eggs. I grabbed their waterer and headed for the door.
Only I had forgotten: Boss Man can break out of the run. And he had. And he was waiting for me at the door, feathers ruffled.
We fought a good fight, he and I. Primarily because I had a weapon: the waterer. More like a shield than a weapon, actually, the fight a lot like hand-to-hand combat, with Boss Man trying to sneak under the waterer to claw me, while I kept pushing the waterer-shield in his face.
Like all good action-adventure movies, eventually, my shield broke. The wire that hooks it to the ceiling, and which I had been using as a handle, snapped. The waterer dropped to the ground, Boss Man, slightly confused and thinking he was fighting the waterer, continued to talon-whip it for another second, just enough time for me to – again, in typical action-adventure fashion – grab a 2-by-4 that was conveniently leaning up against the coop (really, this could only be more cliched if I told you that I fell while running through the woods while being chased by Boss Man. You can breathe a sigh of relief now, that didn't happen.).
I used the 2-by-4, all 5 feet of it, as a longer shield, created as much distance as I could between Boss Man and me, dropped the lumber, and made another mad dash for the house.
When JR arrived home last night after the 2 1/2 hour float back to the mainland, Boss Man was ready to rumble.
He met JR near the barn – switching movie metaphors now, like a duel at high noon. Only JR was ready. Long pants and steel-toed boots help, but JR managed to keep the talons at bay long enough for Boss Man to fatigue. He then made one quick, decisive move, reached down to the ground, grabbed Boss Man by the legs, and walked him across the yard, hanging, very calmly, upside down, then placed him in the dog crate we use for all animal transport.
This, I'm afraid, will be Boss Man's last home.
He's done a fine job of protecting those hens, but there's no place for that kind of aggression on our tiny farm. I'm sure we'll miss looking at him – oh, so pretty –  but I'm also certain that we will not miss hand-to-talon combat while trying to feed and water those same hens.
To the freezer he goes. And we'll be be back to talking about pigs, collard greens, and beets next week.