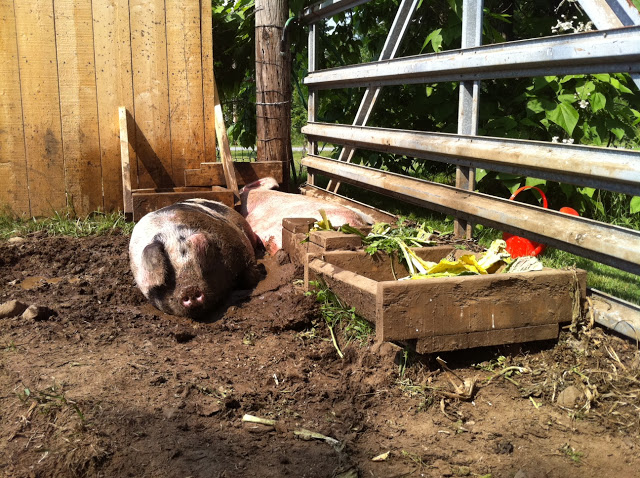 A few weeks ago, my brother asked me if we'd be making mud pits for Prudence and Rebecca.
My answer went something like this, "Hell no. If it rains, fine, they can make a mud pit. But I don't think we'll be making any mud pits for them."
What I should have said, had I thought carefully about the question was, "Welllllllll…it really depends. You know, on what Prudence wants."
Because Prudence knows that I have a special place for her in my heart (please acquaint yourself with pig surgery lest you doubt).
Each day, when I dole out the fruit and vegetable compost that our local Whole Foods provides to feed the girls, I make certain that Prudence gets at least as much fruit (okay, sometimes more) than Rebecca the Food Bully, and have been known to hand-feed her fennel and mango peels if Rebecca is being particularly stubborn around the trough.
Prudence loves fennel and mango, by the way. Bananas, too.
So when Prudence starts grunting at me and eyeballing the hose that is tethered to the pig meadow gate, yet she does not avail herself of the drinking water….wellllllllll, I know what she wants, and gosh darn it, she's going to have it.